When It Comes to Exoskeletons, This Real-Life HAL May Soon Trump Science Fiction
Cyberdyne's Hybrid voluntary and autonomous control Assistive Limb, or Medical HAL, is a neuro-controlled exoskeleton designed to assist people with spinal injuries or neuromuscular disorders.
In the science fiction movies Pacific Rim and Pacific Rim Uprising the heroes don 30-story exoskeletons to battle huge alien sea monsters. Although the clashes are impressive, real-life exoskeletons are beginning to make their own mark on the world.
Researchers from Japan-based Cyberdyne describe in the journal Science Robotics Medical HAL (Hybrid voluntary and autonomous control Assistive Limb), a neuro-controlled therapeutic exoskeletal cyborg-type robot designed to treat people with spinal cord injuries or neuromuscular problems caused by stroke or disease. The device, which emerged from cybernics — an interdisciplinary field fusing humans, robots, and information systems — can improve lives, not by killing monsters, but by helping people move their body and limbs in ways they were unable to before.
For instance, in a medical trial of 55 patients with a spinal cord injury, more than three quarters of them improved their ability to walk in a clinically meaningful way. In another study, patients with a rare progressive neuromuscular disease who could take only about ten steps when trying to walk were able to take between 500 and 2,000 steps while using Medical HAL.
"Unfortunately, in science fiction, these devices are only used for battle not for supporting humans or for treating patients," Yoshiyuki Sankai, founder and CEO of Cyberdyne told Seeker.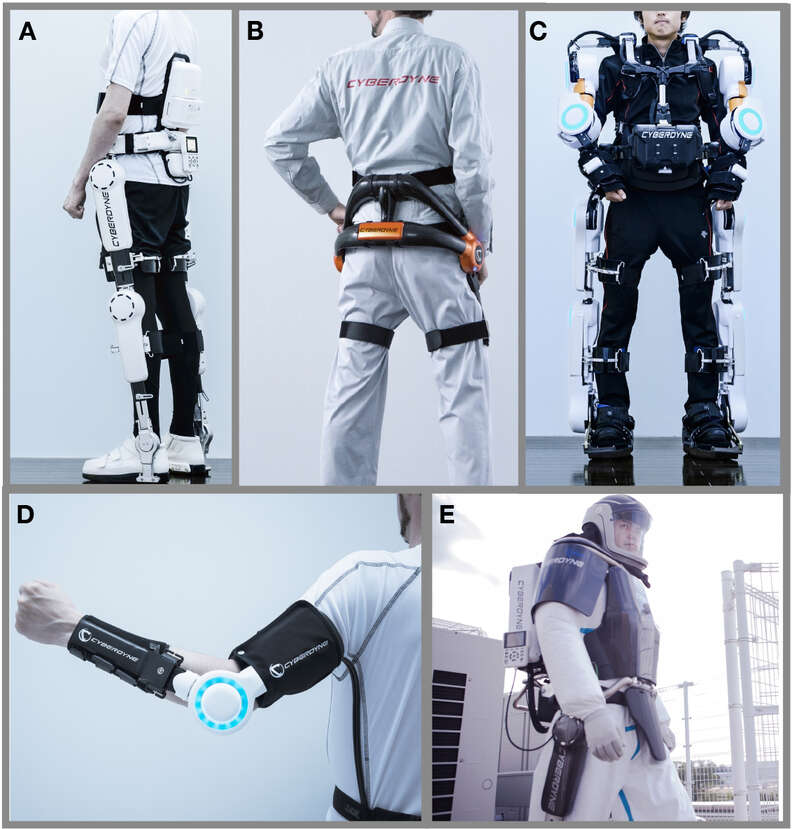 Not that Sankai has anything against science fiction. In fact, he said he is a big fan. When he was a 9-year-old boy, he read Isaac Asimov's I, Robot, which inspired him to become a scientist and create advanced devices to help people. But he doesn't think society at large is aware of the many important technological achievements happening in the research fields of real-life exoskeletons.
Medical HAL, for instance, uses sticker-like sensors that when attached to the skin are capable of picking up very faint and sometimes abnormal neuromuscular signals traveling from the brain to the muscles. Without HAL, these signals do not produce the correct muscular response, such as moving a leg. Over time, the lack of a physical response can cause different regions of the brain to become overactive, as the patient tries and fails again and again to move a leg.
HAL, however, intercepts neuromuscular signals from the patient's skin and sends the data via a wireless signal to a computer server. Doctors or therapists can then analyze the metrics and adjust the exoskeleton's sensitivity to match the patient's intent to produce a motion, such as taking a step forward. As nerve signals begin to produce physical action, the brain activity, in time, quiets to a normal level. Let's see Japanese super robot Mazinger Z do that.
The interactive biofeedback is just one aspect of HAL's therapeutic effectiveness, the researchers said. Doctors can also optimize the settings so that HAL's weight, about 30 lbs. (14 kilograms), can be offset in a way that makes it feel weightless to the person wearing it. For patients suffering from neuromuscular diseases, spinal cord injuries, or a stroke, any additional effort required to carry a load can exhaust their efforts and increase the burden or pain, not reduce it.
In addition to Medical HAL, Cyberdyne has also developed an assistive exoskeleton designed to help able-bodied people carry heavy loads, like factory workers. The researchers said the exoskeleton might one day act autonomous, sensing both the wearer and the external environment. As a worker moves through a warehouse, for instance, the exoskeleton might help them avoid tripping over or colliding with objects.
"Therapeutic exoskeletal cyborg-type robots may embody the spirit of piloted 'mecha' from anime and science fiction," Sankai said, "but in real life, they can achieve much more."