Maxwell's Demon Could Power Future Quantum Computers
A 19th-century thought experiment leads to a breakthrough in advanced computing.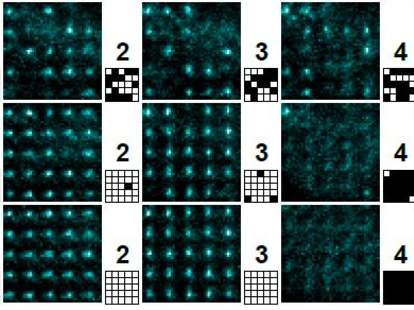 Strange news out of the labs this week: Penn State physicists have summoned a 19th-century demon.
Don't worry — the demon is entirely metaphorical and in fact refers to a famous 1867 thought experiment proposed by a godfather of physics, James Maxwell. The details get very tangled indeed, but the bottom line is the researchers may have just brought us a step closer to true quantum computing.
Physicist David Weiss and his team have developed a new kind of quantum processing system that uses super-cooled atoms to perform calculations. Like a traditional computer processor, the system is ultimately designed to move information around in the most efficient way possible. In the case of quantum computing, that means using individual atoms as the medium of calculation.
"Traditional computers use transistors to encode data as bits that can be in one of two states — zero or one," Weiss said in a statement. "We are devising quantum computers that use atoms as 'quantum bits' — or 'qubits' — that can encode data based on quantum mechanical phenomena that allow them to be in multiple states simultaneously."
To properly wrangle all those qubits, Weiss and his team have devised a three-dimensional lattice that uses lasers to manipulate the atoms — and that's where the demon comes in.
RELATED: Quantum Data Storage in a Single Atom Brings New Computing Era Closer to Reality
In 1867, Maxwell proposed his thought experiment in a letter to a colleague. Now referred to as "Maxwell's demon," the concept involves two adjacent chambers of gas with a gate between them. Maxwell imagined a benign demon operating this gate, allowing hotter and faster gas molecules into one chamber, slower and cooler molecules into the other.
It gets very complicated from here, but the gist is that such a system would theoretically violate the second law of thermodynamics, which states that the total entropy of a system can never decrease over time. The demon's sorting would result in an ordering within the system — a loss of entropy — by maintaining different temperatures between the chambers.
Back to quantum computing: Weiss's 3D lattice is designed to approximate the function of Maxwell's demon, building on 150 years of science since the original thought experiment and moving the action from gas chambers to quantum computers.
"Later work has shown that the demon doesn't actually violate the second law and subsequently there have been many attempts to devise experimental systems that behave like the demon," Weiss said. "There have been some successes at very small scales, but we've created a system in which we can manipulate a large number of atoms, organizing them in a way that reduces the system's entropy, just like the demon."
RELATED: Graphene: Everything You Need to Know About the 'Miracle Material'
In other words, Weiss's quantum computing model allows for more efficient sorting of the multivalent qubits — and that means faster computing.
"A large enough quantum computer will be able to solve some classes of problems that cannot now be solved on classical computers," Weiss told Seeker. "The most widely known problem is factoring large numbers."
In fact, the new model could potentially power a new class of quantum computers, Weiss said.
"The entropy reduction gives a good starting point for a neutral atom quantum computer," he said. "Having a filled 3D array will allow qubits to be packed closely together. For instance, at our current lattice spacing, a million qubits would fit in a half a millimeter cube. We are not close to doing that. For now, making a computer with 50 qubits is a significant challenge."
Double secret bonus trivia: Maxwell's demon is the origin of the computing term "daemon" — the programs that run in the background of traditional operating systems.
The paper describing the research, funded in part by the National Science Foundation, was published September 5 in the journal Nature.