Paid For By
Piloting This Giant Mech Could Make The Perfect Holiday Gift
Paid For By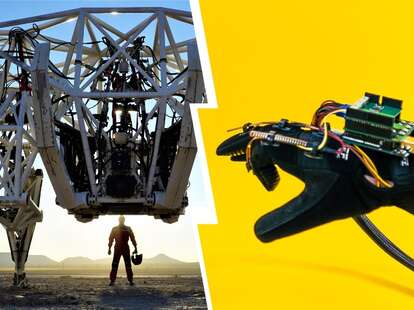 Courtesy of Creation Crate
Back in March, Seeker shared a video of inventor Jonathan Tippett's latest creation: a 15-foot-tall mech suit, custom built and designed for racing. Operators climb inside, and the pilot's arm and leg movements are translated into the movements of the machine's four legs, walking like a primate would. Tippett, the CEO of Exosapien Technologies, wanted to inspire engineers by building the world's largest mech suit. As opposed to the sci-fi depiction of these robots as weapons of war, he saw their potential as industrial machines and tools for sport and fun. Now, thanks to a partnership with Creation Crate, you can get the future engineer in your life the perfect gift: a chance to pilot the mech suit and a subscription to their newest hands-on course.
Creation Crate is an at-home learning platform that prepares kids (and adults) with STEM skills needed for the jobs of tomorrow. They deliver everything you need to get hands-on experience building awesome projects. Their secret is that in each course, projects get more difficult as you go along, constantly challenging users to unlock new skills.The electronics course, for example, gives you an introduction to circuitry and coding by teaching you to build gadgets like a Bluetooth speaker, audio visualizer, security system, and more. Several studies show that learning through experience is an effective way to gain and retain knowledge, so Creation Crate is a great way to master the foundations of STEM from home.
In collaboration with Exosapien Technologies, Creation Crate has unveiled their latest course: a hands-on Engineering Course that teaches you how to build a biomechanically-controlled leg that's a mini version of the world's largest mech suit. While learning about engineering concepts like mechatronics and control systems, you'll mimic the exact processes and use the same technology found in the giant, four-legged mech. Plus, for a limited time, all subscribers to Creation Crate will be automatically entered for a chance to win a trip to British Columbia, Canada, where you and a guest will get one-on-one mech pilot training from the creators themselves. You'll learn all about the construction, design, and even get a chance to hop in the mech and control it for yourself. It's a dream come true for anyone obsessed with STEM and sci-fi.
Think this is the perfect gift for the innovator in your life? Check out Creation Crate to learn more about the getaway, see the course inspired by the mech, and browse their most popular courses. A ride in the world's largest mech could be just a few clicks away.