Simple Blood Test Detects Eight Types of Cancer
CancerSEEK, which was 70 percent accurate in a human trial, could be major breakthrough in early identification of cancers and where in the body they are located.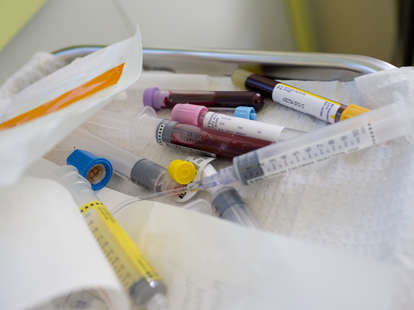 At an undisclosed hospital, vials of blood are taken from a cancer patient on September 15, 2016 in New York City.

| Andrew Lichtenstein/Corbis via Getty Images
At an undisclosed hospital, vials of blood are taken from a cancer patient on September 15, 2016 in New York City.

| Andrew Lichtenstein/Corbis via Getty Images
Anne Marie Lennon, a gastroenterologist at Johns Hopkins Hospital in Baltimore, Maryland, is accustomed to delivering bad news.
"I have to tell patients three or four times a week that they have cancer," she told Seeker.com.
Now, however, thanks to research she and her colleagues recently published in the journal Science, she might be able to give some hope to those preparing to battle the "Emperor of All Maladies" that the National Cancer Institute said will strike a staggering 40 percent of Americans in their lifetimes.
Lennon helped developed a blood test called CancerSEEK that can detect eight common cancers before they spread around the body, a development that could be a game changer in the fight against cancer.
"One of the reasons that I am so passionate about this project is that I think it actually will make a difference to patients," said Lennon, who is also a medical professor at Johns Hopkins University. "It potentially allows us to pick up cancer earlier which could have a big impact."
The innovative approach uses sensitive, state-of-the-art technology to scan blood for the DNA of cancerous tumors as well as proteins that arise from cancers. Previous efforts to identify cancers using either DNA or proteins didn't work because they couldn't find sufficient markers to find cancer, said Lennon.
RELATED: HPV Vaccine Shows Great Promise in Fighting Cancer
The new approach found ovarian, liver, stomach, pancreatic, esophageal, colorectal, lung, and breast cancer around 70 percent of the time, on average. With tweaking, Lennon said they could eventually figure out how to detect other cancers, too.
What's more, the detection system can often tell doctors where cancer is present in the body, a crucial step that saves time and money in treatment.
The scientists studied 1,005 patients with early-stage cancers, as well as 812 healthy subjects. They estimated that only around 1 percent of the tests produced false positives, or evidence of cancer that was not there.
The research was funded by over a dozen public and private institutions, including the Mayo Clinic and the National Institutes of Health.
After scaling up, the test might cost $500 — a cost equivalent to an unpleasant colonoscopy that doctors now use to screen for colorectal cancer, according to the researchers. That means yearly, noninvasive cancer blood screening might become common practice, allowing doctors to immediately attack the scourge rather than wait for patients to complain of symptoms when it's often too late.
RELATED: This New Surgical 'Pen' Can Diagnose Cancer Tissue in Seconds
It's hard to underestimate the importance of identifying cancer early.
For example, Lennon said patients suffering from colorectal cancer have a 90 percent chance of survival if doctors learn of the cancer while it's isolated in the colon, she said. But if it spreads to surrounding tissues, the chance of survival drops to 71 percent. If the cancer metastasizes to the lungs, liver, or other distant organs, survival falls to a heart-rending 14 percent.
"We're never going to be able to identify all cancers," she said. "But if we can identify cancers in some individuals that wouldn't have otherwise been detected, that would be a huge step forward."
The team is now planning a $50 million study of as many as 50,000 women over a five-year period to further test and validate their findings. The Marcus Foundation, a private philanthropic group, is funding the study.
WATCH: What Does a Cancer Cell Look Like?