That's Not Burnt Toast — It's Graphene
Engineers prove that laser-induced graphene can be etched into everyday materials like cardboard, cotton fabric, potatoes, and sliced bread.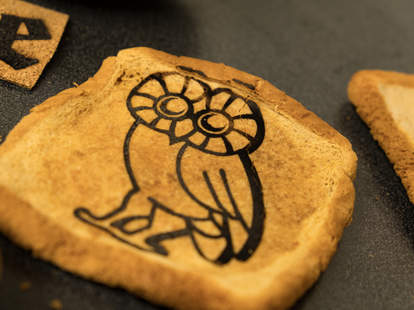 Graphene is the lightest and strongest material on Earth, and also one of the most electrically conductive. It's been hyped as a "miracle material" that may push computer processors beyond Moore's Law and embed flexible circuitry and sensors into nearly everything around us.
But making a sheet of graphene — an impossibly thin matrix of carbon just one atom thick — typically involves a highly controlled laboratory environment with special ovens set to over 1,000 degrees Fahrenheit. That's why it's significant news that a team of engineers at Rice University has figured out a way to make graphene with nothing more than a standard machine shop laser and ordinary carbon-based objects, including food.
Using a conventional CO2 laser — the kind found on many college and even high school campuses — the Rice engineers etched the surface of wood, fabric, potatoes, and even the hairy shell of a coconut to create a bubble-like lattice of pure graphene sheets, according to a paper published in the journal ACS Nano.
James Tour is a professor of chemistry, computer science, materials science, and nanoengineering at Rice and a pioneer in what's known as laser-induced graphene or LIG. Back in 2014, Tour's lab first produced this spongy, 3D variety of graphene by lasing the surface of an inexpensive plastic called polyimide.
Rice scientists used a laser to burn graphene in the form of a Rice Owl into a piece of cloth pre-treated with fire retardant that turns the surface into amorphous carbon.

| Jeff Fitlow
LIG shares many of the same properties of graphene — namely its high electrical conductivity — but its patterned 3D surface structure offers some advantages over its flat cousin. If LIG is formed in the presence of argon, for example, its surface becomes extremely hydrophilic (water-attracting), making it highly effective at separating water from oil or deicing surfaces.
Tour and a colleague in Israel have also shown that a thin layer of LIG can be a powerful weapon against the buildup of microorganisms in water treatment and desalination facilities. Not only do microorganisms slip off LIG's water-slicked surface, but if a low-voltage current is run between two opposing layers of LIG, in a pipe, for instance, the graphene emits hydroxyl radicals that kill 99.9 percent of bacteria.
"Every time you turn around, there's another paper coming out with some other application for laser-induced graphene," Tour told Seeker. "It's much easier to turn into a product than normal graphene that you have to grow on a sheet of metal heated to 1,000 degrees. This gives you ready-made access to graphene on a flexible substrate."
With the success of polyimide-based LIG, Tour and his team wondered if they could expand their laser technique to other materials. For example, one of the oft-cited applications of graphene is to make thin, flexible circuitry for next-generation RFID tags and sensors. Packages could be embedded with tiny antennas and processors that track a product's origin, shipping route, and environmental conditions in real time.
What if these flexible graphene circuits could be etched directly into the surface of a cardboard box, or stamped right on the skin of a potato? There was only one way to find out.
To burn graphene directly into organic matter like coconuts and bread, Tour and his lab crew developed a multiple lasing technique. On the first pass of the laser, a thin layer at the surface is transformed into amorphous carbon, the charred material found on a nicely grilled steak or the crispy crust of toast. On subsequent passes with the laser, the amorphous carbon selectively absorbs wavelengths of infrared light that transform it into LIG.
The Rice team was not only able to etch nifty LIG images of "R"s and owls (the Rice mascot) into wood and bread, but it also embedded a simple supercapacitor into the surface of a coconut. The coconut circuit successfully held a charge and discharged current, something that the Professor on Gilligan's Island would have surely appreciated.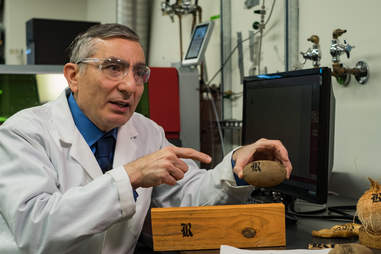 Rice University chemist James Tour shows a potato enhanced with a conductive pattern of laser-induced graphene. He said graphene-based RFID tags burned directly into food could track the food's path from farm to table.

| Jeff Fitlow/Rice University
Tour can easily imagine a day when small LIG-based tags and sensors are lased directly into packaging and products to track things like storage temperatures or alert consumers to the presence of food-borne bacteria like E. coli.
"Has this bottle of milk really stayed cold the whole time it's been in transit? You could do that right on the bottle," said Tour. "You could potentially do this on a piece of meat, then you would know whether or not the meat had been frozen."
RELATED: Everything You Need to Know About Graphene, the 'Miracle Material'
But before we start tagging produce and meat with little, charred graphene circuits, we should probably ask, how does it taste?
"We've never eaten it," said Tour, "but I presume it's going to be very much the burnt part of a blackened steak or a blackened fish."
The tags would be so small, Tour added, that they wouldn't affect the overall taste. And of course they would have to pass the standard toxicity tests.