Why Do American Kids Die Earlier Than Children in Many Other Developed Nations?
Among the reasons: American teens are 82 times more likely to die from gun violence than their peers in other prosperous countries.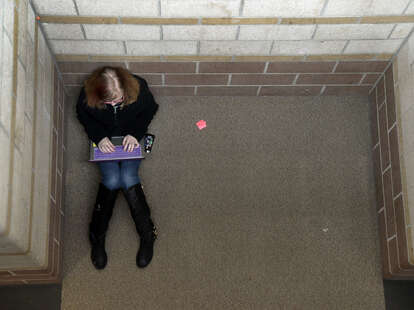 American kids have a higher chance of dying before adulthood than their peers in 19 other high-income nations, according to a recent study published in the journal Health Affairs.
A statistical analysis conducted by a team of medical professionals and biostatisticians found that the United States has shown the slowest improvement in childhood mortality rate among countries similar to it in terms of economic development and political structure.
The four-member team led by Ashish Thakrar, a first-year resident in Internal Medicine at John Hopkins Hospital in Baltimore, pored over data from the global Human Mortality Database and the World Health Organization Mortality Database. It compared data from 20 countries, including Australia, Canada, Japan, Finland, and the US. All of the countries that were studied are part of the Organization for Economic Cooperation and Development, or OECD.
In the 1960s, the US was right around the average child mortality rate of the 19 other countries studied. But as other countries improved, the US stagnated, Thakrar explained. "For the last 30-40 years, we have done worse, and it has been consistent across decades," he told Seeker.
If the US performed at the same level as the other countries, it could have prevented 600,000 excess childhood deaths over the 50-year period studied. An excess death is defined as a premature death, one that occurs before the average life expectancy for a person.
RELATED: Water Quality Map Highlights 'Hot Spots' of Violations
The maximum number of these deaths were concentrated among two age groups, either among infants or among teens 15-19 years old.
Information from the WHO Mortality Database on the causes of death among America's youngest children suggested that infants in the country were dying mostly because of "extreme immaturity" or "sudden infant death syndrome."
Among children from the older age group, most deaths occurred because of automobile accidents and gun violence.
"From 2001 to 2010, a person in the 15-19 age group was 82 times more likely to die from gun violence in the US than in other wealthy nations," the study noted.
Children in the United States are thus at a "mortality disadvantage" as compared to their peers in other countries, the study said.
Much of this has to do with unfavorable socioeconomic conditions in the US, home to 74 million children, as well as the highest child poverty rate among wealthy nations since the early 1980s. By the middle of that decade, child poverty in the US increased by almost one-third, according to the study. In addition to poverty, low educational outcomes have also bumped up against health measures among children.
A fractured social safety net for children and families exacerbates the problem. A research study titled "Shorter Lives in Stingier States" published at the end of 2016 estimated that Americans could live almost four years longer if social welfare policies were improved.
Thakrar's study, funded by the Children's Hospital of Pennsylvania, stacks up with similar research studies conducted in the last few years that have time and again highlighted how different age populations in the United States are threatened by low life expectancy and vulnerable mortality rates.
A 2015 paper co-authored by Angus Deaton, a Nobel laureate in economic science, for instance, found that middle-aged (45 to 54-year-old) white, non-Hispanics in the United States were also dying at a faster rate as compared to people in the same group in countries like, Canada, Australia, and United Kingdom.
"Half a million people are dead, who should not be dead," Deaton toldThe Washington Post at the time. "Drugs, alcohol, and suicide… are clearly the proximate cause."
RELATED: Here's Why Stress Might Make You Sick
An earlier 2013 study published by University of Wisconsin researchers David Kindig and Erica Cheng, found that growing health disadvantages among Americans have disproportionately impacted women over the past three decades, especially those without a high-school diploma. One published a few months prior to Kindig and Cheng, found that life expectancy of white female high-school dropouts had fallen dramatically over the last two decades. These women would live five years less than the generation before them, the study said.
The data did not allow researchers to look into racial disparities within the United States. "We need to think about populations that are really being underserved because the increased risk of death is not distributed evenly among populations," Thakrar said.
Contrary to the situation in the US, countries like Spain, Italy, and Austria have shown some of the fastest improvement in infant mortality rates, the study found.