Juul E-Cigarettes May Be More Addictive to Teens Than Tobacco
A Stanford study suggests that young Juul users may have higher rates of addiction than users of other e-cigarettes or real cigarettes.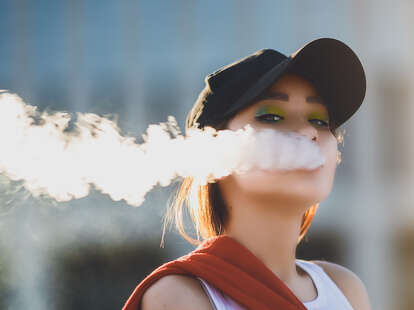 The Juul brand that now accounts for about two-thirds of the U.S. electronic cigarette market may have a higher rate of addiction than traditional cigarettes — at least among teens.
This is the conclusion of a new study by researchers at the Stanford University School of Medicine that was published in the open-access medical journal JAMA Network Open.
The company's rechargeable e-cig device is distinguished by its look, resembling a USB flash drive, and by its potency. Juul uses nicotine salts that occur naturally in tobacco leaf for its pods, which typically contain about as much nicotine as you'll find in a pack of cigarettes. But the experience of ingestion is much smoother.
The idea is ostensibly to offer smokers a way to kick the habit by vaporizing, or vaping, nicotine. But Juul's growing popularity among teenagers has raised public alarm about its addictive potential, and the irony that a tool for quitting cigarettes may be hooking new generations of users.
At least three lawsuits were filed against the company earlier this year, alleging that the devices caused users to become nicotine addicts and accusing Juul of deceptive marketing in presenting the devices as safe. Juul then became a fixture of the news after a series of high-profile regulatory actions in the U.S.
In September, the Food and Drug Administration announced a wide-ranging investigation into the sale and marketing of e-cigarettes to children by Juul and other e-cigarette manufacturers. In October, the FDA seized more than 1,000 pages of documents during a surprise inspection of Juul's San Francisco headquarters.
The health hazards of e-cigarettes are largely unknown because the devices are relatively new to widespread use in the U.S. The Juul brand itself is just over three years old. But the new research from Stanford brings some hard numbers to the matter of the Juul device's addictive potential.
The Stanford research team decided to get some quick results on e-cigarette usage by expanding a tobacco use study already underway in 10 California high schools.
RELATED: Heat-Not-Burn Tobacco Products Could Overtake E-Cigarettes in Popularity
In the first phase of the study, conducted in 2014 and 2015, more than 700 students answered questions about traditional tobacco use. The new findings come from a follow-up questionnaire issued this year to roughly half of the original participants.
The data suggest a "worrisome disconnect" between students' perception of their Juul use and actual addictive behavior, researchers said. In other words, teens may be getting addicted without even being aware of what's happening.
"We ask, 'Do you feel addicted?' And they say no, but a series of questions on a validated scale for assessing loss of autonomy over nicotine show that they're dependent," said the study's lead author, Karma McKelvey, in an announcement of the research.
In the new study, participants answered questions about both their use and their perception of traditional cigarettes and e-cigarettes, including the market leader Juul. In addition, participants who used any form of e-cigarette also completed a standardized questionnaire to assess their degree of nicotine dependence.
When asked about the use of tobacco products over the past seven or 30 days, the participants reported using Juul about twice as often as smoking conventional cigarettes. The teens also reported a general belief that e-cigarettes were "less harmful or addictive" than other products mentioned in the survey.
Among the participants who had tried Juul, 58.8 percent reported that they had used Juul within the last 30 days. In comparison, about 30.1 percent reported using other e-cigarettes and 28.3 percent had used conventional cigarettes over this same period.
RELATED: Philip Morris Wants to Stop Making Cigarettes and Move to E-Cigs
While the sample size is small, the numbers suggest a significant difference between Juul users and users of other e-cigarettes and conventional cigarettes. This may reflect higher rates of addiction among Juul users, suggested Stanford professor of pediatrics Bonnie Halpern-Felsher, senior author of the study.
"I was surprised and concerned that so many youths were using Juul more frequently than other products," Halpern-Felsher said in a statement. "We need to help them understand the risks of addiction. This is not a combustible cigarette, but it still contains an enormous amount of nicotine — at least as much as a pack of cigarettes."
Juul issued a statement in response to the Stanford study.
"We agree that underage use of Juul is completely unacceptable and it is directly opposed to our mission of eliminating cigarettes by offering existing adult smokers a true alternative to combustible cigarettes," the company said. "We stand committed to working with those who want to keep nicotine products out of the hands of young people."
The Stanford research was funded by the National Cancer Institute, the U.S. Food and Drug Administration Center for Tobacco Products, the Child Health Research Institute, and Stanford's Department of Pediatrics.
As e-cigarette use continues to grow, it's a sure bet that more research will be forthcoming in the next few months and years. Meanwhile, the Stanford team has developed a free tobacco prevention toolkit for educators and parents, which is available online.