The World's Smallest Computer Is the Size of a Grain of Salt
IBM has developed the world's smallest computer, which could help track objects, foil counterfeiters, and boost efficiency.
A computer as big as a grain of salt could transform shipping that crisscrosses the planet, said IBM researchers who recently unveiled the experimental device.
Using blockchain technology that would provide a secure and efficient log of physical objects tagged with the tiny computers, shippers could track goods at every step of extended supply chains, foiling counterfeiters and upping efficiency, Dan Friedman, senior manager of communication circuits and systems at IBM Research, told Seeker.
"That's what we want to do — something that would get you more security than a paper barcode," said Friedman. "This thing is capable of having a digital signature. There will actually be a cryptographic identification."
IBM researchers unveiled what they billed as the world's smallest computer at Think 2018, the company's big annual conference, in Las Vegas on March 19.
As powerful as an x86 processing chip dating from 1990, the tiny computer won't help NASA put astronauts on Mars anytime soon. But it has enough computational and communicative power to interact with systems tracking it.
Blockchains resist tampering — they work via dispersed networks where alterations appear simultaneously everywhere — but until now the technology has been applied mostly to virtual currencies, not physical objects. IBM researchers realized they had found the interface between blockchain technology and the physical world, said Friedman.
Now, conceivably, he and his colleagues had discovered a way to prove the authenticity of things that have passed through many countries on the way to consumers.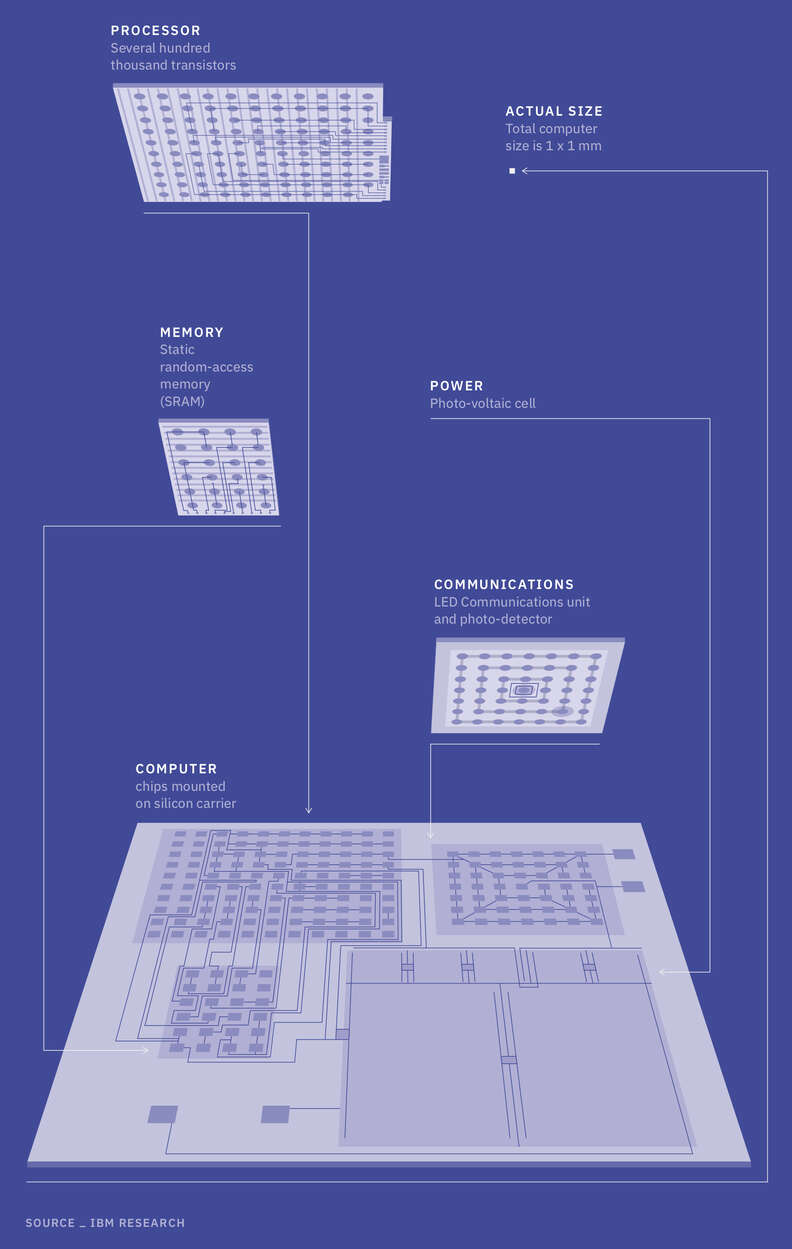 The total value of counterfeit goods was estimated to be $1.8 trillion in 2015, said Andreas Kind, an IBM researcher, at the Think 2018 conference.
"Let's take your car. You bring it to the garage. It turns out the brakes are run down. When you get your car back, can you be sure that the new brakes are actually original?" asked Kind. "Can you be sure your car will brake on the highway as it's supposed to? In certain regions of the world, 40 percent of the parts in the automotive aftermarket are actually fake."
The same principle could be applied to medications and other items with life-threatening consequences, he added.
Privacy advocates might issue a note of caution at this point, Friedman admitted. After all, if businesses could track a crate of oranges from Beijing to Miami, the government could conceivably track innocent citizens who have ingested one of the devices.
"I think with all of these things we need to think about the ethics," he said.
But Friedman downplayed those concerns.
Hurdles remain before the tiny computer hits the market, he said. A system for reading the computer's information and transferring that data to a blockchain for safekeeping has yet to be perfected.
RELATED: Superconducting Artificial Synapses Could Soon Power Brain-Like Computers
More importantly, Friedman said the tiny computers are not like GPS trackers, and blockchains stymie hackers if anyone could access them somehow.
"They are not that easy to communicate with," said Friedman. "Certainly, inside your body nobody would be able to communicate with that. The range is limited. You would have to successfully complete the cryptographic identification."
Older tech like social media networks and our mobile phones already give away more data on ourselves, he added.
"I don't think the capacity of this system is such that it really provides the same window of opportunity for mischief as our cell phones do and our online presence does," he said.