NASA's New Horizons Arrives at the Farthest World Ever Visited
The spacecraft flew by a distant little world dubbed "Ultima Thule" that looks like a red snowman.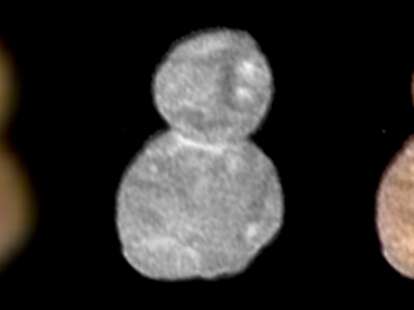 Far out in the solar system, just as Earth was ringing in the New Year, NASA's New Horizons spacecraft flew by a distant little world that looks a red snowman.
This city-sized world is 2014 MU69, a resident of the Kuiper Belt of icy objects far beyond Pluto. It took New Horizons an astounding 3.5 years to cross the gap between Pluto and this tiny, dumbbell-shaped object — a distance of roughly 14 "astronomical units" (Earth-sun distances). MU69 is about 44 AU from the sun, and Pluto a little less than 30 AU on average.
Just 36 hours after its flyby of MU69, the first of New Horizons' new images are on Earth, with many more to follow in the coming months.
Mission principal investigator Alan Stern of the Southwest Research Institute said that he was astounded by the new imagery, particularly given that we didn't even know of the existence of MU69 until four years ago. MU69 was one of two semi-finalists selected for a New Horizons flyby after Pluto; efficient fuel use was one of the main factors behind MU69's selection.
"I'm surprised that in picking one object out of the hat we picked such a winner," Stern remarked during a televised press conference on Jan. 2 at the Johns Hopkins Applied Physics Laboratory in Maryland.
"What does the dumbbell shape of MU69 mean for the early solar system's history?"
In the early hours of science on MU69, there are already a wealth of mysteries to consider.
What is that red stuff on its surface? It looks a lot like the red stuff New Horizons found at the poles of Charon, Pluto's moon. Investigators suggest that in both places, volatiles — delicate elements that evaporate at room temperatures — got irradiated over time, producing the red. But we know that Charon's redness comes from Pluto particles; the origin of the red stuff on MU69 is still being investigated.
"The process by which [MU69] got red is similar chemically [to Charon], but it doesn't mean the essence of the volatiles is the same," explained SWRI's Carly Howett at the press conference. Her expertise involves using remote sensing data to look at the surfaces of small, icy worlds.
RELATED: How NASA Built the Fastest Spacecraft Ever
Another nagging question is, what does the dumbbell shape of MU69 mean for the early solar system's history? MU69 is the first "pristine" object ever observed with a bi-lobe shape, although dumbbell forms are commonly seen among dusty, eroded comets such as 67P/Churyumov-Gerasimenko, which Rosetta visited between 2013 and 2014.
New Horizons co-investigator Jeff Moore, also of SWRI, called these cometary cores "fried and crinkled and crunched by the sun… badly damaged examples of former Kuiper Belt objects."
The shape of MU69, as he and others explained, came from two larger objects that slowly spiraled in closer over time, finally touching each other at a speed of perhaps 1 mile (1.6 km) per hour. Are such shapes common in the Kuiper Belt?
Luckily for science, New Horizons itself may provide those answers. The spacecraft is remarkably healthy given that it's been flying in space for 13 years, Stern noted. It probably has more than a decade of life remaining. In the summer of 2020, the New Horizons team has a scheduled opportunity to offer NASA a new science mission for the spacecraft. That mission might be flying by yet another Kuiper Belt object, or observing several targets from a distance using a telescope.
RELATED: Hayabusa2 Eyes Difficult Landing on Asteroid Ryugu's Rocky Surface
While the successful New Horizons flyby dominated planetary news in late 2018 and early 2019, that flyby was attached with some controversy. As is common with new objects, the New Horizons team picked a temporary name for MU69 until the International Astronomical Union (the official arbitrator of astronomy names) can make a final decision.
MU69's moniker — "Ultima Thule," a Latin phrase that refers to a distant place beyond known borders — has ancient origins, as well as some unfortunate Nazi connotations after it was co-opted to refer to a mythological Aryan homeland. Pointing out that the phrase dates back well over a millennium, Stern stood firm in the decision to use it for the mission.
"It's a wonderful meme for exploration, and that's why we chose it," he said at the press conference. "Obviously, just because some bad guys once liked that term, we're not going to let them hijack it."
More results from New Horizons are expected soon based on stereo images and data that will probably show the composition of MU69, hints of an atmosphere, and whether there are any craters on its surface.
The early images were taken with the sun right behind New Horizons' metaphorical back, making it too difficult to see much elevation on the surface. More terrain may show up as New Horizons moves around to the side of MU69. Shadows there will throw the ancient dirt into relief and reveal any hills, gullies, or craters.