GE Goes Big on Wind Power with Massive New Turbines
The company's Haliade-X turbine is three times as tall as the Statue of Liberty.
General Electric says it's ready to build the world's biggest offshore wind turbine, a structure stretching to skyscraper heights and capable of powering more homes than any current rivals.
GE says its 260-meter (853-foot) Haliade-X can crank out 45 percent more electricity than its closest competitor, due largely to its sheer size. Tim Brown, a spokesman for GE Renewables, told Seeker that reach — which includes the assembly's 107-meter blades — allows the turbine to capture more wind and improve its generating efficiency.
"This machine is designed specifically for offshore conditions," Brown said. "Both the challenge and the opportunity offshore is the winds are a lot stronger. Because of that, you want to have the biggest possible machine that is as efficient as possible to capture those winds and generate electricity at the lowest possible price."
The new turbines are aimed largely at buyers in Europe, where efforts to reduce the continent's planet-warming carbon emissions have fueled a brisk wind-power trade. GE is pouring $400 million into the new models, and is having "active conversations" with potential buyers, Brown said.
Though the generator atop the Haliade-X can produce up to 12 megawatts of electricity, wind turbines don't operate at peak capacity all the time. But Brown said the Haliade-X has a capacity factor of 63 percent, meaning it's producing power nearly two-thirds of the time.
"That's 6 to 7 points above the current capacity factor we see in the industry, and that's due to its size," he said.  "That's the ultimate selling point for our customers, if they can capture the maximum amount of wind in the wind farm that they build by having this higher capacity factor."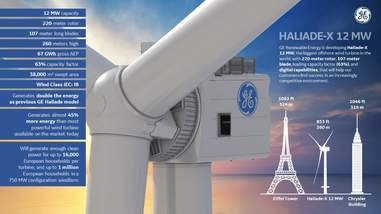 GE Renewable Energy
But the United States lags behind Europe in offshore wind projects. European utilities were running 94 offshore wind farms by the end of 2017, with more than 4,000 turbines generating power, according to the trade association WindEurope. GE's decision to build its new mega-turbines at a plant on the Atlantic coast of France is a reflection of that fact, Brown said.
"We see a strong potential market in Europe, the US and Asia," he said. "It's just the case that the current market is a bit further along in Europe, so having the industrial footprint in Europe, given the current state of the market, makes sense."
RELATED: Here Are the Best Places to Expand Renewable Energy in the US and Abroad
The Haliade-X stands nearly three times as tall as the Statute of Liberty, and a single unit can power up to 16,000 European households, GE says.
Wind power made up about 6 percent of annual US generation in 2016. It broke above 10 percent for the first time on a monthly basis in March 2017, and some Midwestern states like Kansas, Oklahoma, and Iowa now get more than 25 percent of their electricity from wind.
But fossil fuels still produce two-thirds of American electricity and nearly 40 percent of its heat-trapping carbon dioxide emissions — and how much of that capacity can be replaced with clean energy is still hotly debated.
Previous studies have proposed an ambitious timetable to power not just the United States but the world with renewables by mid-century. Other analysts who looked at the question countered that carbon-free energy — including hydroelectric and nuclear power — could make up 80 percent of the US energy mix by 2050, but fossil fuels would be difficult to eliminate completely.
The latest entry in that debate comes from a team at the University of California, Irvine, Cal Tech, and the Carnegie Institution for Science, which recently concluded that up to 80 percent of US demand could be met with wind and solar power.
Steve Davis, an earth system scientist at UC Irvine and a co-author of the study, told Seeker that would require spending several hundred billion dollars to connect the nation's electric grids into one system and add about 12 hours of battery storage capacity — an expensive but not bank-breaking effort for the world's largest economy.
"If you start going beyond the 80 percent mark and you start needing days or weeks of storage, then you get into large factions of our country's GDP," he said. "You get periods of time where you get multiple days or even a week where you don't get enough from solar and wind."
RELATED: Chernobyl Will Soon Be Generating Solar Power
Davis and his colleagues studied 36 years of hour-by-hour weather records between 1980 and 2015 to estimate how much power non-hydroelectric renewables could reliably provide. They based the study on today's technology and power demand.
The findings were published February 27 in the research journal Energy and Environmental Science.
Davis said he's been "very encouraged" by the growth of wind and solar in recent years, both in the United States and worldwide, and he expects that to continue. But he said the study also highlights the need for better, cheaper storage technology.
"The natural variability is in an itself a pretty substantial challenge," he said.