Drier Summers Are Stoking Western Wildfires
As wildfires rage, a US Forest Service study finds fewer incidences of rainfall and less total rainfall in the West.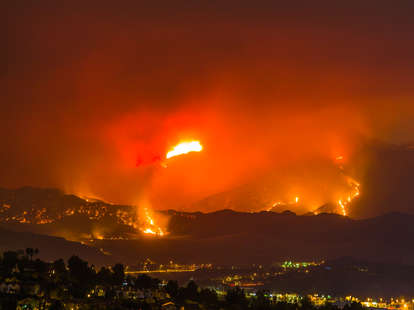 The West is not only getting hotter, it's getting less rain — and that's likely to mean worsening fire seasons for a region that's already seen a surge in massive blazes in recent years.
That's the conclusion of a new study led by researchers from the US Forest Service, who looked at changes in rainfall across the forests of the West between 1979 and 2016 and compared it to satellite images of wildfires.
The West is largely arid already. But the number of days that saw more than 2.54 millimeters — a tenth of an inch — of rain shrank between 36 and 45 percent across the region, while the total amount of rainfall dropped by about a third. Less precipitation leaves vegetation drier, meaning more combustible fuel is available.
"If these trends persist, decreases in summer precipitation and the associated summertime aridity increases would lead to more burned area across the western United States, with far-reaching ecological and socioeconomic impacts," the study concludes.
The findings were published today in the research journal Proceedings of the National Academy of Sciences. The study comes as more than 50 uncontained, large fires are burning across the West this week, charring more than 1.7 million acres.
About a third of that is from two large fires in northern California that have killed 10 people, including four firefighters. But nearly 6 million acres have burned this year to date, about 20 percent more than the 10-year average.
RELATED: Air Quality Plummets as Wildfires Rage, Putting Public Health at Risk
In 2016, a US Forest Service report found fire seasons averaged two and a half months longer than they did in 1970, and the typical number of acres burned has doubled in that time. And in January, scientists at the University of California warned that climate change and decades of efforts to beat back fires — which forests need periodically to thrive — had left state forests packed with nearly 130 million dead trees. That raises the odds of bigger and harder-to-fight wildfires.
The brutal wildfire seasons are consistent with scientists' expectations for a warming world. Temperatures in the region are already running about 2 degrees F (1.1 degrees C) over the historic averages, and earlier research suggests human-caused climate change is already producing bigger fires.
Western states rely heavily on winter snows in the mountains to store water for the rest of the year, and earlier studies have pointed to warmer temperatures and reduced winter snowpack as forces driving the increasing size and intensity of wildfires. But the new study suggests reduced rainfall may play a bigger role. For instance, a wet, cold winter in 2017 helped break years of drought in California, but the following summer saw another stretch of record-low rainfall and another major fire season.
"Understanding the climatic drivers of fire activity is important for informing forest management," the new study's authors report. "Our findings are consistent with future climate projections, which predict further decreases in summer precipitation and longer dry periods between rain events across much of the West."