Ben Lecomte Sets Out to Become the First Person to Swim Across the Pacific Ocean
His 6-month, 5,500-mile journey will highlight the dire state of the world's oceans.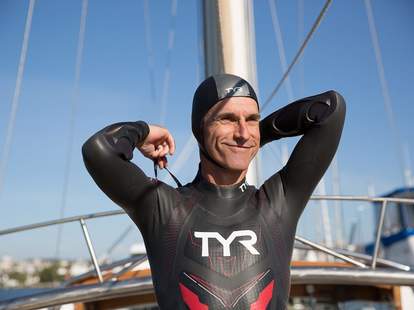 Ben Lecomte is about to jump into the ultimate deep end.
An activist and endurance athlete, Lecomte will embark this weekend on an unprecedented adventure by swimming across the Pacific Ocean — Tokyo to San Francisco. Do the math and that's 5,500 miles. Lecomte will spend the next six months swimming eight hours a day across the planet's biggest and deepest body of water.
But Lecomte will be doing a lot more than just swimming. As part of the expedition — dubbed The Swim — Lecomte and his six-person support team will conduct a scientific research projects in biology, oceanography, and medicine in collaboration with research groups, including NASA and the Woods Hole Oceanographic Institution.
The swimmer
Lecomte's name might sound familiar. In 1998, he swam across the Atlantic Ocean, Massachusetts to France, with a one-week stopover in the Azores. The Atlantic swim was in support of cancer research, a tribute to his father.
Now a naturalized citizen of the United States, the 51-year-old is a veteran long-distance swimmer and advocate for ecological causes.
"The ocean is in peril right now," Lecomte told Seeker. "It has never been done to collect data from one end of the ocean to the other."
Lecomte has trained for four years in preparation for the expedition. By undertaking such a splashy athletic spectacle, he hopes to raise awareness about humans impacts on the oceans.
"Swimming is my mode of expression," he said. "It's a way to engage people with something that is bigger than me. Together we worked on a plan to use the swim as a platform to learn more about our ocean and how to protect it."
The logistics
After departing from Tokyo, Lecomte will be supported by six crew members aboard the Seeker, a sailing yacht that has been customized for the demanding 6-months-long journey. An electric-powered dinghy will trail Lecomte during swimming sessions, providing food and drink and helping in case of emergency. Lecomte plans to swim eight hours a day, averaging 30 nautical miles.
"As far as food, it's going to be difficult, because I need to eat about 8,000 calories [per day]," Lecomte said. "And we don't have any fresh food. We have freeze-dried food. But I'm not too difficult after swimming eight hours."
After each day of swimming, he will board the Seeker and rest through the night. The following morning, the crew will use GPS technology to drop him back into the exact spot he stopped the day before.
RELATED: Follow Ben Lacomte's Journey Across the Pacific Ocean
Besides typical long-distance swim gear — a wet suit, goggles, snorkel, and fins — Lecomte will wear a wrist-mounted, shark repelling device and a waterproof biometric monitor. Data from the medical monitor will transmit health information to the crew as well as a team of doctors on land.
"There can be an accumulation of issues — not enough sleep, and you're seasick, and you're not covering as much distance as you want to," Lecomte said. "The challenge is to manage all that."
The research
Lecomte will also be outfitted with scientific equipment throughout the journey. A mobile radiation detector will look for and track any contaminants from Japan's 2011 Fukushima nuclear power plant disaster.
The team will also collect data on plastic pollution in the Pacific Ocean. Lecomte will get up close and personal with the issue: Charts indicate he will cross the infamous Great Pacific Garbage Patch.
"It's not big floating plastics, it's microplastics — very small pieces," Lecomte said. "So you cannot assess the size of the area by satellite. They only way you can find out is by trailing a net and calculating the density. That's how you know you are in the Pacific garbage patch."
He added: "Fish and sea life, they see [the plastics] as food. When the fish eat that plastic, it goes up the food chain, then you and I eat it."
RELATED: Follow Ben Lacomte's Journey Across the Pacific Ocean
Thanks to the wonders of wireless communication, Lecomte will be the subject of several medical research studies during his swim. Doctors in Texas will track changes to the conditions of Lecomte's heart due to extended extreme exercise.
In a promotional video for The Swim, Dr. Benjamin Levine or the Institute of Exercise and Environmental Medicine says Lacomte's journey offers unique insights into heart health.
"We're very interested in studying the outer edges of human performance," he said. "And Ben Lacomte's swim across the Pacific certainly counts as that."
A team of onboard and remote technicians will monitor Lecomte's digestive system and psychological health as the expedition proceeds. They'll even be looking at the effects of gravity on the human body when immersed in water eight hours per day. NASA is hoping the data will help plan future zero-gravity missions in space.
Follow the swim
You can watch a livestream of Lacomte's journey on YouTube. Videos updates will be published on Seeker.com and on Discovery Go, as well as on Instagram.
The project will conclude with a feature-length documentary set for release in 2019.