Women Report High Levels of Gender Discrimination in STEM Fields
Amid continuing sexual harassment and assault allegations in entertainment, media, and politics, a survey from the Pew Research Center shows half of all women working in STEM industries reported experiencing workplace discrimination.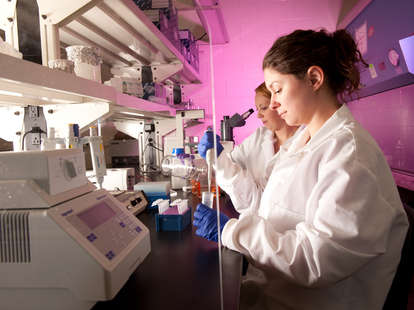 As accusations of harassment, assault, and discrimination continue to roil the entertainment, media, and political worlds, a new national survey shows that half of all women working in STEM industries — science, technology, engineering, and math — report having experienced workplace discrimination, and 36 percent say sexual harassment is a problem in their workplace.
By comparison, only 19 percent of men reported facing discrimination because of their gender.
Women tend to predominate in certain STEM fields such as healthcare. For example, 96 percent of speech language pathologists and 95 percent of dental hygienists are female. But they are underrepresented in other fields, such as engineering, where they make up only 14 percent of the workforce. In IT-related jobs, which include computer scientists, software developers and programmers — women's representation is 25 percent, down from 32 percent in 1990.
For those women who work in those STEM fields where men dominate the workforce, the proportion of whom say they have experienced discrimination rises to a staggering 78 percent, and harassment to nearly 50 percent.
Almost half of women in STEM jobs who work with mostly men say their male coworkers have made it harder for them to succeed in their job, compared to just 14 percent of women who say other women in STEM have constrained their success, according to the report.
"People automatically assume I am the secretary, or in a less technical role because I am female," explained one respondent, a 36-year-old white woman working as a technical consultant. "This makes it difficult for me to build a technical network to get my work done. People will call on my male coworkers, but not call on me."
Other groups that are prone to experiencing discrimination include women in IT-related jobs (74 percent) — often in, but not limited to, the tech industry — and women who hold graduate degrees (62 percent). These groups are also more likely to witness harassment in their workplace: 42 percent of women who work with computers, and 39 percent of those with a post-graduate degree see it as problematic.
RELATED: Women Are More Likely to Consider Sex and Gender in Disease Risk Studies
The Pew results are particularly timely: Accusations of harassment and assault against movie mogul Harvey Weinstein have triggered something of a public reckoning over behavior that has long enjoyed relative impunity. Men in positions of power and celebrity across diverse industries have been brought down and women are speaking out with considerably less fear for their jobs and reputations.
Few high-profile industries have been left untouched, but the tech industry — traditionally male-dominated, and with a notion of success often founded on a heady mix of self-regard and so-called disruption of norms — appears to be wrestling with bigger demons than most.
Complaints have been made against companies too numerous to list, but including such giants as Uber and Tesla, as well as against multiple high-profile venture capitalists working in Silicon Valley.
The Pew statistics provide a critical objective grounding for the growing number of personal anecdotes of discrimination, adding a critical data point to a growing body of evidence of pervasive sexism in STEM industries.
But they only confirm what women have been saying for a long time: In a survey of 200 senior-level women in Silicon Valley in 2015, 84 percent said they had been told at work they were "too aggressive," 66 percent said that they had been left out of important events because they were women, and 60 percent had received unwanted sexual advances while at work.
Men who demean, degrade, or disrespect women have been able to operate with such impunity — not just in Hollywood, but in tech, venture capital, and other spaces where their influence and investment can make or break a career," Melinda Gates, the co-chair of the Bill and Melinda Gates Foundation, told The New Yorker in November. "The asymmetry of power is ripe for abuse."
RELATED: Children Internalize Gender Stereotypes as Early as Age Ten
What has been particularly striking is the sometimes chasmic disparity between the way discrimination is perceived by women and by men. Often, men simply don't take it seriously.
Studies showing gender prejudice against women in science are legion: Again and again research has shown that women in STEM subjects are regarded as less capable than men, even when performing to a similar or to a higher objective standard.
Peer-review methods are compromised, male students are favored for jobs, mentoring and payare unequal, and supervisors are more likely to reply to emails from male PhD students.
The idea that women aren't cut out for science is incredibly persistent, said Wellesley College senior psychology lecturer Linda Carli, an authority on gender discrimination who in 2016 compared how men, women, and scientists are perceived by both genders.
"Common cultural stereotypes about women, men, and scientists lead people to see women as incompatible with science," said Carli. "Men are especially prone to this bias, but everyone shares it. This may result in prejudice (a dislike of female scientists compared with men) and discrimination against them."
Research even shows that male STEM academics exhibit bias in reviewing studies of discrimination. A recent study revealed that male academics tended to dismiss legitimate research demonstrating gender-based discrimination. At the same time, a majority of male academics considered fabricated research suggesting a lack of gender bias in STEM fields as of a higher quality.
Put bluntly, men, and particularly men working in STEM fields, often just don't believe, or don't want to believe, that women are discriminated against. Illustrating this contrast, the Pew survey was published one day after a former Google engineer filed a lawsuit claiming that the tech behemoth discriminates not against the women who make up so few, relatively, of its employees, but against white, conservative men.
In August, James Damore posted a manifesto that railed against Google's efforts to increase diversity to an internal Google forum. The memo was full of pseudo-scientific declarations that women are underrepresented in tech because their gender renders them unsuitable for the work required.
Women were biologically unsuited for engineering, he said, while their "neuroticism" was a barrier to high-stress positions. The memo went viral and Damore quickly lost his job.
Damore's lawsuit claims that Google employs "illegal hiring quotas to fill its desired percentages of women and favored minority candidates, and openly shames managers of business units who fail to meet their quotas — in the process, openly denigrating male and Caucasian employees as less favored than others."
RELATED: Candidate's Gender Doesn't Influence U.S. Voters: Study
In light of the Pew report, Damore's case could be met with sympathy in STEM fields. Male STEM workers are more than twice as likely to think that too much attention is being paid to gender diversity than their female counterparts (5 percent of women versus 13 percent of men), and place less value on diversity.
"Americans' level of support for gender diversity depends, in part, on their own gender," the report reads. "Whereas more than half of women in STEM jobs and non-STEM jobs alike believe that such diversity is highly important (61 percent and 56 percent, respectively), fewer men in STEM and non-STEM jobs say the same (49 percent and 43 percent, respectively)."
Thanks in part to studies like Pew's, public awareness is growing and workplaces are implementing structural changes — albeit slowly.