New Track and Field Regs. Limiting Women's Hormone Levels Spark Intense Debate
The International Association of Athletics Federations has capped testosterone levels in women athletes, which could impact stars like South Africa's Caster Semeya.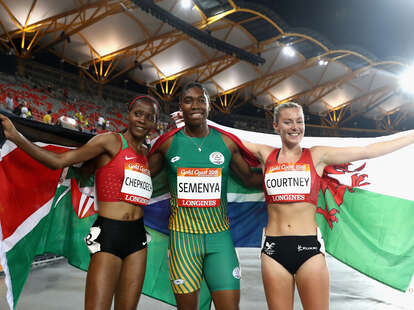 Silver medalist Beatrice Chepkoech of Kenya, gold medalist Caster Semenya of South Africa, and bronze medalist Melissa Courtney of Wales celebrate after the Women's 1500 meters during the the Gold Coast 2018 Commonwealth Games at Carrara Stadium on April 10, 2018 on the Gold Coast, Australia.

| Ryan Pierse/Getty Images
Silver medalist Beatrice Chepkoech of Kenya, gold medalist Caster Semenya of South Africa, and bronze medalist Melissa Courtney of Wales celebrate after the Women's 1500 meters during the the Gold Coast 2018 Commonwealth Games at Carrara Stadium on April 10, 2018 on the Gold Coast, Australia.

| Ryan Pierse/Getty Images
South African athlete Caster Semenya for the past decade has dominated women's world championship track and field events, particularly 800m races. She even beats her prior best times by multiple seconds.
The combination of Semenya's rapid athletic progression and physical characteristics drew the attention of the International Association of Athletics Federations (IAAF), which asked her in 2009 to take a sex verification test. The results were never officially published, but information was leaked to media outlets reporting that Semenya has no womb or ovaries but developed internal testes. And Semenya reportedly has testosterone levels that are three times the normal level for a woman.
Now Semenya could be facing some difficult choices, as the IAAF this week introduced new eligibility regulations for female classification. The regulations — applying to middle distance races of 400m to one mile — require any athlete who has a "Difference of Sexual Development" (DSD) causing a circulating testosterone level of 5 nanomoles per liter (nmol/L) or above and who is androgen-sensitive to meet certain criteria.
The criteria are that she must be recognized at law as either female or as intersex (or equivalent), she must reduce her blood testosterone level to below 5 nmol/L for a continuous period of at least six months, and she must maintain at such a level for as long as she wishes to remain eligible.
RELATED: The Science Behind Pre-Game Rituals
Many organizations have already taken stances against the new regulations.
National Center for Lesbian Rights legal director Shannon Minter has been following related matters for years.
"This is an appallingly sexist rule with no medical basis whatsoever," Minter told Seeker.
Pule Mabe, a spokesman for the African National Congress, South Africa's ruling party, alleges racism. "The regulations are a painful reminder of our past where an unjust government specifically legislated laws for certain activists in society to stifle their fight against an unjust system," Mabe said in a statement. "The IAAF uses the same tactic to exclude those who have defined the past decade as champions and treasures of their home countries."
He added, "We call on government to challenge this grossly unfair, unjust and blatant racist attempt by the IAAF to the court of arbitration for sport."
Semenya is not the only popular athlete who may be impacted by the new regulations. Indian sprinter Dutee Chand has faced similar scrutiny, especially after the Athletic Federation of India stated that she had hyperandrogenism — a medical condition characterized by excessive levels of androgens (male sex hormones such as testosterone) in females. Chand was dropped from the 2014 Commonwealth Games as a result.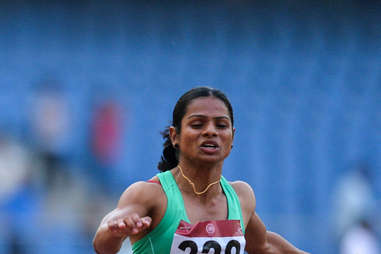 The Indian government appealed to the Court of Arbitration for Sport (CAS) on behalf of Chand, and in July 2015, the court issued a decision to suspend the hyperandrogenism regulation for women's track and field sports. The court granted time for the IAAF to submit convincing evidence that excessive levels of androgens can enhance a woman's athletic performance.
The IAAF did submit papers and subsequently wrote the new regulations, which were submitted to CAS in September of last year. A January 2018 ruling, barring possible future litigation, allows the new IAAF regulations to take effect November 1, 2018.
The IAAF evidence largely relies upon a study published in the British Journal of Sports Medicine and co-authored by Stéphane Bermon of the University of Côte d'Azur and the Monaco Institute of Sports Medicine and Surgery and Pierre-Yves Garnier of the International Association of Athletics Federations Health and Science.
The study looked at the serum androgen levels of 22 male and 21 female athletes competing at the highest level in different track and field events. Statistical analyses then determined how the androgen levels affected each athlete's performance. The researchers concluded that high levels of such hormones are associated with women who "performed significantly better" in various track and field events. Conversely, the researchers wrote, "Such a pattern was not found in any of the male athletic events."
A second study came to similar conclusions about women Olympic athletes. Bermon also wrote a review paper, addressing the findings, which was published last year in the journal Current Opinion in Endocrinology, Diabetes, and Obesity.
"We have seen in a decade and more of research that 7.1 in every 1,000 elite female athletes in our sport have elevated testosterone levels, the majority are in the restricted events covered by these regulations," Bermon said of the new IAAF rules. "This is around 140 times what you will find in the general female population, which demonstrates to us in statistical terms a recruitment bias."
Bermon added, "The treatment to reduce testosterone levels is a hormone supplement similar to the contraceptive pill taken by millions of women around the world. No athlete will be forced to undergo surgery. It is the athlete's responsibility, in close consultation with her medical team, to decide on her treatment."
RELATED: Children Internalize Gender Stereotypes as Early as Age Ten
Minter, however, said, "Women naturally have a range of testosterone levels, and requiring some women to change their bodies to compete is offensive and completely unjustified."
He added, "Men also have a range of testosterone and yet the IAAF has never suggested that men with 'too much' testosterone be banned."
An editorial published in the British Journal of Sports Medicine and updated this week in a blog post claims that the Bermon study "is severely flawed" because "it is likely that the correlations presented in the paper occurred simply by chance."
Beyond issues related to hyperandrogenism, the sports world has for years been grappling with factors that potentially can enhance athletic performance. These include not only natural conditions, but also both legal and illegal drugs (doping), gene therapy, and contemporary concerns about binary gender constructs.
While regulations vary among organizations, transgender athletes under the IAAF must adhere to criteria that are similar to those for female classification.
Anthony Hackney of the University of North Carolina addresses the various complex matters in a chapter in Emerging Issues in Analytical Chemistry. "[S]ome bioethicists and gender equality advocates argue that preventing women with high levels of testosterone or other intersex traits from participating is a form of discrimination, penalizing the athlete for a natural trait of her body," he wrote. "The issue will be one of continued discussion as part of the evolving social dialog on sex, gender, and sport."
The sides could not be more divided at this point. IAAF president Sebastian Coe said the revised rules are not about cheating, but instead "are about leveling the playing field to ensure fair and meaningful competition in the sport of athletics where success is determined by talent, dedication and hard work rather than other contributing factors."
Minter, whose organization regularly advocates for and assists transgender and other LGBT athletes across the country, countered, "This is an outrageous step backward that should be immediately reversed."
Semenya, in turn, commented on the new rules via a fiery tweet — complete with an angry face emoji — directed to the IAAF: "I am 97 percent sure you don't like me but I'm 100 percent sure I don't care."