Here's How the Winter Olympics Might Affect Stock Market Volatility
When their home team wins gold, distracted investors cause market activity to slump, data shows.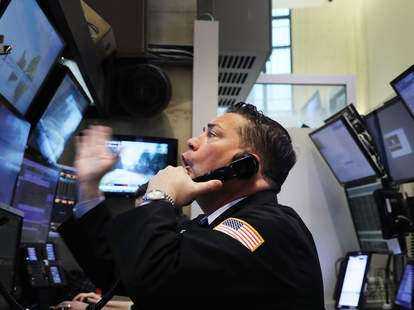 With the Winter Olympics in full swing and global stock markets reeling from sharp losses in early February, it feels like the perfect time to explore the odd connection between Olympic medals and stock market volatility.
As the field of behavioral finance has proven, investment decisions don't happen in a bubble. How we choose to spend our money is influenced by everything from our inherent sense of risk-aversion to the weather outside. One study found that stock markets in 26 countries outperformed on sunny days versus miserable days by 24.6 percent.
Sports results can mess with investors' minds, too. When a country is eliminated from the soccer World Cup, for example, its stock market often drops the next day. Similar results follow Super Bowl losses in the United States and national cricket matches in India. There seems to be a clear relationship between investor sentiment and sports, at least when the home team loses.
But what about the Olympics? Researchers from the United Kingdom wanted to know if global stock markets were affected by the most-viewed international sporting event, so they collected medal data from four Summer Olympics and tracked the next-day market performance of the countries that took home the gold.
RELATED: Winter Olympic Psychology: The Science Behind Pre-Game Rituals
While the price of stocks didn't budge, the researchers found a significant "Olympic effect" on trading volume and overall volatility. If the US won a gold, for example, next-day trading volume on the S&P 500 was three percent lower. The effect was more than doubled in Germany and South Korea, which experienced next-day drops of 6.7 and 7.3 percent respectively, according to a paper published in The European Journal of Finance.
Raphael Markellos is a professor of finance at the University of East Anglia's Norwich Business School and co-author of the Olympic study. He and his colleague Jessica Wang at Nottingham Trent University were struck by the data and wanted to figure out if the dip in trading activity was the result of investor sentiment or attention. In other words, is psychology to blame for the slump, or mere distraction?
"This could happen because investor psychology is affected and that influences investors to trade less," Markellos told Seeker. "The other explanation is that investors are rational, but they're just distracted. They rationally make the decision, 'OK, I'm going to watch the Olympics on TV at work. I'm going to interact less with my clients.' In that explanation, there's no sentiment involved."
To answer that question, they needed historic datasets that could serve as proxies for investor sentiment and attention during the Olympics. For the first, they looked up responses to various surveys that gauge investor sentiment and confidence, like the Michigan Consumer Sentiment Index and the Dow Jones Economic Sentiment Indicator. To measure distraction, they went to Google Trends and compared the number of Olympics-related searches to the usual number of market and finance-related queries.
What they found was that consumer and investor sentiment remained steady during the Summer Games, but that our attention was clearly elsewhere. Olympic-related searches spiked while queries for terms like "S&P 500" were down. The results echoed a previous study showing that as daytime TV viewership went up for soccer matches in the UK, stock market activity went down.
RELATED: Inflatable Safety Suits Protect Downhill Skiers at the 2018 Winter Olympics
Convinced that Olympic-fueled distraction was driving the drop in trading activity, Markellos and Wang next went looking for ways that investors might make money off of the predictable gold-medal dip.
One potential target is something called the Cboe Volatility Index (VIX). Trading volume and market volatility go hand in hand. The less activity, the lower the overall volatility. The VIX calculates near-term market volatility based on options prices. As an investor, you can bet whether volatility will go up or down by trading in VIX futures.
"To put it simply, if there are a lot of medals handed to a specific country on the same day during the Summer Olympics, we can expect a decrease in that country's market volatility over the next day. So we will take a short position on VIX futures," explained Markellos. "We will bet that volatility will go down."
Based on historical market data, the VIX-shorting technique generated higher profits compared to a passive approach that held onto the same investments over the duration of the Olympics.
So should investors be paying closer attention to who takes home the gold in luge or short-track speed skating? The Winter Games draw a much smaller viewing audience than the Summer Games, so the global market effect is going to be smaller, said Markellos, but that in some countries, winter sports are hugely popular.
Norwegian investors, for example, could try out the Olympic trading strategy on the Oslo Stock Exchange. According to Google Trends, Norway shows the most interest in the Winter Olympics. The US comes in at 15, right behind Kazakhstan.