Firearm Injuries Drop 20 Percent During NRA Conventions
A new study shows a statistically significant decline in gun injuries across the country during the National Rifle Association's annual convention.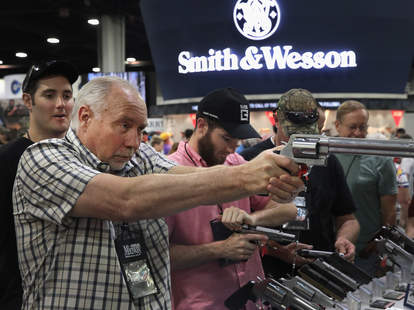 According to new research from Harvard Medical School, the likelihood of firearm injuries in the US drops significantly when gun enthusiasts pack away their weapons and gather for major conventions. 
The statistical decrease, researchers say, suggests that even a brief period of gun abstinence by firearm enthusiasts can improve gun safely in the US.
Published in The New England Journal of Medicine, the research focuses on the annual convention of the National Rifle Association, which draws tens of thousands of gun owners and supporters each year. The researchers tracked national gun injury reports during the week of the convention and compared them with injury reports just before and after the annual event.
Analysis showed that gun injuries on non-convention days occurred at a rate of 1.5 per 100,000 people, compared with 1.25 on convention dates, which amounts to a 20 percent difference.
"These numbers are clinically and statistically significant," said Anupam Jena, senior author of the study and professor of heath care policy at Harvard Medical School.
The researchers' working hypothesis, Jena said, is based on a rather ironic idea: The annual NRA convention actually causes a significant and temporary drop in gun use. Because the conference draws the nation's most avid firearm users, the researchers suspected that gun use would likely decline during the dates of the event.
"We reasoned that the convention might be large enough that the sheer number of people attending would lead to brief but meaningful reductions in gun use." Jena told Seeker.
RELATED: Some Common Characteristics of the Men That Kill
They also factored in the likelihood that operators of firing ranges and hunting grounds would take the week off.
"Fewer people using guns means fewer gun injuries, which in some ways is not surprising," Jena said. "But the drop in gun injuries during these large meetings attended by thousands of well-trained gun owners seems to refute the idea that gun injuries stem solely from lack of experience and training in gun use."
To facilitate the comparison, the researchers cataloged more than 75 million medical insurance claims for ER visits and hospitalizations related to firearm injuries between 2007 and 2015. Although the scope of the study was limited, the results suggest further analysis of the phenomenon is warranted, Jena said.
"Given the data limitations, it's hard to know how these estimates would apply to other populations — we studied the privately insured — and the extent to which these reflect reductions in intentional versus unintentional injuries," Jena said.
The new research is part of a broader series of studies in which Jena examines the effects of large gatherings on various health issues.
"I've had a longstanding interest in understanding how large events can inform us about various aspects of human behavior and health," Jena said. "I've shown that mortality rates of elderly Americans increases on dates of major marathons because widespread road closures make it difficult for patients to get to the hospital."
RELATED: Pathologists to Search Stephen Paddock's Brain for Clues to Mass Shooting
Jena said that the NRA's annual gathering represented an irresistible avenue of research.
"The NRA annual convention is an interesting event to study because of its size — more than 80,000 people attend annually — and because it attracts a very specific group of people; gun enthusiasts," he said.
Jena said it's important to note that the findings are based on an observational analysis and the research does not address direct cause-and-effect relationship between injury rates and meeting attendance.
Still, the findings can provide valuable information for public policy makers, Jena said.
"The question we wanted to answer is: What happens when presumably experienced gun users are less likely to use guns? There is an active belief that guns themselves are not inherently unsafe but that they are only unsafe in the hands of untrained and inexperienced users," he said. "No matter how one feels about guns, one thing that we should all recognize is that owning and operating a firearm entails risk."
According to the most recent available numbers from the US Centers for Disease Control and Prevention, there were more than 65,000 intentional firearm injuries in the United States in 2014, and nearly 16,000 unintentional firearm injuries. Nearly 2,000 of the total injuries involved children under 18 years of age.