Zoo Plans To Separate Gay Penguins
Buddy and Pedro are inseparable and show signs of same sex mating behaviors. But the zoo plans to break the pair apart.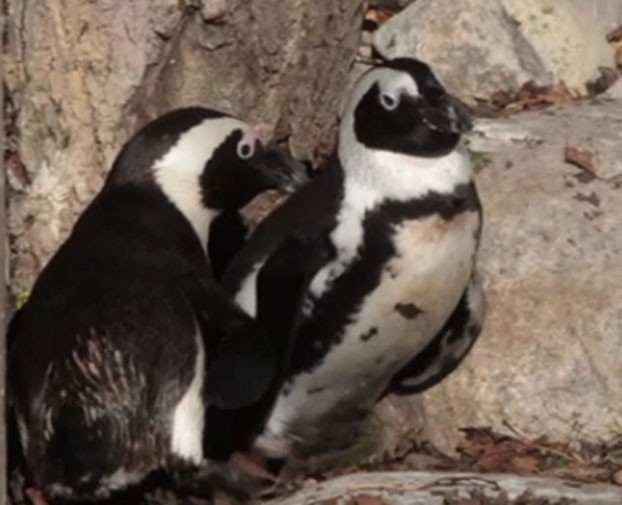 Buddy and Pedro, two African penguins at the Toronto Zoo, are inseparable and show signs of same-sex mating behaviors. But the zoo plans to break the pair apart soon, according to a report in The Toronto Star.
That's because the two males were intended for a breeding program, which could help strengthen their species in captivity. Buddy and Pedro are said to have quality genes that would pass on to any offspring they might father.
 SCIENCE CHANNEL VIDEO: An Evolutionary Joke
Gay male penguin couples appear to be fairly common. The Central Park Zoo has turned out to be the Castro of the penguin world, with several homosexual pairs observed there. Perhaps the most famous couple is Roy and Silo, two male chinstrap penguins who incubated an egg and together raised the hatched chick, named Tango. A children's book, And Tango Makes Three, chronicles this event from about six years ago.
Gay penguins have also been noted at SeaWorld Orlando and zoos in Japan and Germany. Homosexuality in general has been documented in at least 1,500 species.
 PHOTOS: FIVE FANTASTIC ANIMAL FATHERS
As a SheWired story points out, "gay" or "homosexual" isn't usually the term used by animal keepers. In zoo speak, it's called "pair bonding." Buddy and Pedro apparently forged their connection in Toledo, Ohio, where they were members of a bachelor flock. It's a May-December pairing too, as Buddy is 20 years old and Pedro is 10.
According to the Toronto Star report, the two penguins emit mating calls to each other, which make them sound like braying donkeys. They also swim and frolic together, regularly groom each other, and pair off together every night.
"It's a complicated issue, but they seem to be in a loving relationship of some sort," Joe Torzsok, chair of the Toronto Zoo board, was quoted as saying in the news story.
So what should win out — the established penguin pairing or the zoo's need for breeding? So far, the latter appears to be Buddy and Pedro's fate.
African penguins, native to South Africa, have experienced significant population drops in recent years due to pollution, the encroachment of commercial fisheries on their food supply in the wild, and other mostly human-caused problems. At present, the species' numbers are dropping by 2 percent a year, with only 224,000 or so known to exist in the world.