Zipline through NYC Streets This Summer
Activities like ziplining and rock climbing are great ways to get outside during the summer, but usually you have to get out of the city to to give them a shot. Except for New Yorkers and tourists who'll be in town this month, who don't need to go anywhere. That's because NYC Summer Streets, the [...]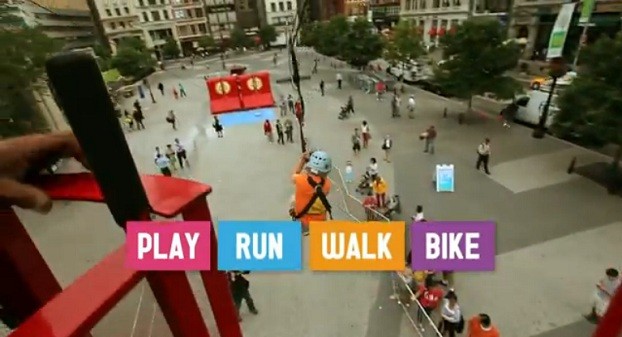 Image via YouTube screenshot.
Activities like ziplining and rock climbing are great ways to get outside during the summer, but usually you have to get out of the city to to give them a shot. Except for New Yorkers and tourists who'll be in town this month, who don't need to go anywhere. That's because NYC Summer Streets, the annual car-free block party on Lafayette St and Park Ave, from Central Park to the Brooklyn Bridge, is back for another three Saturdays of fun.
That's seven miles of streets, with a lot going on. Try biking, rollerblading, yoga, art installations, tai chi, skateboarding, a giant picnic sponsored by Whole Foods, and other activities, all designed as part of a fun, fit, healthy lifestyle.
But the most fun – and popular – feature is likely to be the zipline at Foley Square. At 160 feet, it's no match for some of the world's biggest and fastest, though the trill of flying through a natural canyon should be matched by a canyon of skyscrapers. Then there's the 25′ rock climbing wall outside the REI in Soho, which is the closest to feeling like Spiderman you're likely to come.