WWII Dogfight Evidence Found in Italy
A P-40 Warhawk fighter is unearthed in Italy, and the story reconstructed of three U.S. pilots shot down by German planes.
A group of amateur researchers have discovered dramatic evidence for one of World War II's last Curtiss P-40 Warhawk and Luftwaffe's JG 53 "Aces of Spades" dogfights, revealing a forgotten story of courage and survival.
The team unearthed the remains of a Curtiss P-40 Warhawk, an American single-engine, single-seat fighter and ground attack aircraft, in the Lepini mountains near the village of Gorga some 50 miles from Rome.
The finding prompted the group to reconstruct some powerful events which occurred 69 years ago. Involving U.S. pilots and Italian civilians, the story mainly centers on Lt. James Dealy, one of three U.S. pilots shot down during an aerial fight in 1944.
All the American pilots were aboard P-40 Warhawks. Known for the "shark-mouth" artwork on its nose, this fighter first flew in 1938 and was then used by the air forces of 28 nations, including most of the Allied powers during World War II, remaining in frontline service until the end of the war.
"We found parts of the engine, sheets of metal and the remains of ammunitions belonging to a M2 Browning machine gun up high in the mountains," Marco Ballini, a wreck hunter from Montelanico near Rome, told Discovery News.
With the help of Air Crash Po, a group of wreck hunters from Cremona, Ballini and colleagues were able to identify the wreckage fragments as belonging to the plane.
"Archival research and witnesses revealed the plane crashed on May 13, 1944. That was the last fight in the Mediterranean war theater involving the Curtiss P-40 Warhawk planes," Agostino Alberti of the Air Crash Po group told Discovery News.
"Further research made it possible to establish that the fighter's pilot was 23-year-old Lt. Arthur F. Kusch. He was flying with seven other pilots belonging to the 324th Fighter Group," Alberti said.
The pilot team took off from Pignataro Maggiore, near Naples, for an armed reconnaissance mission near Rome. Flying over the Liri valley, looking for possible targets, the U.S. pilots were caught by 8–10 German Messerschmitt Bf 109 fighters.
In the fight that followed, three American planes were shot down. The first to be hit was Kusch's aircraft. It crashed from about 10,000 feet, leaving no hope for the pilot, who had remained inside the plane. His body was first buried by local civilians near the crash site and later moved to Saint Louis County cemetery.
The plane of Lt. Matthew O'Brien was the next to come under fire, and he was able to bail out, wounded in a leg. O'Brien was befriended and hidden away by three Italian civilians for more than a month, until the liberation of the region by the advancing Allied troops.
"Unfortunately, that's all we know about Lt. O'Brien," Alberti said.
The last to be hit was 28-year-old Lt. James F. Dealy, who bailed out further south, injuring his leg. He too was saved by Italian civilians.
"I have identified the crash sites of both Dealy and O'Brien's planes, but the pieces are not easy to reach as they lay up high in rugged mountains," Frateschi said.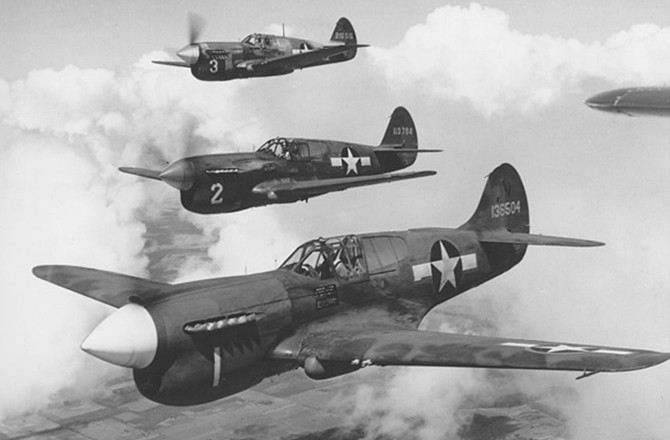 American pilots from the 324th Fighter Group flew an armed reconnaissance mission near Rome, before being caught by 8–10 German Messerschmitt Bf 109s.Wikimeda Commons
Dealy was undoubtedly the most famous of the three pilots who were shot down. Born in Nashville, Tenn., he was one of five brothers who all served in the the U.S. Army Air Corps during 1942-1944. He was even featured with his two pilot brothers taking the enlistment oath in a widely shown MGM documentary.
"James ('Jim'), Robert ('Bob'), and John ('Jack') were pilots, Arthur ('Art') was a bombardier and William ('Bill') was a technical sergeant. All five brothers served in the Italian theater and all came home alive," Dan Dealy, James' nephew and a former U.S. Navy pilot himself, told Discovery News.
While identical twins John and Arthur were captured and taken into German POW camps, Robert and James were lucky enough to be helped out by Italian families after they were shot down.
"In a very real sense, I owe those Italian families a deep gratitude," Dan Dealy said. "They put their own lives at risk to help my father Bob and my uncle Jim."
Archival research carried out by Vincenzo Frateschi from Sonnino, Latina, and James Dealy's detailed diary about those dramatic events, allowed Ballini and colleagues to find the Italian who first helped Dealy as he touched ground. It was an 8-year-old boy named Enrico ("Enrichetto") Onorati.
"I was just a child, but I knew exactly what to do," Onorati, who is now 77, recalled. "I knew the Germans were rushing to the site, so I hid the pilot and his parachute in a nearby haystack."
When the Germans arrived, searching for the pilot, they started shooting into the brush and haybales around where he was hiding.
"My family, my neighbors, we were all scared," Onorati said. "Had the Germans found out we were hiding the American pilot, they would have shot us all."
As the German soldiers finally left, Onorati's family called one neighbor, Rocco De Angelis, who could speak English.
Lt. Dealy was then hidden by the De Angelis family until he was able to return to his squadron. It was actually Dan Dealy's father, Robert, who picked James up to return him to their fighter group base.
"Both my dad and Jim became engineers after the War," Dan Dealy said. They had long careers in the U.S. Army Corps of Engineers, continuing to contribute to the post-war growth and development of the United States."
James Dealy died in 2009, at 93. In the early 1990s, he donated his evasion clothing and a German machine gun to the Air Force museum at Warner Robins Air Force Base in Georgia.
"He had picked up the machine gun and an officer's dagger while riding a donkey with the Army troops that were escorting German POW's back towards the allied lines -- just before being picked up by my dad," Dan Dealy said.
He added that the Dealys are planning to donate most of their family's World War II documents, photos and letters to the National World War II museum in New Orleans.
Meanwhile, Ballini and colleagues will try to recover the remains of O'Brien and Dealy's planes. They also would be extremely interested in contacting the relatives of O'Brien and Kusch.