Heat, humidity and flexibility are all risk factors for pulls and strains in top athletes.
The first week of the World Cup in Brazil has seen a rash of injuries to star players: Jozy Altidore of the United States, Brazil's "Hulk," as well as starters for Italy, Germany and Portugal. Is it the Brazilian heat and humidity, opening game nerves, or is something else going on?
Sports medicine experts say that it's likely a combination of factors including players that are adapting to a new environment for the four-week championship tournament. U.S. Soccer team physician George Chiampas said the muscle injuries Monday to Altidore and Matt Besler -- and broken nose of forward Clint Dempsey -- are part of every professional soccer game.
"That's why you have 23 players," Chiampas told Discovery News from Sao Paulo. "There are things out of your control. You have to prepare for that and it's part of the World Cup. Everybody understands that."
Chiampas said some games finish with no injuries, while others leave players bloodied with cuts and other kinds of injuries. "It's difficult to predict," he said.
Chiampas and other members of the medical staff have been preparing the U.S. Men's National Team for several months for the rigors of Brazil's climate, including training camp in Stanford, Calif., and several days in the swampy conditions of Jacksonville, Fla., right before arriving in Sao Paolo.
Still, pre-tournament fatigue could be a factor. Some players, like Altidore, have just completed eight or nine months of a brutally tough European season. Others, like Dempsey, are only a few months into their domestic Major League Soccer schedule. They might be more rested and ready.
"Every team is trying to get their athletes to ideal readiness," said Stephen Rice, director of the Jersey Shore Sports Medicine Center. "They also want to get fit and that means pushing up to the edge. The margin for stepping over the edge can get tight."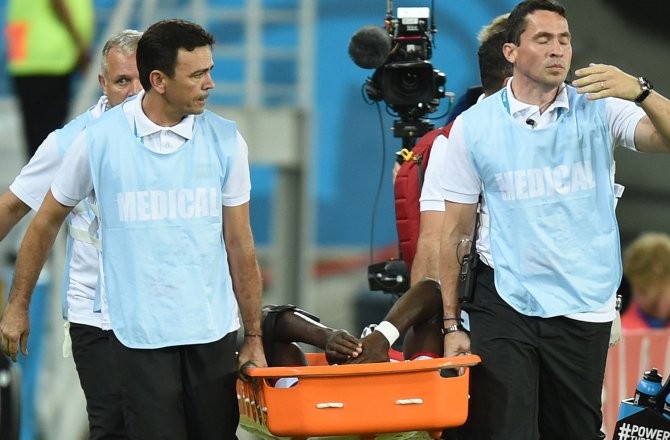 Jozy Altidore is taken from the pitch on a stretcher after picking up an injury during the FIFA World Cup 2014 group G preliminary round match between Ghana and the USA.Corbis
A pulled hamstring, the injury that felled Altidore 21 minutes into the first U.S. match, occurs when a player is either accelerating or slowing down. It often happens when the quadriceps muscle that contracts to move the leg forward overpowers the hamstring on the back of the leg. Hamstring injuries happen to short and tall athletes equally, but those who are naturally tighter are at greater risk.
"They normally happen to athletes that don't have a strong global flexibility program," said Lewis Maharam, medical director of the New York City Marathon and past president of the New York College of Sports Medicine. He said warming up is important, but "if you stretch right before you perform, even with sprinters, you will be slower."
Maharam noted that athletes playing in higher-than-normal heat and humidity could be at greater risk to injury. That's because the body's blood flow is diverted to the skin to keep you cool, and not available to move muscles.
"If you come from a cool, dry climate and try to play in a hot, wet, humid environment (without) enough time to acclimate," Maharam said, "you will feel weary very quickly."
Chiampas, the U.S. soccer team physician, said the team has worked for months on preparations for Brazil's climate and the fatiguing effects of travel. The 23 U.S. players have to fly 11,000 miles across Brazil for their first three games.
"A lot of people don't realize the amount of work that goes in while we are here and our training staff works tirelessly on these players," Chiampas said.
"We spend a lot of time with fitness coaches, physical therapists and trainers ensuring more time off the field so the muscles recover and playes get the treatments they need every day."
The U.S. flies to the Amazon jungle city of Manaus this weekend for a Sunday match against Portugal, where forecasts show temperatures in the mid-80s and humidity above 75 percent.
Altidore is not likely to start, but head coach Jurgen Klinsmann told reporters yesterday that he "was full of hope" that the star forward could return before the end of the U.S. team's run in Brazil.