Does momentum exist? Most athletes and coaches say yes, but psychologists say that it's really about how players tune themselves in and out of games, and when they put it to rigorous testing, they often find it is tough to measure.
This weekend, sports fans can tune into the World Cup in Brazil, the NBA finals or the NHL finals. In each case, teams are relying on momentum to carry them through each match, as well as mutli-game championship tournaments.
"Psychological momentum is objective in the sense that if you are up you have the momentum," said Richard Lustberg, a sports psychologist in New York City who works with many athletes. "It's whoever is ahead."
Lustberg works with professional and amateur athletes to help them get the best out of their game. He says that momentum is often something that can be instilled by coaches on the sideline or team leaders on the field or court. When a team is losing, the players need to figure out how to reconnect to the finely-tuned athletic skills that got them there in the first place.
"It's extremely important how coaches interact and give the team some plausible cause why they can recover and win," Lustberg said. "One of the crucial things is how they coach or the leaders of the team come in and give them a reason to believe."
That could be happening today in two lockers room as the New York Rangers try to come back from a 3-1 deficit against the Los Angeles Kings for the NHL title, and as the Miami Heat try to rebound from a 3-1 deficit against the San Antonio Spurs in the NBA.
Lustberg says that for either the Rangers of Heat to win, the entire team needs to remain focused on the game, including the bench-warmers. He does this with his athlete-patients.
"I have the player focus on the game rather than on his performance," Lustberg said. "I make him an observer of the game so that he's an active participant."
Academic researchers still appear to be divided on whether the concept is real or not, according to several academic papers.
An study of Wimbledon tennis matches in the mid-1990s found small positive and negative effects of momentum, while another in 2012 found evidence for psychological momentum in hockey, especially right after a fight between opposing players.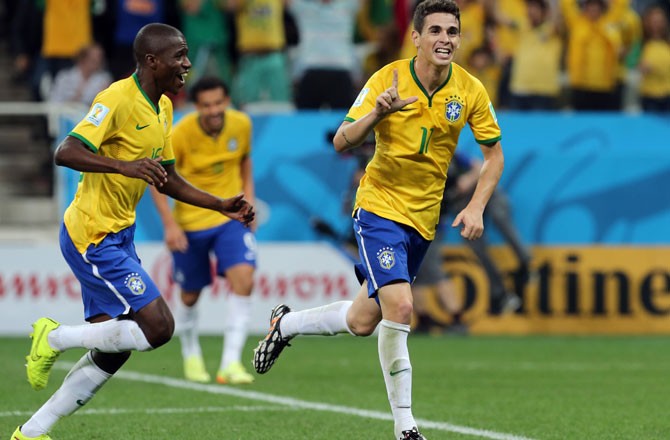 Opening game of the World Cup 2014: Brazil versus Croatia. Brazil players celebrate after scoring a goal for a 3-1 win. Corbis
But a 1985 study found that basketball players and fans believed "a player's chance of hitting a shot are greater following a hit than following a miss on the previous shot," but neither a statistical analysis of two NBA teams' shooting records nor a controlled experiment with collegiate basketball players backed it up.
One recent study on momentum in professional football looked at more than 500,000 video replays in the NFL and tried to tease apart whether a big play on defense led to the offense moving the ball or scoring. It didn't, according to Aaron William Johnson, a graduate student at the Massachusetts Institute of Technology who submitted a paper to the Sloan Sports Conference in 2012.
"Me and my co authors are big football fans and we wanted to see if there was evidence for it," said Johnson, who is in department of aeronautics and astronautics. "We can't say it doesn't exist, but we couldn't find it."
Johnson and other academics look at something called the momentum chain, a six-step process that transforms a psychological action into a physical change and finally a change in performance and outcome on the field. Johnson noted that the chain often gets a few kinks in a team sport.
"It's a complex chain and when you have 22 players," he said. "There's a lot of places for this to get lost."
In the World Cup, one aspect of momentum appears to hold true. Teams that win their first game are likely to move deeper into the tournament. Since 1998, only 4 of 46 teams that lost their first game have advanced to the round of 16.
Meanwhile, 84.8 percent of teams that won their first game and 58.3 percent of teams that drew their first game advanced, according to the Wall Street Journal. Perhaps that's why the U.S. men's national team, as well as every other World Cup squad, is eager to win right away.