World-Class Surfing Tournament Starts in New York Amidst Little Waves (Updated)
The Big Apple is known for a lot of world-class things, but one of them isn't surfing -- until perhaps now. Quiksilver and the Association of Surfing Professionals (ASP) kicked off the first ever world competition on the east coast of the USA this weekend in Long Beach, New York -- the center of New [...]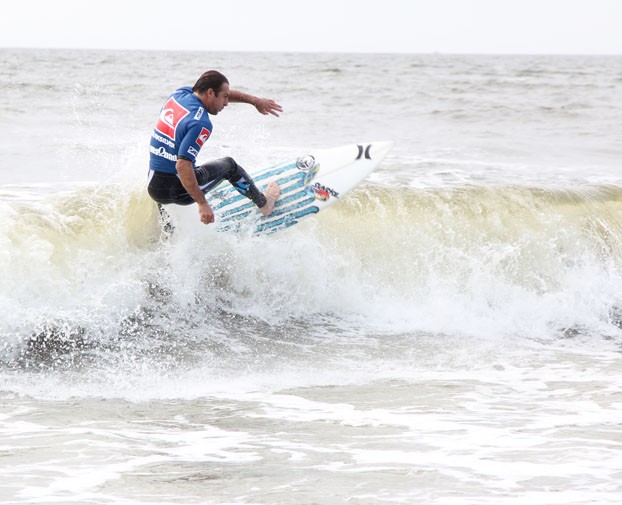 Asher Nolan surfs his way into a wildcard spot at Quiksilver Pro New York 2011. Photo: Erik R. Trinidad
The Big Apple is known for a lot of world-class things, but one of them isn't surfing — until perhaps now. Quiksilver and the Association of Surfing Professionals (ASP) kicked off the first ever world competition on the east coast of the USA this weekend in Long Beach, New York — the center of New York City's burgeoning surf scene — about twenty miles away from Quiksilver's Times Square store. The event, whose fate had been jeopardized by Hurricane Irene, brings 34 of the world's top surfers, including legendary 10-time ASP surfing champ Kelly Slater, to compete for a whopping $1 million prize purse — stakes big enough to ameliorate a surfing competition in a city not exactly known for surfing.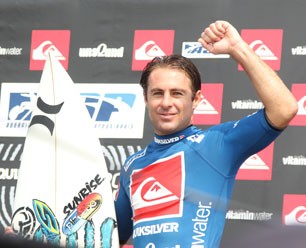 Jacksonville's Asher Nolan. Photo: Erik R. Trinidad
Small waves set the stage of the event last Sunday, when trials were held to fill the one remaining wildcard spot in the tournament. Not that little waves put a damper on the competition; when you're a pro, you can surf and do tricks no matter what size the waves are, and this was proven by wildcard winner Asher Nolan, 28, of Jacksonville, Florida. Two wildcards were up for grabs actually, but Quiksilver had already automatically selected Balaram Stack, the 20-year-old local surf hero from Long Island (who already had an sponsorship with Quiksilver). The two represent the east coast in the first competition on their home turf, amidst pros like Australia's Owen Wright, Brazil's Heitor Alves, South Africa's Travis Logie, Portugal's Tiago Pires, and Jeremy Flores of Reunion Island.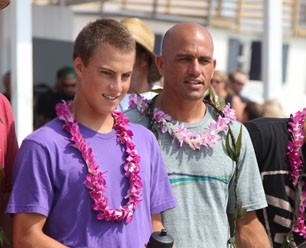 Stack vs. Slater. Photo: Erik R. Trinidad
Both Stack and Nolan have a shot at the top prize of the million dollar event, however young gun Stack, who had only celebrated his 20th birthday on the day of the tournament's opening ceremony last Monday, must face Kelly Slater in round one. Stack's advantage is that he's surfing not only on the coast that he's familiar with, but at Long Beach, NY, the very beach he grew up surfing. Slater, who is originally from Florida, would tweak his skill for such a venue, although he seemed pretty jazzed about it.
"I like being on the East Coast, I sort of feel like I'm home," Slater said at the opening ceremony. "Even today on the beach the crowd just seemed so into it and there's nothing going on yet. Everyone's just cheering it on and I think there'll be an impressive crowd when Balaram paddles out because he got a pretty big welcome on the beach today. I've never surfed a world tour contest since I've been a pro on the East Coast."
The 11-day affair may have started off with little waves, but the east coast would hopefully bring formidable ones by the tournament's finals. While Hurricane Irene may have put a damper on Quiksilver's big foray into the New York scene, Hurricane Katia would help it out, churning up the Atlantic over the course of the week to bring greater waves to Long Island by Thursday or Friday. What that will do for Nolan, Stack, Slater and the other 31 ASP surfers will soon be determined. As far as Quiksilver is concerned, gambling on New York seemed to be profitable despite their Irene-related setbacks and festival cancellations — profits from the huge New York market seems to be their ulterior motive for hosting it there in the first place. From what I saw in the big merchandising tent built off of Long Beach's boardwalk, it was already a success at least from a retail point of view, with many people buying official Quiksilver Pro New York gear as souvenirs simply to remember that they were there when a world-class surfing competition came to New York City the first time.
UPDATE: Amidst a rainy first day in New York for Round 1, both wildcards Asher Nolan and Balaram Stack placed last in each of their heats.