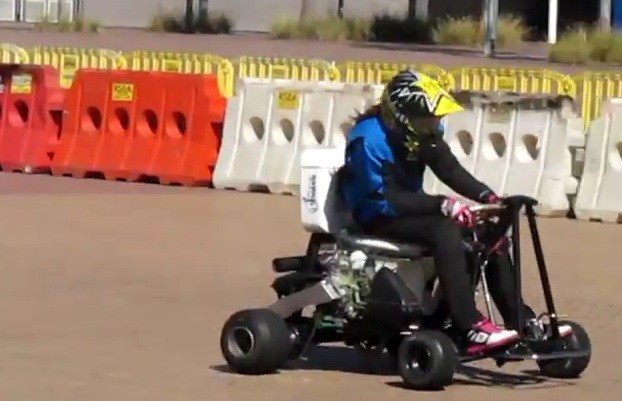 Jolene Van Vugt rides her toilet to glory. Image via YouTube screenshot.
If you've ever wished someone on the toilet would hurry up, you'll love Jolene Van Vugt. The newly crowned "Porcelain Princess" from Ontario set a new Guinness World Record this week: fastest speed on a motorized toilet. On the 100 meter dash, she held an average speed of 75 km/h (46.6 mph).
The stunt, held in Sydney, Australia was designed to promote the Nitro Circus, a motocross event featuring Van Vugt. The previous record, set in Milan by Edd China last March, was 68 km/h.
Fittingly, the toilet ride was almost derailed by a problem with the chain, but Van Vugt got her ride working well enough to set a new record. On her Web site, she writes:
It was super fun and it's always cool to work towards a Guinness World Record and what more could a girl ask for then a world record on a toilet! lol We were debuting the toilet contraption as it will be a new piece used on tour, but you have to come checkout the show to see what is in store for this motorized toilet  :)