Wirelessly Stream HD Video from Your PC to TV
From up to 30 feet away, send high-def video and 5.1 surround sound audio from your laptop to your television.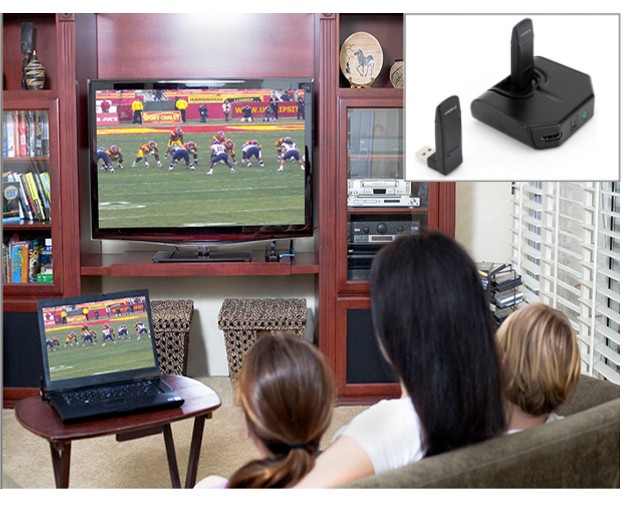 Warpia StreamHD: $159.99
Last week, we showed you how to wirelessly stream live TV content from an HD antenna to your laptop. Today, we're showing you how to stream HD video from your PC to your TV. (Note: We're not suggesting combining these solutions, since you could save a step just connecting the HD antenna right to your television.)
Warpia's StreamHD adapter connects to your TV via HDMI cable. Across the room, a pre-paired dongle plugs into a USB 2.0 port on your laptop. The two devices communicate via Wireless USB, an Ultra Wide Band (UWB) wireless technology. And as long as the dongle and adapter remain within 30 feet of each other, you're good for 32-bit True Color HD video at up to 1080p on your TV and Dolby Digital 5.1 surround sound audio. By way of comparison, Intel's WiDi (Wireless Display) technology requires very particular hardware, only works with Windows 7 and is currently available on fewer than a dozen laptops. For full-screen streaming 1080p video, StreamHD needs your laptop to have an Intel Core2 DUO 2.4GHz with 2 GB of memory. (Slower chips work too, for viewing pictures, Internet browsing and 720p video.) Either way, it works with a larger variety of laptops running Windows XP, Vista and 7.