Wingsuiter Jeb Corliss Crashes on Table Mountain (Video)
Daredevil BASE jumper and wingsuiter, Jeb Corliss, former host of Discovery Channel's "Stunt Junkies," whose exploits have been profiled on ESPN and ABC's 20/20, broke both his legs in a Jan 16 crash on Table Mountain in South Africa when his jump went horribly wrong. The 35-year-old Corliss was filming a special for HBO, and [...]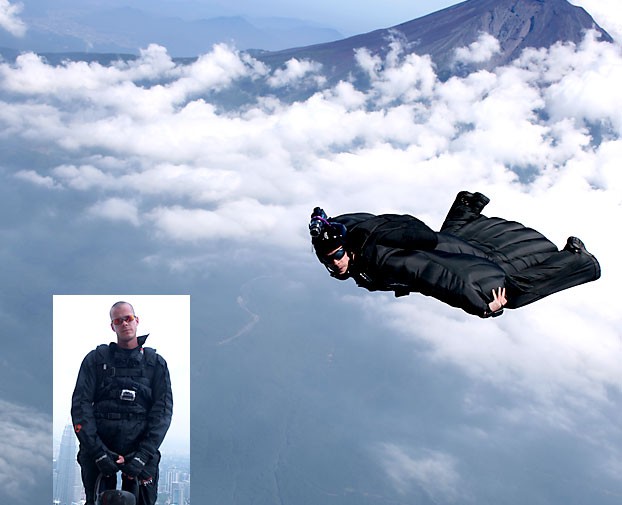 Photos: JebCorliss.net
Daredevil BASE jumper and wingsuiter, Jeb Corliss, former host of Discovery Channel's "Stunt Junkies," whose exploits have been profiled on ESPN and ABC's 20/20, broke both his legs in a Jan 16 crash on Table Mountain in South Africa when his jump went horribly wrong.
The 35-year-old Corliss was filming a special for HBO, and had jumped off Table Mountain in Cape Town, when it appeared he clipped a ridge, spun out of control and fell 200 feet before landing on a slope known as Africa Face.
In this video of the crash, you can see Corliss hit the edge of the ridge at about the :30 second mark, and spin off out of control. (Note: An F-bomb is dropped at about :24, so if you're watching at work, dial down the audio.) He did manage to deploy his emergency chute, which probably saved his life.
Adventure Journal reports Corliss' partner, Joby Ogwyn saying, "I heard a sound – it sounded like Jeb hit a ledge, it sounded like he hit it twice, pretty hard. It could have been a strange gust of wind; it could be that he got too close to the mountain."
Corliss was airlifted to a hospital where he is recovering, and sent a message to friends saying, "I feel better than I've ever felt."
According to Merle Collins, spokesperson for Table Mountain National Park, Corliss had applied for a permit to perform the jump and was denied. In a statement after the accident she said, "The danger associated with base jumping does not allow us to issue permits. He did not have permission. We will definitely fine him and possibly press charges." Talk about adding insult to injury…