Wind Turbines Set Sail for Deeper Seas
Britain is collaborating with the United States to harness energy from offshore areas too deep for traditional wind turbines.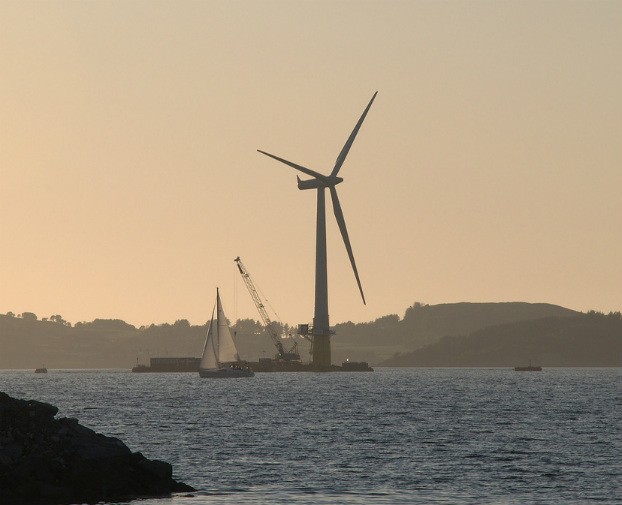 One-third of Europe's entire offshore wind power potential can be found sailing around the United Kingdom. The British government just announced a collaboration with the U.S. to fully tap into that resource, even in areas too deep for standard wind turbines.
The news came out ahead of Wednesday's Clean Energy Ministerial meeting in London, which brings together ministers from countries around the world to advance a number of clean energy plans and projects. Steven Chu, U.S. energy secretary, and his British counterpart, Edward Davey, will be co-chairing the meeting series.
Wind turbines are old hat for the U.K., a country that has more installed around its shores than any other in the world, according to Davey. However, some of the biggest wind power potential can be found along stretches where the water depths run around 200 to 300 feet — too deep for affixing turbines to the seafloor.
To address this challenge, floating wind turbine technology developed closely with the U.S. will be put into place. In Norway, the Hywind project has become the first full-scale floating wind turbine demonstration, relying on buoyant steel cylinders that support turbines and are tethered lightly to the seabed. Then there are a number of other designs, including sail-like turbines like those by the Boston-based startup Altaeros.
"Floating wind turbines will allow us to exploit more of the our wind resource, potentially more cheaply," Davey told the press about the plan.
A $40 million demonstration project off the Cornish coast that can generate between 5 and 7 megawatts within four years will be commissioned by the British Energy Technologies Institute, reports The Guardian. Meanwhile, $180 million to fund four advanced demonstration projects stateside has been announced.
More than just a handshake between the energy secretaries, the two say they will be signing a memorandum of understanding. The MOU stretches across a number of clean energy areas.
"We're determined to work together to capitalize on this shared intent," Davey said.
Photo: The U.K. plans to install offshore floating wind turbines, similar to this one near the Norwegian coast. Credit: L.C. Nøttaasen.