Why Seahorses Are Shaped Like Horses
Even though seahorses are some of the slowest swimmers, they can catch fast-swimming crustaceans because of the shape of their heads, scientists have found.
Arlene Wechezak
Oct. 23, 2012 --
For 37 years the Nikon Small World photography competition showcases the beauty and extreme details captured using light microscopes. Every year the world below the waves provides many interesting subjects for the Small World competition. Most examples of aquatic life are entered by professionals in, or students of marine biology, but many of these images were provided by entrants from other disciplines who simply find marine life fascinating. Here, photomicrographer Arlene Wechezak of Anacortes, Wash., and 10th place winner of the 2009 Small World Contest, magnified 10x an Obelia species of hydrozoa with extruded medusae as a fresh sea water mount using a darkfield.
Arlene Wechezak
Here we see the same species as before only this time magnified 40x its original size. The extruded medusae of the Obelia hydrozoa contain tentacles that sting and capture the animal's prey.
Bruno Pernet and Russell Zimmer, California S
In this image, biologists magnified 20x a species of bryozoan of the genus Membranipora found on seaweed and kelp using stereomicroscopy.
James H. Nicholson, Hanian Lang, and Sylvia G
Almost transparent tissue covers the hard skeleton "cups" of each polyp in this brightfield photo of brain coral in the genus Goniastrea magnified 25x.
Alvaro Migotto
Marine biologist Alvaro Migotto of the University of São Paulo in Brazil used stereomicroscopy and a darkfield to capture this photo of a brittle star magnified 8x.
David Maitland
Photographer David Maitland of Feltwell, UK, zoomed in with 100x magnification on coral sand over a brightfield.
Tomasz Kozielec, Nicolaus Copernicus Universi
Surface of shark skin tanned with a chromium compound magnified 40x with reflected light.
ANALYSIS: US Shark Fin Soup Appalling and Widespread
John Dolan, CNRS/University of Paris Laborato
On its side this marine ciliate (Rhabdonella spiralis)looks like a trumpet; when the image is turned vertical it looks like a champagne flute - a fine photo from French oceanographer John Dolan, who used a differential interference contrast technique and 40x magnification.
Robert Brons Insula College Dordrecht in Spij
A freshwater Bryozoan, or moss animal, Cristatella mucedo in a darkfield magnified 6.5x.
BIG PIC: Rock Vomit: A Sea Squirt Infestation
Diana Lipscomb
Biologist Diana Lipscomb of George Washington University in Washington, used Nomarski Interference Contrast and a magnification of 400x the original size to showcase a suctorian ciliate, Acineta tuberosa, in the phylum Ciliophora.
Diana Lipscomb
Using Nomarski Interference Contrast and a magnification of 400x the original size this photo shows a ciliate in the genus Sonderia that preys upon various algae, diatoms, and cyanobacteria.
PHOTOS: Evolution Before Your Eyes

Seahorses are unique among fish for having bent necks and long-snouted heads that make them resemble horses. The overall shape of their body, including the lack of a tail fin, helps make them "one of the slowest swimmers on the planet," said Brad Gemmell, a marine biologist at the University of Texas at Austin. "They don't swim very much -- they tend to anchor themselves to surfaces like seagrass with their prehensile tails." (Prehensile tails, like those of monkeys, can grasp items.)
Gemmell and his colleagues were investigating how seahorses and other fish feed on microscopic shrimplike crustaceans known as copepods. [In Photos: The Freakiest-Looking Fish]
"Copepods are really important," Gemmell said. "They're fed on by a wide majority of marine animals during some point in their life histories -- in particular, a lot of commercially harvested fish."
Since virtually all marine animals like to eat copepods, "these crustaceans have evolved some very impressive escape behavior," Gemmell said. "They're very, very sensitive to disturbances in the water, such as those created by approaching predators."
Once copepods detect these disturbances, they can swim distances of more than 500 times their body length per second. In comparison, "a cheetah probably only runs 30 body lengths per second," Gemmell said. If the average U.S. adult male traveled 500 body lengths per second, based on their height, they would move nearly 2,000 mph (3,200 km/h).
Unexpectedly, even though seahorses are slow swimmers, "they were very effective at capturing these very fast-swimming, highly evasive prey," Gemmell told LiveScience.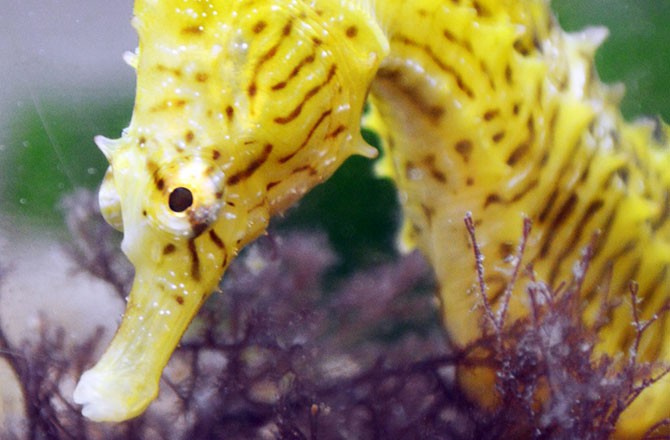 The dwarf seahorse, Brad Gemmell
Seahorses use their arched necks as springs to pivot their heads forward and catch prey. This limits the distances at which they can seize victims to only the length of their necks, about 0.04 inches (1 millimeter). However, seahorses nevertheless could get close enough to copepods to capture them.
"We found they captured copepods more than 90 percent of the time, which is extremely effective for any sort of predator, much less with such elusive prey," Gemmell said.
To find out how these fish catch their victims, the researchers experimented with the dwarf seahorse Hippocampus zosterae, which is native to the Bahamas and the United States and is only about 1 inch (2.5 centimeters) long. They suspended these fish with copepods in water loaded with hollow glass beads about one-sixth the average diameter of a human hair. They shone lasers into this water that illuminated the beads.
By analyzing how the beads moved as seahorses preyed on copepods, the scientists could deduce how they made the water flow around them in three dimensions. They found that the water around the seahorse snout barely moves while the hunter approaches its victims, helping the seahorse to close in undetected.
The seahorse appears to achieve this stealth by virtue of how its mouth is located at the end of a long snout. "This gives its head a narrow shape," Gemmell said. "This is the same reason why ships and boats have triangular-shaped bows -- it makes it easier for them to move through fluid, results in less drag and disturbance."
Gemmell and his colleagues Jian Sheng and Edward Buskey detailed their findings online Nov. 26 in the journal Nature Communications.
This story originally appeared on LiveScience.com.
Image Gallery: Catalogue of Strange Sea Creatures

Marine Marvels: Spectacular Photos of Sea Creatures

Images: One-of-a-Kind Places on Earth
Copyright 2013 LiveScience, a TechMediaNetwork company. All rights reserved. This material may not be published, broadcast, rewritten or redistributed.