White Wine and Beer Important Sources of Arsenic
The research is the first to take into account the levels of arsenic in the participants' household water when looking at the amount of arsenic coming from foods.
Corbis
Atlantic Halibut
April 25, 2012 -
Whole Foods, the Texas-based natural foods supermarket, no longer carries fish considered to be unsustainable. The Whole Foods ban includes fish that is either overfished or caught in a harmful way, according to their website. The popular Atlantic Halibut made the list, though the company will still sell Atlantic cod that is caught by hook and line or gillnets. "Stewardship of the ocean is so important to our customers and to us," David Pilat, the global seafood buyer for Whole Foods told the New York Times. "We're not necessarily here to tell fishermen how to fish, but on a species like Atlantic cod, we are out there actively saying, 'For Whole Foods Market to buy your cod, the rating has to be favorable.'" Here's a look at the list of fish that the superstore no longer sells and why.
Corbis
Octopus Whole Foods uses ratings set by the Blue Ocean Institute, a conservation group, and the Monterey Bay Aquarium in California. The ratings are based on factors including how abundant a species is, how quickly it reproduces and whether the catch method damages its habitat.
Corbis
Imported Wild Shrimp "At Whole Foods Market, we've been saying that our mission is to sell only wild-caught fish that has been responsibly caught. For a few years now, we've used color-coded sustainability ratings, from green (best choice) to red (avoid), to help you make an informed choice. Now we're putting our mackerel where our mouth is: To support greater abundance in our oceans, we're no longer carrying red-rated wild-caught seafood!" the company wrote on its blog.
Corbis
Tuna (from specific areas and catch methods rated "red") On their website, Whole Foods says that they stopped selling "species that were extremely depleted in the oceans, such as orange roughy, shark and bluefin tuna" years ago. The company uses the sustainability ratings of the Marine Stewardship Council (MSC).
Corbis
Rockfish According to the Monterey Bay Aquarium, "In recent years, reduced fishing has allowed many rockfish populations to recover from low levels. Gear concerns remain, however -- trawl-caught rockfish should still be avoided."
Corbis
Swordfish Some of the gear used to fish swordfish "accidentally catches sea turtles, seabirds and sharks," according to the Monterey Bay Aquarium.
Corbis
Skate Wing Skates are in the overfished category. Most are also caught with bottom trawls, which result in high levels of accidental catch.
Corbis
Sturgeon According to Monterey Bay Aquarium, "Sturgeon farmed in the U.S. is a good alternative to most wild sturgeon, whose populations have seriously declined due to overfishing for sturgeon eggs (caviar)."
Wikimedia Commons
Tautog Also known as black fish, Tautog are considered a "vulnerable" species. They are found close to shore on hard-bottom habitats, occasionally entering brackish water.
Corbis
Trawl-Caught Atlantic Cod Fishermen often catch cod with bottom trawl, large nets that skim across the seafloor. Trawling, according to the Monterey Bay Aquarium, "damages marine habitats and produces bycatch."
NEWS: Can We Save the Tastiest Fish in the Sea?
Corbis
Turbot A cousin of Pacific halibut, turbot are a right-eyed flatfish -- as they develop, their left eye migrates across the top of the skull toward the other eye on the right side. Turbot are yellowish or grayish-brown on top and paler on their underside.
NEWS: Oceans' Fish Could Disappear by 2050

White wine, beer and Brussels sprouts can be major sources of the toxic metal arsenic in people's diets, according to a new study.
Researchers analyzed the diets of 852 people in New Hampshire, and the levels of arsenic in their toenails, which show long-term exposure to the chemical.
Of the 120 foods the researchers looked at, four turned out to significantly raise people's arsenic levels: beer, white wine (and to a lesser extent, red wine), Brussels sprouts and dark-meat fish such as salmon, tuna and sardines, according to the study, published last week (Nov. 16) in the Nutrition Journal.
The most significant source of arsenic in most people's diets is drinking water. The new study is the first to take into account the levels of arsenic in the participants' household water when looking at the amount of arsenic coming from foods.
The results suggest that diet can be an important source of people's arsenic exposure over the long term, regardless of arsenic concentrations in their drinking water, the researchers said.
The element arsenic occurs naturally in the environment. Long-term exposure to arsenic, even at low levels, has been linked to increased risks of bladder, lung and skin cancer, as well as type 2 diabetes and cardiovascular disease. The Environmental Protection Agency (EPA) limits the arsenic in drinking water to 10 micrograms per litter for drinking water, but there are few limits set for foods. [5 Things You Should Know About Arsenic]
In the study, the arsenic levels in the participants' household tap water were well below the EPA limit, at 0.30 micrograms per liter, on average. However, 52 participants had tap water arsenic levels higher than the EPA's limits.
The arsenic levels in participants' toenails were 0.12 micrograms per gram, on average. However, it is unclear what level of concentration found in toenail samples might signal an unsafe level of arsenic exposure, said study author Kathryn Cottingham, researcher at Dartmouth College in New Hampshire.
The toenail measurements in the study served only as a way to compare levels among people, the researchers said.
People who reported drinking on average two and half beers or a glass of white wine every day had arsenic levels 20 to 30 percent higher than those of people who didn't drink.
The study wasn't designed to find why higher consumption of beer and wine was linked to higher arsenic levels, but a few scenarios are possible, Cottingham said. [7 Ways Alcohol Affects Your Health]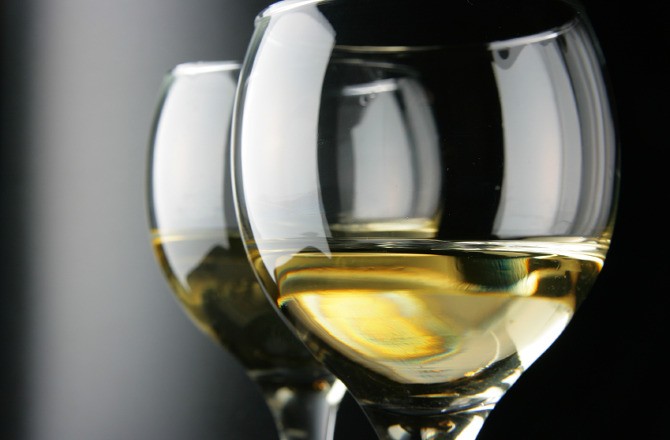 iStockPhoto
One possibility is that the ingredients in beer and wine are high in arsenic. It is also possible that arsenic is added during the filtration process that gives beer and wine their sparkly, clear looks, as one recent study suggested, Cottingham said.
And lastly, alcohol itself may be to blame for the higher arsenic levels, by impairing the body's ability to detoxify arsenic.
"The mechanisms that our bodies use to try to get rid of the stuff that is not good for us can be impaired by alcohol consumption," Cottingham said.
The researchers didn't find a link between arsenic levels and intake of rice, which is thought to be relatively high in arsenic. But in line with previous studies, they found that the more dark-meat fish people ate, the higher were their arsenic levels.
People who ate dark-meat fish once a week had about a 7 percent higher arsenic concentration in their toenails compared with people who consumed these fish less than once a month.
Although some foods are high in arsenic, people don't need to avoid them entirely, Cottingham said. "Probably the best way to avoid exposure from diet is to mix it up in the foods, and not eat the same thing every day."
It's also important to keep water sources safe, she said. "If someone is drinking water from a private well, they should get it tested. Water is something we are drinking and using every day," Cottingham said. "So knowing what your water exposure is, I think, is a big piece of the puzzle."
More from LiveScience:
7 Ways Alcohol Affects Your Health

6 Foods That Are Good for Your Brain

10 Do's and Don'ts to Reduce Your Risk of Cancer
Copyright 2013 LiveScience, a TechMediaNetwork company. All rights reserved. This material may not be published, broadcast, rewritten or redistributed.