Each week we at Discovery News honor the best of our readers' comments across our Facebook and Twitter feeds! Watch the video below for my response to your angriest, funniest and most insightful comments.
This week there were so many funny Twitter responses it was tough to narrow it down. Here's a sampling of the funniest.
@teachnext_tmb raised a good question about this article: Oldest Bird Was Actually a Dinosaur.  And @KlineDubois brought up a good point, too — and perhaps forever ruined fried chicken.


There was also quite the reaction to this article about time travel being deemed impossible by scientists. @Reichblum was disappointed and @nhowe didn't believe it: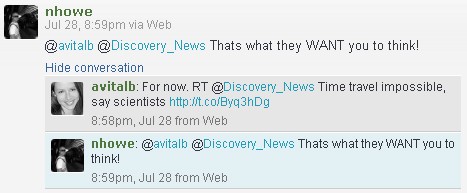 Finally, @ObservantLynn was worried for the oryx mom in this story: Baby Oryx Born. (In case you didn't know, orxyes are known for their extremely large horns. But they're not born with them that long!)