What This Winter Is Packing
The first models hint at a big snow year for the northeast and a cold, dry winter for the Pacific Northwest, but experts caution they can't produce a truly reliable long-term weather forecast.
May 15, 2012, Ormond Beach, Florida. Photo by
Oct. 2, 2012 --
NASA's Global Precipitation Measurement satellite mission is working to understanding extreme weather with photos of rain and snow worldwide every three hours. But how do these storms look on the ground? NASA's GPM extreme weather photo contest highlights the beauty and ferocity seen first hand from storm-chasers before they duck for cover. Here are NASA's top five picks from over 100 submissions. This photo by Jason Weingart, a photography student at the University of Central Florida, shows a Volusia County lifeguard signaling to surfers at Ormond Beach, Fla., that it is time to exit the water. "The storm actually pushed back on shore as it moved south, and then became strong enough for tornado warnings on three separate occasions. I saw a large wall cloud, another spectacular shelf cloud, and some very tight rotation in the couple hours I stuck with the storm after I left the beach in Ormond," wrote Weingart. NASA Fun Fact: "A shelf cloud is a type of arcus cloud with a wedge shape. It is a low level, horizontal cloud formation usually associated with the leading edge of thunderstorms. The leading (outer) part of the shelf cloud appears smooth due to rising cloud motions, while the underside often appears jagged and wind-torn."
May 22, 2011 Dane County, Wisconsin. Photo by
Atmospheric scientist Grant Petty of the University of Wisconsin - Madison, was with a photography club on a farm in Dane County when he saw this thunderstorm building several miles to the east. "The storm cell dropped 1-3/4 inch hail near Sun Prairie. Fall streaks barely visible under the right side of the anvil may in fact be the falling hail," he said.
PHOTOS: Sun Dogs, Halos, and Double Rainbows
July 5, 2011 Maricopa, Arizona. Photo by Megg
"This photo was taken in a wash that runs through my neighborhood in Maricopa, AZ. The wash runs north/south through the neighborhood and the haboob (type of intense dust storm) was rolling in from the east," reported photographer Meggan Wood. "I saw the wall of dust coming and quickly drove to the wash to get a good wide-open view of the height of the dust looming over the houses. I barely had time to get back to my car before it hit and I was engulfed! The darkness was surprising but it only lasted about 10-15 minutes before it thinned out enough to where I could drive back home, only about 2 minutes away. This was the giant haboob that made national news when it rolled through and entirely covered all of Phoenix and some surrounding cities. Maricopa is about a half-hour drive south of the Phoenix Sky Harbor airport."
PHOTOS: After the Dust Settles
September 1, 2012 Arlington, Virginia, lookin
Journalist Brian Allen with the Voice of America was at home in Arlington, Va., when this storm rolled over Washington. "The storm that blew through started off with an incredible amount of lightning and then dumped a significant amount of rain in a short amount of time -- on the other side of the river. DC got drenched and Arlington didn't see a drop," he reported.
NEWS: Lightning Still Largely a Mystery
May 30, 2012 Kechi, Kansas. Photo by Brian Jo
Writer and photographer Brian Johnson is a also an avid storm-chaser for several Kansas radio stations. "As a large squall line moved through the area. The National Weather Service had warned about a large scale Derecho forming and moving through," he wrote. "This spawned a couple brief severe thunderstorms that dumped hail on rush hour traffic before the main line moved in. As the bigger storm moved into the Wichita area, reports were coming in of 70 mph winds and hail. There is an open farm field roughly two miles from my house that I shot lightning on the previous night. I sat there for about 20 minutes before this large squall line pushed through the clouds. I was hit with a pretty good gust front as it got closer, but as the winds increased, I decided to get to shelter. This photo was one of the last ones I took." Read more about Johnson's storm-chasing adventure here:
NEWS: Photos Catch Monster Storm's Approach: Big Pics
PHOTOS: Twilight: 15 Reasons to Watch

As the first snaps of cold weather hit parts of the country this month with snowflakes and below-freezing nights, many people are looking toward the upcoming winter with curiosity, eagerness or fear of what's to come.
As the first models are starting to hint at a big snow year for the Northeast and a cold, dry winter for the Pacific Northwest, experts cautioned that even the most advanced understanding of physics and meteorology can't produce a truly reliable long-term weather forecast.
There are just so many variables, many of which can change in an instant.
"A three-to-six month weather outlook is still more of a horoscope than an actual scientific prediction -- your horoscope may be a little more accurate, in fact," said Paul Douglas, senior meteorologist and co-founder of WeatherNation TV, a new 24-hour national weather channel. "To be honest, any forecast beyond two weeks should come with a warning much like on a pack of cigarettes. In the end, some things are inherently unknowable."
Among the factors that determine whether a winter will be lion-like or lamb-like, perhaps the most well known is the El Niño-Southern Oscillation, also known as ENSO, which describes shifts in the temperature of surface waters in the Pacific Ocean.
Pacific warming is called El Niño. Cooling is called La Niña. And those patterns have far-reaching influence on atmospheric conditions across the country by influencing where the jet stream runs and how much moisture ends up in the air.
This year is shaping up to be ENSO neutral. There is neither an El Niño or a La Niña brewing, meaning basically that anything could happen. Some models are hinting at a mild El Niño by late winter or early spring, which could deliver stormy weather to the West Coast and extra moisture to the southern half of the country.
But ENSO is far from the only factor that might sway weather forecasts over the next few months. Oscillations in the Arctic and North Atlantic also play a role, and those can flip from one week to the next, said Bernadette Woods Placky, a meteorologist at Climate Central, an organization that analyzes and communicates about climate change. Among other dynamics, there's also the Pacific Decadal Oscillation, which shifts every few decades.
These and other events help explain why two La Niña years can be so different from each other. They also explain why long-term forecasts are so often wrong.
Although meteorologists were predicting lots of hurricanes this year, for example, the season fizzled. Scientists aren't exactly sure why but one theory, Douglas said, is that extra dust and hot air blowing off the Sahara prevented thunderstorms from building up enough energy to become destructive.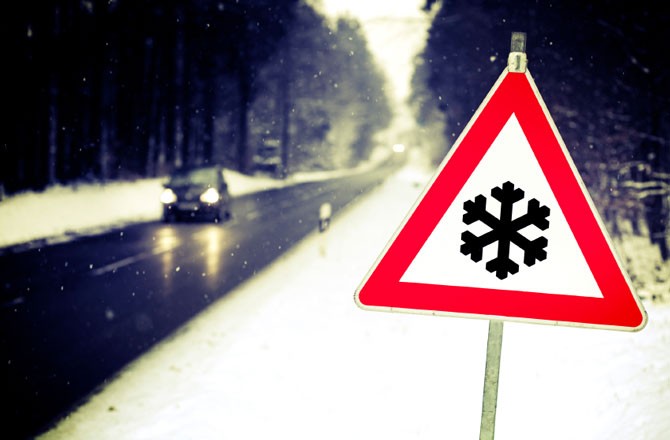 iStock
"Forecasting has come so far in the past couple of decades, and it has come to the point where we can take it to a new level, but we're not fully there yet," Placky said. "We've come a long way in understanding how these patterns link together, but we don't understand how to connect all of them."
Climate change seems to be influencing the state of natural oscillations, as well, Douglas said. Siberia and the Arctic are warming twice as quickly as Europe and the United States, and that, he said has "knocked the jet stream off its rails."
A 2012 study found a 14 percent drop in upper atmosphere wind speeds because of this disproportionate warming. As a result, weather systems are more likely to stall, which could explain the recent non-stop rains in Boulder, Colo., as well as floods in Calgary and Chicago earlier this year and persistent summer droughts in the Midwest.
Slower-moving weather patterns suggest that whatever this winter brings will likely stick around for a while.
Most detailed winter forecasts will emerge in November, but the first few predictions are starting to trickle in. The National Oceanic and Atmospheric Administration's Climate Prediction Center, for example, is calling for warmer and wetter-than-normal conditions through March in the southwest, centered around west Texas and New Mexico, though NOAA offers equal chances that the rest of the country will be warm, cold or about average.
With signs that the North Atlantic Oscillation is trending negative this year, some forecasters are predicting lots of snow for the northeast. And Accuweather.com is calling for cold and dry conditions in the upper Northwest through December and January but a wet December for northern California, Oregon and the lower Mississippi and Ohio valleys.
For the Midwest, Douglas predicted "colder with some snow," he said. "The more vague you can be for a six-month outlook, the better for you."
His methods, he admitted, are based on questionable research.
"I am telling people only half tongue in cheek that we have done an analysis of the 12 years since 1976 with government shutdowns and the winters that followed those shutdowns, as a rule, were four inches snowier than non-government shutdown years," he said. "Seeing as we don't have a strong signal for El Niño or La Niña, I think that's as good of an indicator as any other."