Secret codes and reconfigured servers lead to an online speakeasy for illegal drugs.
The arrest last week of 26-year-old Ross Ulbricht brought to light a little-known world of secret websites dealing in drugs, guns and counterfeit documents that until now have been largely hidden from authorities.
The Silk Road, an online contraband marketplace operated by Ulbricht, was shut down last week. Another, called Atlantis, voluntarily shut down in late September. Both websites used a software called TOR, or The Onion Router, in order to conceal their IP addresses, the numbers that work like street addresses to allow computers, mobile phones and laptops to find them, explained Nicolas Christin, assistant professor of electrical and computer engineering at Carnegie Mellon University.
Both The Silk Road and Atlantis are just two of many websites that belong to what is known as the "deep web" or "dark web" of sites that conceal IP address from search engines and cannot be linked to by other Internet pages or blogs.
Christin said TOR's encryption software allowed people to buy and sell drugs online (mostly marijuana according to his research), as well as trade pornography and even buy and sell illegal weapons. But TOR has also helped civil society groups in places like Egypt, Syria and Libya to avoid government eavesdropping, journalists to pass information and law enforcement agencies to receive secure anonymous tips electronically. Family members can also use TOR to share photos or other information privately. Christin compared the software to using old-fashioned couriers to carry messengers in between people who want to remain anonymous.
"It allows their couriers to find each other in the middle of the network," Christin said.
Christin said that the website itself does not sell the goods, but operates to match buyers and sellers. "The best comparison is Amazon marketplace," he said.
It provides buyers with a user-friendly experience, complete with shopping carts and seller ratings, according to Christopher Budd, communications manager at TrendMicro, a IT security firm that recently produced a white paper on the workings of the dark web.
TOR is an open-access software available for anyone to download and install on their computers. In fact its early development was funded in the 1990s by the U.S. Naval Research Laboratory to protect military communications. Development of the current version of TOR was funded by the Electronic Frontier Foundation and released to the public in 2002.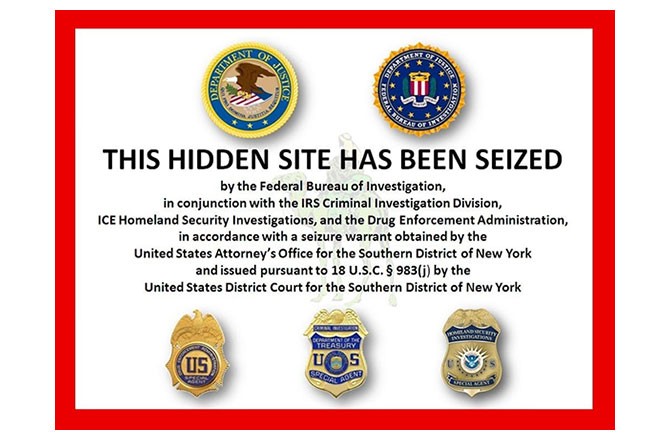 Wikimedia Commons
Despite the indictment and arrest last week of Ulbricht, who allegedly operated Silk Road, it's not clear that federal officials have figured out how to break TOR's encryption methods.
"What the FBI did was break the human because they know they can't get around TOR at all," said Andrew Lewman, executive director of the TOR Project, a non-profit collective of computer specialists that assist TOR users. "They caught him using his real name on various forums."
Lewman says that there are dozens of other similar sites like The Silk Road that specialize in contraband narcotics or weapons. "Now with Silk Road gone, any one of those can start moving," Lewman said. That could make it difficult to find the next one.
"Law enforcement is engaged in an ongoing game of whack-a-mole against these sites," Budd said. "It will be interesting to watch if the takedown of Silk Road will result in increase in prices. Like any thing else in the free market they will respond and probably are going to price in the cost of that additional risk."
Budd said there's another way for criminals, spies or just privacy fans to keep communications and commerce secret besides using TOR. A person could reconfigure a computer to access the dark web sites via alternative top-level domains and reach a kind of "shadow internet" that isn't typically visible.
Budd likened it to an old-time speakeasy where customers in search of a drink need to know where they are and the secret password to get inside.
"It would be great if these sites would go away, but given the nature of the internet it's not going to happen anytime soon," Budd said. "They are related to the openness of the Internet and the only way to get rid of things is to create a version of the internet was so controlled and locked down that most people in this country would find that unacceptable."