What California's Rainstormageddon Looked Like from Space
It rained in Los Angeles. No kidding, I was shocked too. Three days without so much as a ray of sun, this transplanted Brit was beginning to feel right at home -- wet and dreaming of a sunny day. Continue reading →
It rained in Los Angeles. No kidding, I was shocked too. Three days without so much as a ray of sun, this transplanted Brit was beginning to feel right at home — wet and dreaming of a sunny day.
The topic of rainstorms in Southern California occupy a disproportionate number of headlines in the local news, and the weight of its importance is inflated further more by superlatives. (I'm surprised the Great California Storm of 2014 wasn't nicknamed "Rainstormageddon" — you can use that next year. You're welcome, news anchors.) Indeed it's wise not to go driving around Los Angeles with poor visibility and slick roads, but I'm always entertained to see how the wet stuff falling from the sky is met with the same shock and awe that greets a sunny day in the United Kingdom.
PHOTOS: Intense Winter Storm Blasts U.S. States
The rain storm that slammed into the West Coast last last week and persisted until Sunday (at least from my location north of LA) dropped an incredible amount of rain and was the biggest storm to hit the region for three years. Weather forecasters estimated that between 6-10″ of rain fell on the coasts, valleys and mountains throughout LA County from Friday morning to Saturday night. For a state that is undergoing its third year of drought conditions, any rain is welcomed — but for it all to fall in 3 days was a little too much for the local populous.
"For those of you watching around the world, it has been a tough couple of days for us here," joked a deadpan Ellen DeGeneres during the opening of the Oscars on Sunday night in Hollywood. "It's been raining. We're fine. Thank you for your prayers."
NEWS: Drought Tortures Half of U.S.
Compared to the repeated freezing winter storms that have been hitting the East Coast, this intense burst of inclement Californian weather has likely been mocked by the rest of the US — but these views of the storm from space shows that this was no small event.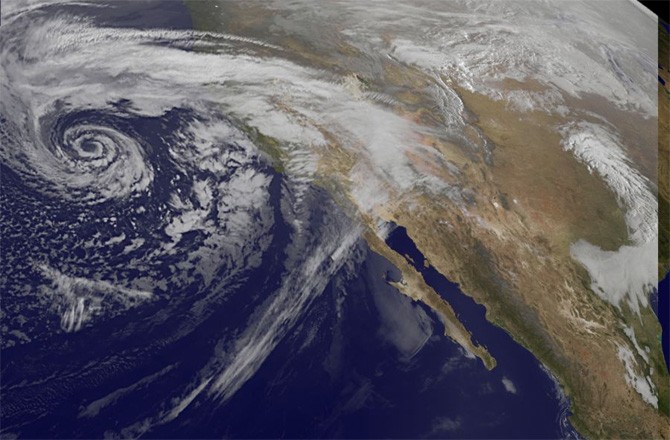 NOAA's GOES-West took this image of a storm off the coast of California.NOAA
The storm, which dipped to a central pressure of 975 mb, had all the hallmarks of a hurricane but it was in fact an intense mid-latitude storm. As shown in the animation, the rainfall across the state was intense, causing flash flood warnings and dangerously high surf. The flooding threat became very real locally when homeowners near recent wildfire burn areas faced evacuation warnings.
"Californians haven't seen rain and wind this powerful in 3 years," said climatologist Bill Patzert, at NASA's Jet Propulsion Laboratory in Pasadena, Calif., on Friday. And he wasn't wrong.