What Are the Rules of War?
A Syrian strike is on shaky legal ground, experts say. But that hasn't stopped past attacks.
BBC World Service / Flickr Creative Commons
June 27, 2012 --
"They attacked the town," said Dr. Jordy Cox, a Colorado-based trauma surgeon who was working in the Congo with Doctors Without Borders when civil war broke out in 2008. The rebels came but Dr. Cox's medical team stayed. "We never left the hospital. There was actual fighting in the streets right next to us." When doctors like Jordy Cox travel to conflict areas, they typically bring along kits of medical supplies, such as those provided by Doctors Without Borders. But that's not all. Detonating bombs and insurgent activity can destroy fundamental infrastructures, like power grids, that make treating patients a major challenge. To that end, doctors often bring along their own personal equipment and tools. That way if the power goes out or computers are nowhere to be found, they're prepared. Medical doctors with experience working in acute conflict areas describe here some of items they pack, just in case. ANALYSIS: Video Service Streams Live Reports from Syria
Thirteen of Clubs / Flickr
Extra Tourniquets Dr. Jacques Bérès is a septuagenarian French surgeon who has already sneaked into Syria several times this year to perform life-saving operations on dozens of wounded people. He had to pack extra light since he was crossing the border illegally. "The risk is so important; it's impossible to have heavy luggage with you," he said. One of the few things he did bring: a personal tourniquet. These devices apply pressure around a wounded extremity to control blood flow. "It's such a pity to have to cry for a tourniquet in case of emergency bleeding." Dr. Cox, who has worked for Doctors Without Borders in several conflict areas, also packs extra tourniquets. "Especially if I'm going to an area that I know is potentially going to have bombs and explosions," he said. "It's a way of temporizing injuries."
PEOSoldier / Flickr
Lightweight Body Armor Whenever tensions increase and fighting spikes, Dr. Cox slips on his own personal body armor and puts a sterile surgical gown over that. "It's a level 3A, so it will take a direct impact from a 45-caliber," he said. "They're nice and light and comfortable." Dr. Cox said he's careful not to make a big show of donning the armor. When underneath a gown, the vest is hardly noticeable. Despite its advantages, the armor won't stop a direct hit from an AK-47, he added. That would go through the vest, through him, and out the other side.
Ben Edwards / Getty Images
Binocular Loupes In Syria, Dr. Bérès was able to find enough supplies to perform dozens of emergency surgeries, but there was nothing available for specialized surgical procedures. "That's normal in war conditions," he said. One piece of equipment Dr. Bérès brought was his pair of binocular loupes, special small magnifying lenses fitted over glasses that are designed to help him perform microsurgery. Dr. Cox normally wears glasses so when he performs vascular surgery to repair blood vessels he puts on loupes as well. "I take them because they're mine," he said. "They're my prescription."
Jordy Cox
Microsurgery Tools Besides his binocular loupes, Dr. Bérès packed other tools needed for microsurgery that he knew wouldn't be found easily in Syria. They include a needle holder and extremely thin microfilament sutures. "The very tiny, tiny stitch of microsurgery -- number 8- and 9-zeroes," he said, "I used to not find them anywhere in the world." Dr. Bérès performs microsurgery because he doesn't like to just stop hemorrhaging and repair broken bones without paying attention to problems such as nerve damage or internal lesions to a liver. If he doesn't address those injuries, they may never be addressed. "I don't like to leave it," he said. "It won't be set up in the next month because people have to escape, to hide."
Whittemore Enterprises, Inc.
Dermatome Skin Graft Machine "Scalpels, and scissors, and needle holders, and stitches -- I will find it," Dr. Bérès said. "I just have to bring very special brings which I would not find." One of those instruments is a dermatome skin graft machine, a device that resembles a high-tech cheese slicer. With a lightweight dermatome, the surgeon can take skin grafts necessary for reconstituting burned areas. While Dr. Bérès was in Syria last spring, the regular army attacked twice so he had to work quickly and couldn't stay in one location for long time. "Altogether I performed only 45 operations in Idlib in two different places," he said. Before leaving the country, Dr. Bérès said he always gives the specialized equipment he's brought to the people with whom he's been working. It's not fair to just show it to them, he said. "That's not possible. We have to leave it."
Barros & Barros / Getty Images
Battery-Powered Headlamp The first rule in a siege, Dr. Cox has learned, is to shut off the water and power to a city. In the Congo while he was there, fighting was at its most intense. The city was in flames and there were no lights. "We're operating with our head lights," he said. "I always bring a very powerful head light." Although he used to wear mountaineer headlamps, he now brings a battery-powered dentist's headlight. During that siege, wounded patients kept arriving so the surgical team operated nonstop for about 24 hours before the three men sterilizing instruments said there were no more instruments ready. They all had to wait a few hours. "The machine went ding. The instruments were ready," Dr. Cox said. "We started up again."
Retro Book Shoppe
Basic Handbook In the United States, doctors are surrounded by nurses, systems and computer assistance. But in a developing country, having a medical handbook with basic reference information can be helpful, said Dr. Emmanuel d'Harcourt, the senior health director for the humanitarian aid organization the International Rescue Committee. Dr. d'Harcourt, a pediatrician by training, has relied on a Johns Hopkins Hospital guide to pediatric diagnosis and treatment called the Harriet Lane Handbook. The book is named after Lane, who acted as first lady to her uncle, President James Buchanan, and left a generous endowment for invalid children to the hospital. "That's more for my personal need as a clinician," Dr. d'Harcourt said. He got the book while in medical school at Johns Hopkins. "It helps you with things like how much fluid to give a kid according to their weight."
Wikimedia Commons
Pulse Oximeter Doctors Without Borders has medical standards that mimic those used in Western medicine. "It's amazing how much quality care they provide despite the fact that we're in extreme conditions," Dr. Cox said. For example, the use of antibiotics in the field is highly regulated by clear scientific data. In addition to his body armor, headlight, tourniquets and loupes, Dr. Cox also brings a pulse oximeter, a small, noninvasive tool for measuring a patient's oxygen level. "MSF has their own but I just like to have my little guy that I can carry with me," he said. Dr. érès didn't want to place too much emphasis on the specialized medical equipment that he packs. "The tools are not important," he said. "The importance is to be with them during the bombing, or just after to help them. That's all." EXCLUSIVE INTERVIEW: On Edge in Syria's Capitol

President Barack Obama has indicated this week he will consult international law before responding to the gas attacks in Syria, but experts say any U.S. military strike against the regime of Bashir al-Assad would violate the very same laws.
These laws of war go back to the early 20th century and govern who gets to start a war and how they are to be waged. But they are often stretched by leaders who need them to pursue their own political goals or perceived security interests.
In 1999, President Bill Clinton cited humanitarian reasons and in particular, a massacre of 45 people in Kosovo, for a NATO-led bombing campaign of Serbia that did not have the support of the United Nations. The perpetrators of the massacre were believed to be Serbian, but there has been dispute since then about what really happened in the village.
In 2003, President George W. Bush claimed Saddam Hussein possessed weapons of mass destruction -- including chemical weapons -- as justification for attacking Iraq. He sent then-Secretary of State Colin Powell to the United Nations to convince the body to act. The U.N. didn't, and the United States invaded anyway. Later, the weapons claims were disproven by the president's own Central Intelligence Agency.
The United Nations Charter forbids countries to attack each other unless in self-defense or if authorized by a vote of the U.N. Security Council. That happened in 2011, when the council agreed to allow air strikes against Libyan government forces to protect a potential massacre of civilians in Benghazi.
The United States claimed self-defense in invading Afghanistan to hunt for the Al-Qaeda operatives responsible for the 9/11 attacks on Washington and New York.
President Obama is a constitutional lawyer, and likely will be looking at these past cases. But experts say he doesn't have much of a legal leg to stand on.
"As of now there is no legal justification for an attack," said Michael Shank, director of foreign policy at the Friends Committee on National Legislation and professor of conflict analysis and resolution at George Mason University. "The only way that you can use international law to justify an attack on Syria is if the U.N. Security Council votes in favor."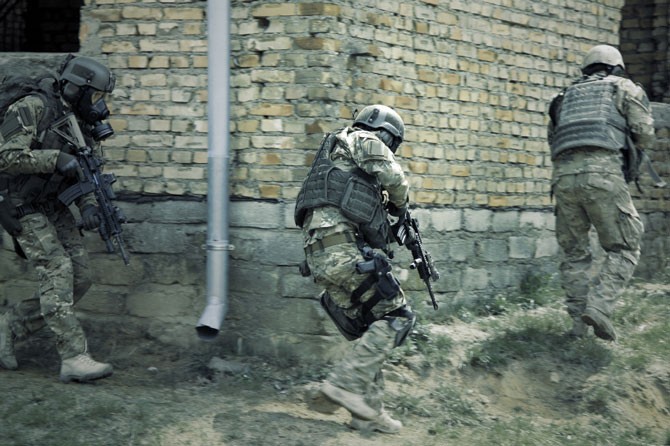 iStockphoto
What about the use of chemical weapons? The White House has said that it believes government forces in Syria were responsible for the latest chemical attack that killed 355 people in the outskirts of Damascus. A team of U.N. weapons inspectors are on the ground this week trying to find out what happened and who did it. Their report likely won't be completed until at least next week.
Still, it turns out that Syria never signed or ratified the international chemical weapons convention of 1992 that bans their production, stockpiling or use. (Neither did Egypt or Iran; Israel has signed but not ratified it).
The use of chemical weapons is also banned by the Geneva Conventions, a series of laws governing the conduct of warfare that were first drafted in 1864 and then updated in 1949. The conventions prohibit the killing of civilians, wounded troops and hospitals, or attacking opposing forces while flying a white flag of surrender. They also prohibit the use of chemical gas or weapons, such as a flamethrower, that inflict horrendous pain on their victims.
Even if they are often flouted, the Geneva Conventions govern the conduct of troops in battle -- but not the reason for going to war in the first place, according to Mary O'Connell, professor of international dispute resolution at University of Notre Dame.
"The president seems to be putting the United States in the position of violating a very important law because he is so angry about Mr. Assad's violation of the same international law," O'Connell said.
O'Connell said that in the 1980s, Saddam Hussein used gas on both Kurdish civilians living in Iraq, as well as Iranian troops attacking his country. He also gassed his own troops, invited in U.N. inspectors, and tried to convince them that Iran used the chemicals. It didn't work.
O'Connell believes the current U.N. weapons inspectors' report may clear up some of the questions. Late Thursday, French officials said they wanted to wait until the report is complete before agreeing to join any U.S. military action.
"I hope they take all the time they need because so much is riding on this," O'Connell said. "They have to be very, very cautious."