Visiting Asteroid Has a Moon
A large asteroid that will sail relatively close past Earth on Friday is not alone. Continue reading →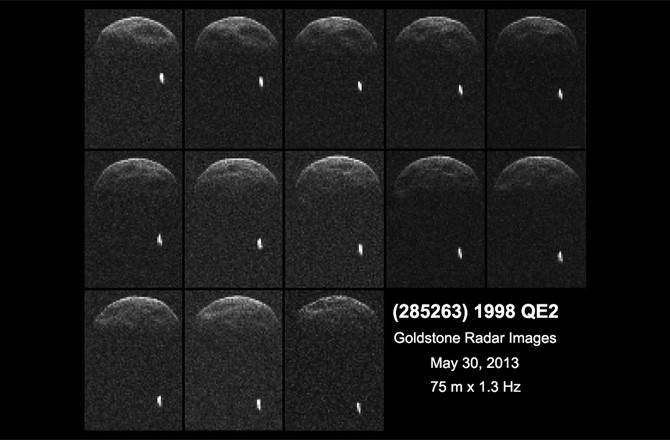 A large asteroid that will sail relatively close past Earth on Friday is not alone. Radar images taken by astronomers on Wednesday revealed the asteroid, known as 1998 QE2, is accompanied by an orbiting moon.
VIDEO: Asteroid Nearly Hits Earth
"It was quite a surprise," Marina Brozovic, a radar scientist with NASA's Jet Propulsion Laboratory in Pasadena, Calif., said during an NASA interview.
"This is something we did not expect," she said.
The pair will come as close as about 3.6 million miles to Earth at 4:59 p.m. EDT on Friday. That's just 15 times farther away than Earth's moon.
NEWS: 1998 QE2: Massive Asteroid to Make 'Royal' Flyby
"For an asteroid of this size, it's a close shave," said Paul Chodas with NASA's Near Earth Object program office at JPL.
Measuring about 1.7 miles in diameter, 1998 QE2 is among the largest asteroids with orbits that can pass near Earth.
At its most distant, 1998 QE2 flies to  the far edge of the Main Asteroid Belt, nearly to Jupiter. Its pass on Friday is expected to be its closest approach to Earth for at least the next 200 years.
PHOTOS: Russian Meteor Strike Aftermath
"For the foreseeable future, there's nothing to worry about," Chodas said.
Asteroid 1998 QE2 was not named after the United Kingdom's Queen Elizabeth II, or the QE2 cruise ship. The designation stems from the date and place of its discovery –  1998 by the Massachusetts Institute of Technology Lincoln Near Earth Asteroid Research (LINEAR) program.
Astronomers are hoping to get images and data during the flyby that rival what a visiting spacecraft could collect.
Image: A series of radar images by NASA's Goldstone Observatory of asteroid 1998 QE2 and moon. Credit: NASA