©iStockphoto.com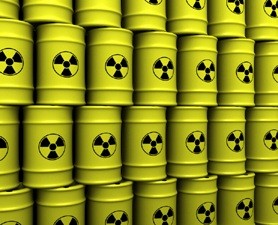 ©iStockphoto.com
State lawmakers in Virginia will soon decide whether to give the green light the nation's first East Coast uranium mine, an operation that promises jobs and security for the nuclear industry, but also fears of long-term contamination by neighbors and opponents.
Legislators at the statehouse in Richmond plan to introduce a bill this month that would overturn a three-decade state moratorium on uranium mining, opening the door to development of the Cole's Hill site in Chatham, Va., not far from the North Carolina border.
"We have independently verified 119 million pounds of uranium," said Patrick Wales, general manager of Virginia Uranium, the firm developing the project. "It's the single largest uranium resource in United States, and one of the top deposits in the world."
PHOTOS: Japan Earthquake and Tsunami: Before and After
That's enough uranium to run the entire fleet of 104 U.S. nuclear reactors for about two years. Right now, the United States produces only 10 percent of its uranium with two operating mines in the West. The rest is imported from Australia, Kazakhstan and Canada.
DNEWS VIDEO: Measuring Nuclear Disasters
But even those supplies may not be enough to keep up with demand for the five new U.S. reactors coming online by 2020, and increased demand by new nuke plants in China, India and other parts of the developing world.
In fact, it turns out that sometime in the next decade, the world's nuclear reactors are going to run out of their current stockpiles of uranium, the radioactive fuel that powers these plants. That's the case even if Japanese or German plants actually shut down in the wake of the Fukushima disaster, according to estimates by the World Nuclear Institute, a London-based trade group.
From the 1950s to the 1980s, a boom in nuclear plant construction was followed by surplus of uranium mining. Now worldwide demand exceeds supply.
HSW: How Nuclear Power Works
"We're going to need new supplies of uranium," said Suzanne Phelps, project manager at the Nuclear Energy Institute, a trade group in Washington, DC.
For decades, the United States turned Cold War-era stocks of weapons-grade uranium from the former Soviet Union into uranium fuel for power plants -- known as the "Megatons to Megawatts" program. That stockpile is running down and the U.S. agreement with Russia runs out later in 2013.
This backdrop of future scarcity is driving plans for the nation's first uranium mine on a rolling hillside in southeast Virginia -- a site surrounded by hayfields and cows that geologists estimate contains the world's seventh largest reserve of mineable uranium.
"We are far more dependent on foreign uranium than foreign oil," said Wales. "If other countries are responsibly developing natural resources and creating wealth, that's what we should consider in the United States."
NEWS: New Kind of Uranium Could Power Your Car
The company plans to drill into the hillside, remove uranium ore and process it into uranium oxide, or yellowcake. From there, the material is further processed into uranium fuel pellets that go into nuclear reactors.
Recent studies by the National Academy of Sciences and Virginia's legislature have provided a framework for the kind of environmental regulations and enforcement are needed if the $135 million project is to move forward.
The legislative study estimated Virginia's non-existent regulatory program would have to hire and train up to 30 people and come up with $5 million to handle the project. Virginia's Republican Gov. Robert McDonnell has said he will decide early in 2013 whether to lift a 20-year moratorium.
Opponents worry about the long-term safety of uranium tailings, the radioactive leftovers from mining that have to be stored in place for decades.
Because Virginia is a relatively wet climate, environmental groups and local residents worry that the tailings pile could eventually leak radioactive runoff and spread contamination throughout the surrounding countryside. There's also the concern about radon gas, a byproduct of the mining process.
"If you do it very well, you can mitigate some of the risks, but not all of the risks," said Paul Locke, professor of environmental health at Johns Hopkins University and chair of the NAS panel that reviewed potential safety issues of the uranium mine in a 2012 study.
The panel did not recommend whether or not the plan should be approved.Locke's panel visited uranium mining operations in Canada and studied past operations in New Mexico and Colorado. He said that the best thing would be to put the tailings underground.
"We have 25 to 30 years of data that engineered designs are working for tailings piles," Locke said. "But we can't make any predictions. A lot of things have to go right in order for the mining to go properly."