Victorian Poets Used Texting Lingo
"I 1der if you got that 1 I wrote 2U B4." The note sounds like a text message exchanging between teenagers. In fact, it was written some 130 years before the arrival of the written language seen on mobile phone screens. According to a forthcoming exhibition at the British Library, Victorian writers already used abbreviations [...]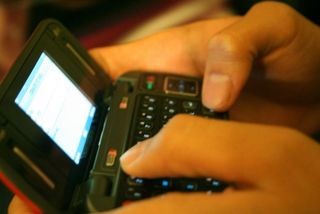 "I 1der if you got that 1 I wrote 2U B4." The note sounds like a text message exchanging between teenagers. In fact, it was written some 130 years before the arrival of the written language seen on mobile phone screens.
According to a forthcoming exhibition at the British Library, Victorian writers already used abbreviations typical of textspeak.
As reported by "The Guardian", the London exhibit will display a poem printed in 1867 which features a number of acronyms and abbreviations — the same used today when trying to overcome the standard 160-character limit of texting.
Called emblematic poetry, the Victorian writing style combined letters, numbers and logograms. An example is the "Essay to Miss Catharine Jay", or better, "An S A 2 Miss K T J."
Taken from Charles Carroll Bombaugh's Gleanings From the Harvest-Fields of Literature, the poem on display at the British Library exhibit, is filled with proto-text-speak expressions, such as "I wrote 2U B4″ or "he says he love U2."
Other verses are more complex : "And 1st should NE NVU,/ B EZ, mind it not, /Should NE friendship show, B true:/ They should not B forgot. " (translation: And first should any envy you / be easy, mind it not, /Should any friendship show, be true:/ They should not be forgot).
The "S A 2 Miss K T J," however, wasn't Bombaugh's own work. As Ben Zimmer, executive producer of Visual Thesaurus notes in the online magazine, similar essays to various lovely Miss Catharine Jay abounded in American publications at least since 1832.
In England Ellen Gee of Kew and her cousin Emily Kay of Ewell were already starring in tragicomic verses.  Filled with dozens of SMS-looking examples, the elegies were published in 1828 in the London-based New Monthly Magazine.
Mourning LNG of Q (Ellen Gee of Kew) the author complained that "never again shall I and U/ together sip our T (never again shall I and you/ together sip our tea ), while MLE K of UL (Emily Kay of Ewell) was remembered "with tearful I" (with tearful eye) in an "MT LEG" (empty elegy).
Indeed, the mobile phone language isn't new at all, according to linguistics expert David Crystal.
"People have been initializing common phrases for ages… IOU [An abbreviation of the phrase "I owe you" ] is known from 1618," Crystal wrote in Txtng: The Gr8 Db8,
(Texting: The Great Debate), a book on the SMS lingo.
Basically, there is no difference between a modern Twitter's "RTHX ("Thank you for the Retweet") and a "SWALK" ("sealed with a loving kiss") from
Second World War letters.
Photo: Alton/Creative Commons Attribution 3.0 Unported