U.S. Man Claims Africa Land, Daughter a 'Princess'
U.S. man planted a flag in a tiny parcel of uninhabited land on the border between Egypt and Sudan, and The Kingdom of North Sudan was born.
LINDSEY PARNABY/epa/Corbis
April 29, 2011 --
The world can undoubtedly agree, Catherine Middleton looked stunning as she married Prince William. Middleton, now known as Catherine, Her Royal Highness the Duchess of Cambridge, wore a dress designed by Sarah Burton at Alexander McQueen. According to a press release, Middleton wished for her dress to "combine tradition and modernity with the artistic vision that characterizes Alexander McQueen's work. Miss Middleton worked closely with Sarah Burton in formulating the design of her dress." The ivory and white satin gown's sweeping train reached just over six feet and Middleton wore a long, sheer veil. Now take a look back at some of the dresses worn by past royal brides.
Click here to see the complete gallery of royal weddings from LIFE.com!
Prince Charles and Princess Diana leave London's St Paul's Cathedral after exchanging vows on July 29, 1981. Princess Diana's royal wedding gown was made with ivory silk and was accentuated with huge, elegant sleeves, an oversized veil -- and a 25-foot train.
Click here to see a slide show on the Royals and the Military
Nine years after his divorce from Diana and eight years after her death, Prince Charles married longtime love Camilla Parker Bowles on April 9, 2005. The Duchess of Cornwall kept her attire low-key for the event, wearing a cream-colored dress and coat with a wide-brimmed cream-colored hat.
Sarah Ferguson and Prince Andrew (the third child of Queen Elizabeth II) wave to the crowd outside Buckingham Palace on their wedding day, July 23, 1986. Britain's Duke and Duchess of York would remain married for 10 years. Although the wedding took place during the peak of 1980s fashion, Ferguson's dress was made in a mainly classic design, save, perhaps for a slight poof in the sleeves at the shoulder.
Princess Margaret (the younger sister of Queen Elizabeth II) and Antony Armstrong-Jones pose at Buckingham Palace with their bridal party on May 6, 1960. The ceremony was the first British royal wedding ever televised, drawing 300 million viewers worldwide. Princess Margaret wore what was considered an understated dress, with a jacket-style bodice, long sleeves and a V-cut neckline, lengthening into a train at the back.
For what was called the "Wedding of the Century," in 1956, U.S. actress Grace Kelly wore a dress of delicate rose point lace, with a bodice made up of elaborate floral motifs, when she married Prince Ranier III of Monaco.
When the current Queen married Prince Philip, Duke of Edinburgh, in 1947, she was still a princess. Princess Elizabeth wore a gown with a heart-shaped neckline and sweeping panels. The material was ivory satin and embroidered with crystals and 10,000 seed pearls. Five years later, she becomes Queen Elizabeth II.
Click here to see LIFE.com's full gallery of royal weddings.

Abingdon (United States) (AFP) - Fathers often see their daughters as royalty. But a few months ago, when Emily Heaton said she wanted to be a princess, her father Jeremiah quickly found her a kingdom.
Many little girls would have been satisfied with the wooden turrets and ramparts of the castle in the community playground of rural Abingdon, Virginia, where the Heatons live. But Jeremiah was thinking bigger.
Last month, he planted a flag in a tiny parcel of uninhabited land on the border between Egypt and Sudan on June 16th, Emily's seventh birthday. The Kingdom of North Sudan was born.
"With a child you don't want to ever tell them they can't be something they desire to be, and at age six, her frame of reference for the world was to be a princess," Heaton told AFP.
"So I told her that she could be."
Heaton started researching unassigned territory that he could claim as a kingdom. At first, the search was futile.
"Initially I looked at the Antarctic continent, which doesn't have a population… but due to the Antarctic Treaty, there are no new claims that are allowed to be made," he explained.
So, his Internet research eventually pointed him in the direction of Bir Tawil, a few hundred square kilometers (miles) of uninhabited desert nestled between Egypt and Sudan, long neglected in stalled border negotiations.
It wasn't long before Heaton was on a plane to Africa.
"I didn't see the pyramids, I didn't see Luxor, I did not see Alexandria. It was specifically to go to the border area and make the claim on Bir Tawil. I'm probably one of the few people who've been to Egypt and not seen the pyramids!" he said.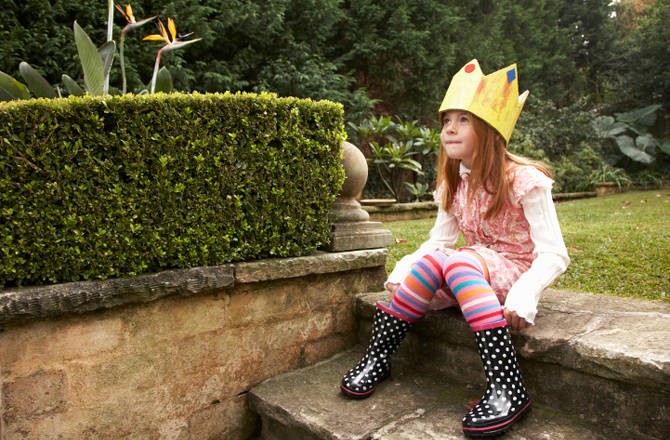 Thinkstock
Heaton says the whole expedition cost under $3,000, and Emily says she has big plans for 'her' territory.
"We're going to help kids in Africa that don't have food. We're going to build a garden as big as our land," she says.
Heaton envisions an oasis of low-carbon-footprint agriculture funded by donations earned through an eventual KickStarter campaign, and even from supportive foreign governments.
But can one man establish a kingdom on foreign soil?
Edward Swaine, a professor of law at George Washington University Law School in Washington, says there could be problems.
"At a basic level, he has to be correct in asserting that this is unclaimed land... That's not obvious to me that he's correct," Swaine said.
"Beyond that, he has to establish effective occupation of this land beyond simply planting a flag or showing up and taking a selfie."
Heaton says he is moving towards that goal, with office space in downtown Washington and a phone number already set up. He believes that recognition is a real possibility.
"I think that once the Egyptian and Sudanese governments realize that we're going to be a positive force for change in the area… they will realize that it's beneficial to recognize the Kingdom of Sudan," he said, adding he hoped to soon enter talks with the two countries.
The Egyptian and Sudanese embassies in Washington did not respond to AFP requests for comment.
Even if Heaton's claim doesn't quite stand up to legal scrutiny, Swaine says there might at least be some consolation for Emily.
"I think any little girl who declares herself to be a princess is such, and that's strictly speaking as a matter of international law," he said, tongue firmly in cheek.
How much this will mean for Emily in the future is up for debate, but at least she seems to have received some kudos for it at school.
Her friends think her recent ascension to the rank of royalty is "cool," Emily says.