U.S. Braces for Record Lows in Big Freeze
A fierce winter storm kills at least 11 people, with forecasters predicting the Arctic blast could hit record lows.
Authorities in the United States have warned residents to stay indoors after a fierce winter storm killed at least 11 people, with forecasters saying on Saturday that the Arctic blast could hit record lows.
A state of emergency was declared in New York and New Jersey after heavy snow fell on Thursday and there was no sign of respite from the brutal chill that has struck since the start of the year in parts of the northeast U.S. and Canada.
One of the coldest Arctic outbreaks in the past two decades is now set to plunge the Midwest close to record lows, weather forecasters say, predicting Chicago could see some of its coldest weather ever on Monday, with temperatures hovering around minus 10 degrees Fahrenheit (minus 23 degrees Celsius).
Gusty winds could bring what forecasters at the National Weather Center called "very dangerous levels" of wind chill.
"Incredibly, it may feel as cold as -50 to -60 (Fahrenheit) on Sunday night over sections of the north-central states with the frigid air remaining in place into early next week," it said.
Authorities have urged people in the worst-hit areas to spend the first weekend of the new year indoors for their own safety and to allow rescue and clean-up teams to get to work as quickly as possible.
"Chicagoans are a hearty bunch," said Matt Smith, spokesman for the Chicago Department of Family and Support Services.
"But when temperatures get as cold as they are predicted, you want to start thinking out things in advance," the Chicago Tribune quoted him as saying, adding that the department had advised people stay indoors and to stock up on medical supplies and food.
De Blasio shoveled snow in front of his Brooklyn house on Friday before repeating appeals for drivers to stay off the roads to help the city clear its 6,200 miles (9,900 kilometers) of roads.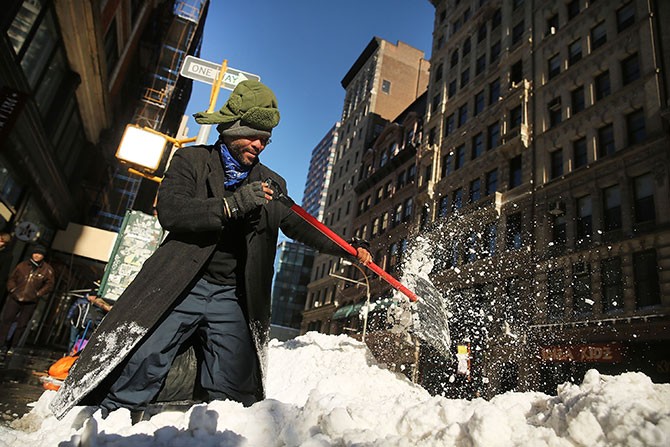 Diego Ramos, who is homeless and lives under nearby building scaffolding, clears a sidewalk of snow in lower Manhattan following a snow storm that left up to 8 inches of snow on Jan. 3, 2014 in New York City. Spencer Platt/Getty Images
The storm has been the first big test for New York City's new Mayor Bill de Blasio, who only took up his job Wednesday.
"If you want safe, clear streets, stay home," he said Friday.
Thousands of domestic and international flights have been cancelled or delayed in several US cities including at New York's John F. Kennedy Airport and in Chicago, Boston and Philadelphia, while thousands of miles of roads were also affected.
Added to the mix was a flood alert for much of Massachusetts' Atlantic coastline.
On Friday, a worker was killed when he was crushed by a 100-foot (30-meter) pile of salt being prepared to treat roads in the Philadelphia area, media reports said.
A 71-year-old woman suffering from Alzheimer's disease froze to death after walking out into the cold and getting lost in northern New York state, authorities said.
At least nine other deaths were blamed on the storm, named Hercules.
Eastern Canada has also been badly hit, and residents in many parts of Newfoundland lost power on Saturday morning, local media reported.
Temperatures there had plunged to minus 15 degrees Celsius, but the wind chill made it feel as cold as minus 35, the reports said.
The bracing weather was also set to impact Sunday's crucial National Football League play-off between the Green Bay Packers and the San Francisco 49ers.
Some media speculated that the eagerly anticipated clash at Lambeau Field in Green Bay, Wisconsin, might be the coldest NFL game in history as freezing temperatures and blustery winds threatened a wind-chill factor as low as minus 35F.
The Packers say they will help fans battle the big freeze at the open-air stadium by handing out free coffee and hot chocolate.