US and Indian Spacecraft Rapidly Approach Mars
Two Mars-bound spacecraft are both in excellent health ahead of their September arrivals in orbit around the Red Planet, managers for both missions report.
NASA/Goddard
This illustration shows the MAVEN spacecraft in orbit around Mars, imagined with Earth in the background.
NASA
NASA's next mission to Mars will do one specific thing -- it will analyze the red planet's atmosphere in an effort to peel back the mystery of its evolution and try to understand why it thinned out so drastically, turning a once wet world into a barren wasteland. The $671 million Mars Atmosphere and Volatile EvolutioN (MAVEN) orbiter, which is scheduled for launch at 1:28 p.m. EST on Nov. 18, is a Martian climate change probe capable of making unprecedented observations of the planet's atmosphere. It will even, on occasion, swoop low to directly sample the tenuous upper atmospheric gases. MAVEN is the latest in a series of Mars missions that are piecing together Mars' water history, organic chemistry and past and present habitability. Shown here, MAVEN sits atop an Atlas V rocket at Space Launch Complex 41, Cape Canaveral Air Force Station, Fla., before launch on Monday afternoon.
NEWS: Mars Probe to Study How Planet Lost Its Water
NASA/GSFC
After launch, MAVEN will take 10 months to reach its destination, arriving in Mars orbit on Sept. 22, 2014. NASA's previous Mars mission -- the Mars Science Laboratory's Curiosity rover -- took only 8 months to reach Gale Crater, arriving on Aug. 6, 2012. Interestingly, MAVEN isn't the only orbiter with a planned rendezvous in September 2014. The Indian Mangalyaan Mars Orbiter Mission (MOM), which launched on Nov. 5, is scheduled to arrive at Mars two days after MAVEN, on Sept. 24, 2014. Mangalyaan is taking a little longer to get to Mars due to its series of Earth flybys that have gradually increased its speed and orbital distance, eventually propelling it Mars-wards.
NEWS: Liftoff! India's First Mars Probe Launches
NASA/Lockheed Martin
When it arrives in Mars orbit, MAVEN will be the beefiest satellite in the current Mars orbiter fleet; NASA's Mars Reconnaissance Orbiter (MRO), NASA's Odyssey and Europe's Mars Express are all lightweights in comparison. MAVEN (the spacecraft plus propellents) weighs 2,550 kilograms (5,620 pounds) at launch. In comparison, the MRO was 2,180 kilograms (4,810 lb), Odyssey was 376 kilograms (829 lb) and Mars Express was 1,123 kg (2,476 lb) at launch. The ISRO's Mangalyaan spacecraft has a launch mass of 1,337 kg (2,948 lb). In addition to its impressive mass, MAVEN has a "wingspan" (from one end of deployed solar panels to the other) of 11.4 meters (37.5 feet).
PHOTOS: The Psychedelic Landscape of Mars
NASA/GSFC
Once encircling Mars, MAVEN will have a rather extreme orbit. At closest approach (perapsis), MAVEN will zoom within 150 kilometers (93 miles) of the Martian surface. But due to its planned highly elliptical orbit, the satellite will fly out to a maximum distance (apsis) of 6,000 km (3,728 miles). On 5 occasions during its primary mission, MAVEN will drop even lower on close approach, coming to within 124 km (77 miles) of the surface. On those occasions, MAVEN will be able to directly sample some of the upper atmospheric gases and analyze them.
PHOTOS: Top 10 Weirdest Mars Illusions and Pareidolia
NASA
What happened to Mars? Evidence is piling up that the red planet used to have more in common with Earth in its early history. We know that large bodies of water used to persist across what are now barren, dry plains. Rivers even used to flow, eroding Mars rock into pebbles. The puzzle of Mars' predominantly dry appearance can be blamed on its atmosphere -- an atmosphere with a pressure of 1 percent that of Earth's. What atmospheric processes caused Mars to lose its water? MAVEN will take on this challenge to try to understand whether the atmosphere was vented into space naturally; if the water was lost through atmospheric processes or is currently locked in the Martian crust; and try to understand the interplay between the sun's ferocious solar wind and Mars' upper atmosphere.
NEWS: Water Discovery Is Good News for Mars Colonists
NASA/Lockheed Martin
MAVEN is carrying 8 sophisticated instruments all designed to tackle every aspect of Mars' climate history and how the planet's atmosphere interacts with interplanetary space. MAVEN's suite of instrumentation will: directly sample atmospheric gases; spectroscopically analyze the atmospheric composition; measure the planet's magnetic field and the interplanetary magnetic field; detect the interaction of energetic solar particles with atmospheric gases; and analyze ionospheric heating. The Neutral Gas and Ion Mass Spectrometer (NGIMS) package will be used to measure the isotopes of atmospheric gases. These data, in turn, will be compared with the Mars Science Laboratory's isotopic analyses, aiding a better understanding of how much of the atmosphere has been lost over time.
NEWS: Mars' Once Thick Atmosphere Now Kaput
NASA/JPL-Caltech
Sadly, due to budget constraints, MAVEN does not have an instrument to detect atmospheric methane. Other missions have detected trace amounts of the organic compound that may or may not be linked with microbial life on Mars. Most recently, Curiosity was used to "sniff" the air around Gale Crater for any sign of the gas -- it detected none, only adding to the mystery surrounding Mars' methane mystery.
NEWS: Mystery of Mars' Missing Methane Deepens
NASA/JPL-Caltech
The current Mars orbiters aren't only carrying out science; they also form an essential relay network for communications between Earth and NASA's rover missions (and future surface missions). MAVEN is packing a powerful Electra radio system that will contribute to the communications between Curiosity, Opportunity and mission control, allowing a data transfer rate of up to 10Mbps.
References:
Mars Probe to Study How Planet Lost Its Water by Irene Klotz
NASA MAVEN Fact Sheet

Two Mars-bound spacecraft are both in excellent health ahead of their September arrivals in orbit around the Red Planet, managers for both missions report.
India's Mars Orbiter Mission (MOM) is more than 80 percent of the way to Mars and performing well, according to a Facebook update posted July 21 by the Indian Space Research Organization. MOM is expected to enter orbit on Sept. 14.
MAVEN: 7 Things to Know About NASA's Mars Orbiter
The second craft, NASA's Mars Atmosphere and Volatile EvolutioN (MAVEN), is also performing well. MAVEN is scheduled to embark on its final approach to the Red Planet on Sept. 21, one week after MOM's arrival, principal investigator Bruce Jakosky said. After months of checkouts and tests, the spacecraft will now be left quiet until close to the big day. [See images of the MAVEN mission]
"We have eight science instruments, and they've all been turned off now," Jakosky, who is also the associate science director at the University of Colorado's laboratory for atmospheric and space physics, told Space.com. "We're trying to settle things down to focus on orbit insertion."
Both MOM and NASA's MAVEN probes launched toward Mars in November 2013.
Collision Avoidance
With the MAVEN mission, NASA scientists are hoping to learn more about the history of Mars' upper atmosphere. For the past few months, controllers have done "operational readiness" tests, such as a mission-control-like simulation of the craft's approach to the Red Planet. These drills can help controllers get ready for any emergencies that might crop up.
NEWS: NASA Probe to Solve Mars Atmosphere Mystery
One important feature of the spacecraft is its ability to maneuver six hours or 24 hours before entering orbit if controllers find out the vessel is on the wrong path, Jakosky said. This was a "lesson learned" from the 1998 Mars Climate Orbiter, which was destroyed in the planet's atmosphere because controllers could not correct a navigation error until too late.
"The key thing about the orbit insertion burn is we have one shot at it, and it has to go right. If it doesn't go right, we just go right on past Mars and never get to go back," Jakosky said.
Meanwhile, the science team has been making sure MAVEN's hardware is ready to collect the data. One instrument has already gathered information on solar activity.
In India, MOM spacecraft controllers have been priming the probe for its arrival at the Red Planet. On Thursday (Aug. 7), flight controllers tested the MOM probe's antenna that will serve as its primary communications link to Earth.
"MOM successfully completed the characterization of its Medium Gain Antenna, which will be used for communicating with Earth during the critical Mars Orbit Insertion (MOI)," ISRO officials wrote in a MOM update on Facebook yesterday. "Only 14 percent of the journey remains in its heliocentric arc towards Mars Orbit Insertion."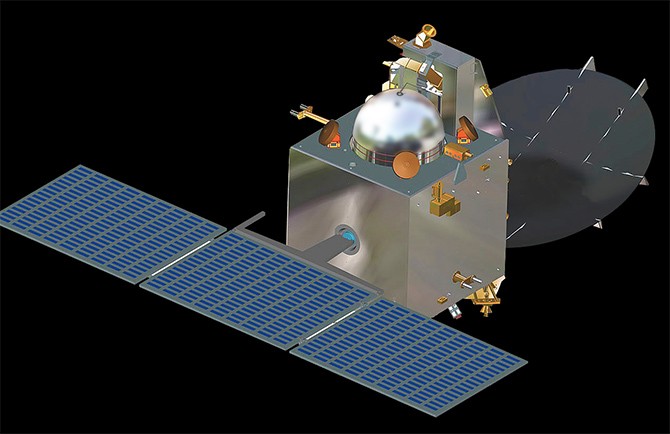 India's Mars Orbiter Mission spacecraft represents the country's first Mars-bound probe. Indian Space Research Organisation
Cosmic Close Encounter
The scientists monitoring the spacecraft will also find themselves with a rare opportunity just one month after arriving at the planet. Comet Siding Spring will make its closest approach to Mars on Oct. 19, while MAVEN is still being readied for full operations to start Nov. 8. But the team will pause this work to watch the comet, Jakosky said.
"We'll make observations for about two days before and two days after the comet's closest approach," Jakosky added. "We will make observations in spectroscopic imaging, which shows us a lot about the [comet's] composition, and then observe the upper atmosphere."
NEWS: Liftoff! India's First Mars Probe Launches
While scientists are excited to catch sight of the comet — and current predictions show that spacecraft orbiting Mars should be safe during the close pass — researchers also need to keep the health of the spacecraft in mind during the flyby. MAVEN controllers aren't taking any chances, Jakosky added.
They will have the spacecraft behind the planet for 20 minutes during the comet's closest approach, and will point the solar panels edge-on to the dust to minimize the chance of a strike. Ground controllers will also turn off nonessential instruments.
The mission is designed to last one Earth year, but NASA hopes it will stretch a lot longer as it will also serve as a communications relay for the Opportunity and Curiosity rovers on the Martian surface. MAVEN's science team would also prefer a longer mission so they can continue observations.
VIDEO: Is Salt the Key to Finding Life on Mars?
If funding is extended, there's enough fuel to last perhaps 10 years, Jakosky said. Many components "have a lot of heritage" from the Mars Reconnaissance Orbiter, he added, which is still in good health after eight years of operations at the planet.
More from SPACE.com:
Wildest Private Deep-Space Mission Ideas: A Countdown

The Boldest Mars Missions in History

Mars Myths & Misconceptions: Quiz