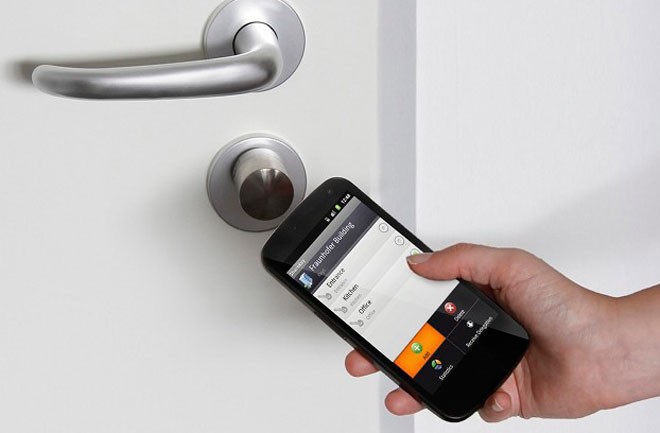 The Android app communicates with smart locks on one's door via NFC.
In the last year, I've locked myself out of my home no less than three times. Consequentially, that's resulted in me having to shimmy through open windows like a burglar. I'm surprised my neighbors never called the cops on me.
If only I had ShareKey, a near field communication (NFC) app for a smartphone, I could have avoided all the breaking and entering.
Developed by Dr. Ahmad-Reza Sadeghi of Germany's Fraunhofer Institute for Secure Information Technology (SIT), the Android app communicates with smartlocks on one's door via NFC, which allows data to be exchanged wirelessly over a short range. To lock or unlock the door, simply wave the phone near the lock.
Unlike systems such as Lockitron and UniKey that use Wi-Fi and Bluetooth to send instructions remotely, ShareKey requires that a phone be physically waved in front of their locks, making it more difficult for hackers to steal the signal.
Better yet, the system allows for any smartphone to be granted access to the doors for a specified amount of time, be it a few hours or a few weeks. House guests, dog walkers and plant waterers all know what a three-ring circus it can be swapping keys and getting them made, so this feature is an added bonus. ShareKey can send these "electronic keys" directly to the recipient's smartphone as a QR code via email or a multimedia text message.
"For instance, I can grant the building superintendent access to my apartment
for a short period so that he can open the door for the gas meter to be
read while I'm at work," explains Alexandra Dmitrienko from the SIT.
"The solution is built around modern security technologies and can be
easily integrated into existing access control systems."
At this year's CeBIT trade fair in Hannover, Germany,
researchers from the Fraunhofer Institute for Secure Information
Technology SIT in Darmstadt will demo ShareKey in an attempt to drum up interest in hopes that it will be on the market soon.