Uclear and the World's Fastest Female Motorcyclist Make a High-Tech Helmet Communicator
If talking on the phone while driving a car is dangerous, doing it while riding a motorcycle is suicidal. But if you don't feel like pulling over to make a phone call or change your music, you should check out Uclear. Working with military technology and Leslie Porterfield, the world's fastest woman on a motorcycle, [...]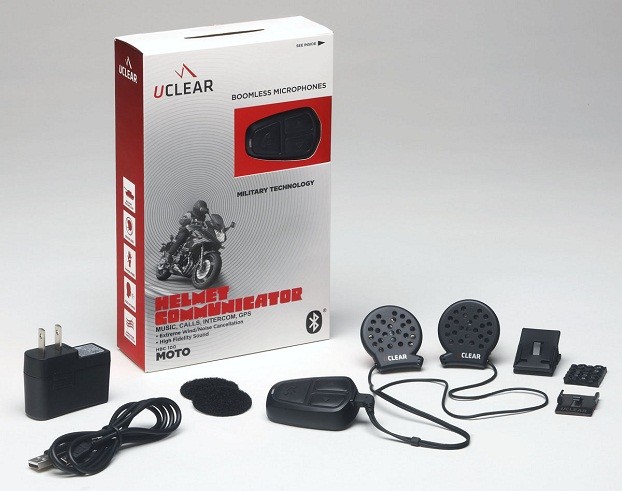 The HBC100. Photo: Uclear
If talking on the phone while driving a car is dangerous, doing it while riding a motorcycle is suicidal. But if you don't feel like pulling over to make a phone call or change your music, you should check out Uclear. Working with military technology and Leslie Porterfield, the world's fastest woman on a motorcycle, Uclear has produced the HBC100 MOTO Helmet Communicator.
The key to Uclear's design is the boomless microphone, which uses noise suppression technology originally developed by the military to keep your voice clear at speeds up to 100mph. The HBC100 connects easily with Bluetooth-enabled devices, so just about any smartphone will work fine. It can make calls, intercom with another Uclear device, or play music through the phone.
To make sure the design would suit motorcyclists' needs, Uclear worked with Leslie Porterfield, who set the women's land speed record when she broke 200mph at Bonneville in 2008. The HBC100 fits both her racing needs, she says- to stay in touch with the pit crew- and her casual riding needs- music and mobile calling.
Leslie Porterfield. Photo: Sir Speedy Corp / CC
Porterfield says there's a lot of demand for this sort of product, especially from professional people who use motorcycles to get around, but want to keep in touch with the office while on the road. "It's the best communications product on the market," she says.
Not having a motorcycle myself, I gave the Uclear bicycle communication system a spin (a sample was provided by Uclear). The technology is not exactly that same as that used in the motorcycle model, but the setup is similar. I was impressed; it was easy to install and use, and I had no problem being understood on the phone. I wasn't thrilled with how it looked- the mouthpiece is quite prominent- but the motorcycle version seems more discreet.
At $179.95, the HBC100 is pretty inexpensive compared to similar systems. There's something to be said for cutting off all communication and focusing on the ride, but if you need to stay in touch, Uclear is worth a look.