Two Stunning 'Faces' Of Our Nearest Star: Big Pic
Want to see a picture of the two stunning 'faces' of our nearest star? See a picture of the two stunning 'faces or our nearest star.
NASA/JPL-Caltech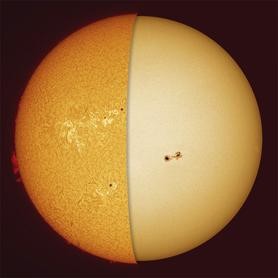 NASA/JPL-Caltech
Sept. 25, 2012 — In some photographs the sun can appear to be a boiling mass of twisted, writhing filaments and "furry" spicules, with prominences leaping in towers and arcs along its limb, or it can appear as a serene, featureless sphere with a subtle granular texture broken only by the occasional smudge of a sunspot. Both of course are the same star, it all just depends on how you look at it — or, more specifically, in what light you look at it.
BIG PIC: See The Sun In A Whole New Light
This image, a composition of two separate photographs taken by astrophotographer Alan Friedman, shows the sun in two wavelengths of light: on the left, hydrogen alpha, and on the right, visible light. Both images were taken from Alan's backyard in Buffalo, NY.
Hydrogen is the most abundant element found on the sun. The sun's "surface" and the layer just above it — the photosphere and chromosphere — are regions where large amounts of atomic hydrogen exist in upper-state form. It's these layers that hydrogen alpha imaging reveals in detail, showing the dynamic structures created by the sun's complex magnetic fields.