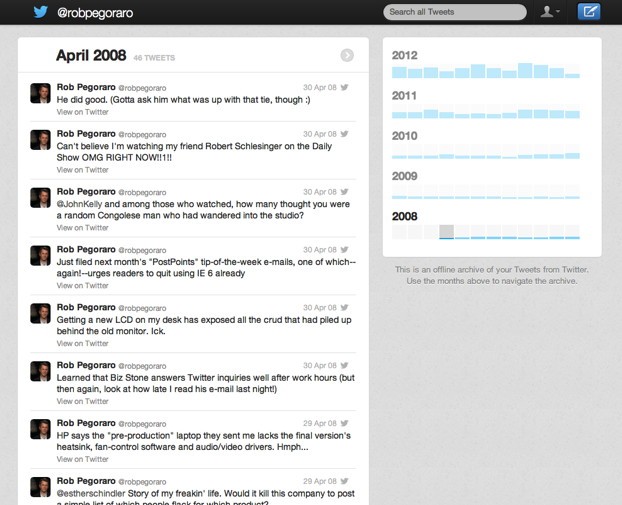 The productivity of many longtime Twitter users took an enormous hit Wednesday morning when the status-update service finally let them download their complete archive. Forget the record of your last 3,200 tweets Twitter recently invited users to get through Vizify's service; this is everything you've ever written there, from day one onward.
For years, Twitter had held off on offering such a personal archive, even as it had provided its master database to the Library of Congress. A year ago, its chief executive Dick Costolo had said the San Francisco-based service wasn't ready to take that step; this summer, Costolo told attendees at a journalism conference (myself included) that he wanted to get it done by the end of 2012, but his engineers weren't ready to promise so much.
ANALYSIS: Facebook, Twitter Hold Mirrors Up to Your 2012
Over this weekend, a few Twitter users had seen an option in their account settings to request a download of their archive, but the service made it official with a blog post Wednesday morning.
Not everybody has the option yet; engineer Mollie Vandor wrote that "We're rolling out this feature slowly, starting today with a small percentage of users whose language is set to English." But I was among those lucky enough to see a new "Your Twitter archive" heading on my account-settings page on Twitter's site.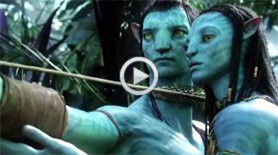 DNEWS VIDEO: Get Behind the Science of Avatar, Caddy Shack and More
A link to download my archive landed in my inbox within a minute of my clicking that button. The resulting .zip archive, containing all 18,000-plus tweets I've posted since 2008, weighed in at only 4.2 MB. Apparently 140-character updates don't add up to much; writer Mathew Ingram, a far chattier tweep than me, noted that his archive of over 65,000 tweets was only 16 MB.
Decompress the .zip file and double-click the index.html file to open it offline in a browser, then watch your workday fade away as you browse a simple timeline interface, month by month. It turns out that my first tweet on April 16, 2008 — over nine months after I'd opened an account to lock up a "robpegoraro" username — was a bland, boring remark about my thinking up future column topics.
That first month only saw me tweet 46 times, which is less than I've run up some mornings. And the rest is history, or at least my story.
ANALYSIS: Twheel Takes Tweets for a Spin
The ability to re-read what I thought worth tapping out on a phone's keyboard two, three and four years ago is enormously fascinating — Solipsism 2.0! — and may be grounds for feeding this data into a third-party app to see what patterns emerge. But it's also important for the culture of the Web.
First, memory needs data. You shouldn't have to maintain your own backup system or hope that enough other people link to a noteworthy tweet to remember what you said years later. It's the same reason why Facebook's Timeline matters: Years from now, you may want to know What You Were Thinking at some pivotal time, and now you don't have to guess.
Second, you as a contributor to a service should be able to take out what you put in. For years, Twitter has been running up a debt to the people who have contributed their words, links and images without a promise of being able to get a copy of that input if they leave, even as Google and then Facebook have shown it's possible to process massive data downloads for their users. Twitter has now returned their trust. And that was the right thing to do.
Credit: Rob Pegoraro/Discovery