Try On Clothes Without Getting Undressed
Ditch the dressing room and try on clothes virtually with this Kinect-powered system.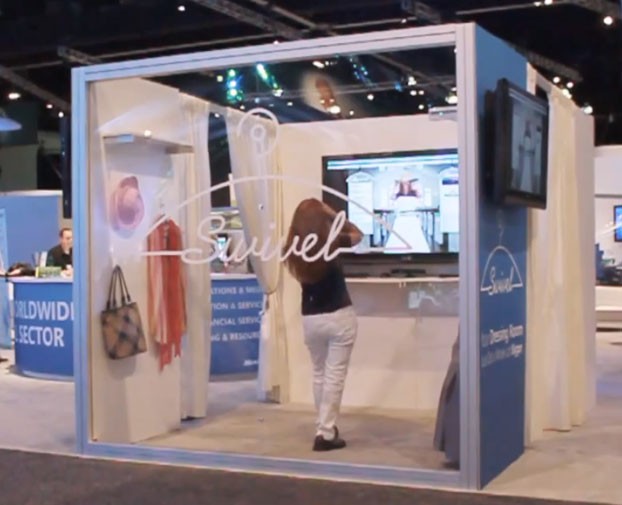 While perusing the newest releases at CES yesterday, I have to admit the main reason this software came to my attention was because of the name of the company that created it: "FaceCake." Immediately, the image of a printer that created "face cakes" came to mind, but after I did some research, the real thing, Swivel, was almost as cool. Swivel (not to be confused with Swivl) uses the Microsoft Kinect to let users try on clothing without getting down to their skivvies. Once the user is the right distance from the Kinect, a menu of different items pop up that can be selected with the wave of a hand and overlaid on the body.
When the shopper selects an outfit, she can move around as she might when physically trying on clothes. She can also accessorize to create an entire outfit. The system suggests outfits and sends the resulting looks to friends. Shoppers who have a Kinect at home can save outfit ideas and test them out there. The company launched the system in early 2011, garnering the interest of retailers like Banana Republic and Nordstrom. Later this year, the system will be available for at-home use, but discussions are also ongoing with national mall operators to have Swivel placed in shopping center stores. 
Via: LA Times Blog 
Credit: Tecca