True Outdoor LCD TVs Now More Affordable
Insects, dust and widely varying weather conditions are no problem for these new high-def outdoor-specific sets.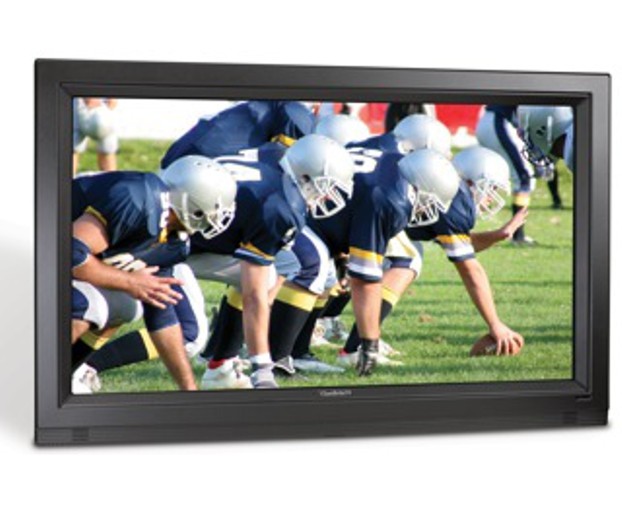 SunbriteTV 4660HD: $2,995 MSRP
On the one hand, you'd like to have the gang over to watch the ultimate commercial/football spectacle. On the other, you just had the carpets shampooed. But that's no reason to torture your poor, domesticated indoor TV by bringing it outside.
SunBriteTV has been making outdoor TVs for five years. In fact, they're not only the sole manufacturer of true outdoor TVs, but also the last consumer LCD brand that still actually assembles their product in the United States. More importantly to your Superbowl party, they just came out with a new Signature line that's pretty cool — or hot, depending on which it needs to be to fight the weather.
As SunBriteTV VP of Sales and Marketing Tom Dixon told Discovery News at CES, "These are engineered and designed literally from the inside out to be played in the most harsh weather conditions." Each set provides for special cable entry with weather stripping and grommets making the connections impervious to UV and corrosive salt spray.
A built-in thermostat tells the set when to kick in the heaters that make it good down to -40 degrees Fahrenheit. (Probably not an issue this year, now that the Packers have been eliminated.) But according to Dixon, "Your biggest difficulties in the outdoor setting are sunlight and heat. Our TVs can run up to external viewing temperatures of 122 degrees Fahrenheit." That's because they have two to four cylindrical cooling fans (depending on the screen size) that maintain air flowing across the LCD to keep it from photochemically blacking out. At those temps, they can't vouch similarly for the viewers themselves.
As opposed to their commercial-grade powder-coated aluminum counterparts, the more consumer-friendly new Signature models sport rear bezels made from a high-impact outdoor-rated plastic resin. So you may want to refrain from hucking an ice ball or beer bottle at the set. (Giants and Patriots fans, we're looking in your direction.) But more importantly to your wallet, it knocks a third off the price, from $4,500 to just under three grand for the 46-inch model. And just as important to the overall experience, since this HD LCD doesn't need protection from the elements under an eave, it can be placed in the most ergonomic position that doesn't limit social viewing.
This Spring, SunBrite plans to release a few other sizes with similarly attractive pricing. We saw nice-looking prototypes of the 32- and 55-inch iterations in our private meeting at the show. Dixon also hinted at a larger size "well above 60 inches," which would make it the world's largest true outdoor TV. The Signature line, each of which comes with feet and a variety of mounting options for poles, ceilings and articulating stands, will be available in black, silver and white.
Credit: SunBriteTV