Train Like an Olympic Swimmer... On Dry Land
Have Olympic dreams of swimming the anchor leg in the 400 meter medley? While you may never make the team (at least until Phelps retires), you can still train like you're on the team... without ever getting wet. As Team USA racks up the swimming medals in the pool in London, they are also racking [...]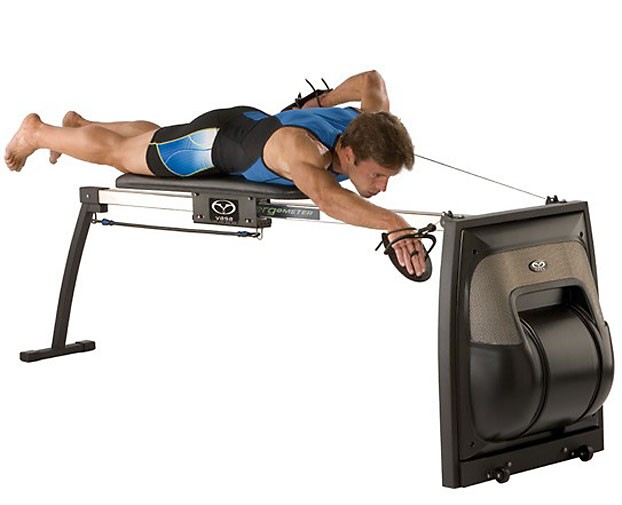 Vasa Ergometer lets you "swim" on dry land (Photos: Vasa)
Have Olympic dreams of swimming the anchor leg in the 400 meter medley? While you may never make the team (at least until Phelps retires), you can still train like you're on the team… without ever getting wet.
As Team USA racks up the swimming medals in the pool in London, they are also racking up the training hours out of the pool on Vasa Swim Trainers and Ergometers. These on-land trainers simulate swimming to hone technique and build muscle and endurance. And do it twice as fast as in the pool.
That's because while you're lying on the padded bench with your hands in the paddles, you're able to "swim" freestyle, butterfly, and other strokes, while having the ability to increase the resistance beyond anything you'd get in the water. Think the ability to swim in molasses but without the mess.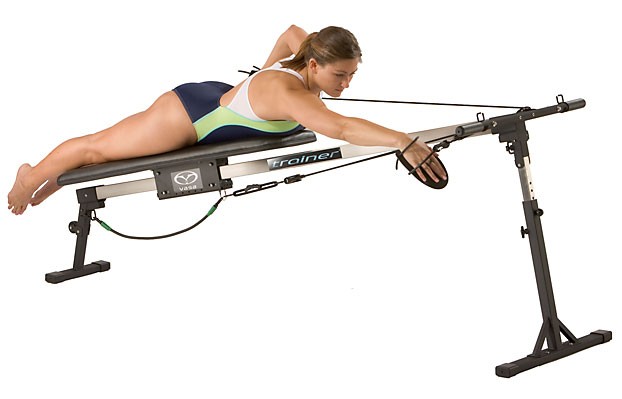 Vasa's Trainer is perfect for home use
Letting you perform over 200 exercises and used by a wide variety of top-level swimmers, triathletes, surfers, and paddlers for training and for general fitness, Vasa's swim trainers were sent to the Eton House athlete training center in London for the athletes to use before and during the Games. I'm not saying they'll help you get to the podium someday, but you will get into better shape, faster.
The Trainer (starting at $899) is perfect for home use, and gives you the ability to train year-round. Bump up to the Ergometer ($1,899) and you'll get a heavier-duty unit with a Power Meter that provides instant feedback on your swim performance. It measures time, distance, pace, stroke rate and even applied force on each stroke for each arm. I'm starting to think Phelps doesn't stand a chance.