Top 5 Survival Knives (and How to Choose the One That's Right for You)
One tool which can make or break you in a survival situation is a good knife. And although it's said that the best knife is the one you have with you, and a lot can be done with the proper skills and any knife, there are features which make some survival knives better choices than [...]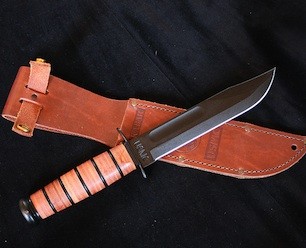 any
One tool which can make or break you in a survival situation is a good knife. And although it's said that the best knife is the one you have with you, and a lot can be done with the proper skills and any knife, there are features which make some survival knives better choices than others.
The choice of which knife to carry in the backcountry is a highly personal one, and what's right for one person with one skillset may be wrong for another person with different skills in the same situation. However, there are some general guidelines for choosing a good survival knife, and most of the more popular choices tend to conform to these standards:
Fixed blade:

Full tang:

Comfortable, non-slip handle:

Thick blade:

Length of blade:

Easy to sharpen and hone:
Five Top Picks for Survival Knives:
KA-BAR USMC Utility Knife:

This iconic American knife is one of the all-time favorites for military, survivalists, and outdoors sportsmen, and has been field tested by generations of Marines. The KA-BAR was originally produced during WWII for the United States Marine Corp, and the knife quickly became accepted as the standard for a soldier's daily work knife. This knife is a no-frills workhorse with a classic look, and with its 7″ blade length, it's also quite a long knife (11 7/8″). The KA-BAR has a stacked leather handle and a pretty generous finger guard, and the flat-ground edge is dead-simple to sharpen.
Tom Brown Tracker: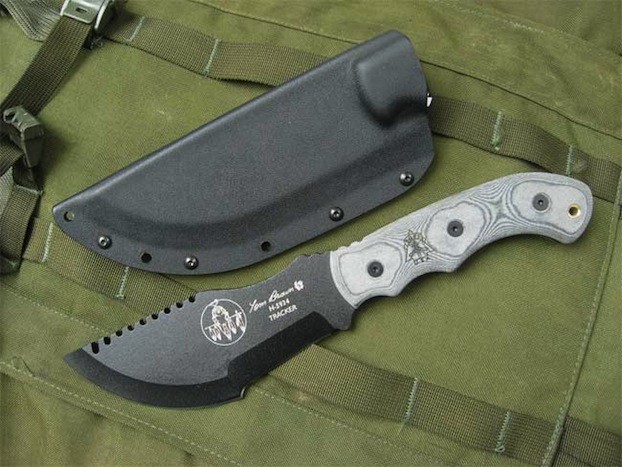 On the other end of the spectrum is the Tracker, a knife designed by Tom Brown, Jr, a respected tracker and wilderness survival expert. The blade on the tracker is a shorter length (4 ¼"), but the overall length is the same as the KA-BAR. What really sets this knife apart is the design of the blade and edge, which is quite different from most. The mini saw blade on the back, the section on the edge for drawknife usage, and fact that the shape of the blade and handle lend itself easily to chopping, turn this from a survival knife into a survival tool.
SOG SEAL Team Knife:

SOG is one of the top fixed blade knife manufacturers in the world, and their SEAL Team knife is built with extreme abuse in mind. The knife was designed for optimum sharpness, edge retention, tip and blade breaking limits, torsion, salt water immersion, and gas and acetylene torch resistance, plus durability for chopping, hammering, prying, penetration and cutting applications. The blade is 7″ long and .24″ thick, with a partial serration on the edge, and the overall length of the knife is 12.3″. Fans of shorter blades, and non-serrated edges, may find the Field Pup to be more to their liking.
Cold Steel SRK:

Cold Steel is another high quality knife maker, and the company's SRK model is no exception to that. SRK stands for Survival Rescue Knife, and the design speaks to discerning knife owners who desire a versatile knife which is capable of withstanding tons of abuse. The blade is 3/16″ thick and 6″ long, with the whole knife measuring in at 10 3/4″. The handle has a single finger guard and a heavily checkered grip, making for an easy-to-grip knife.
Fallkniven A1 Swedish Survival Knife: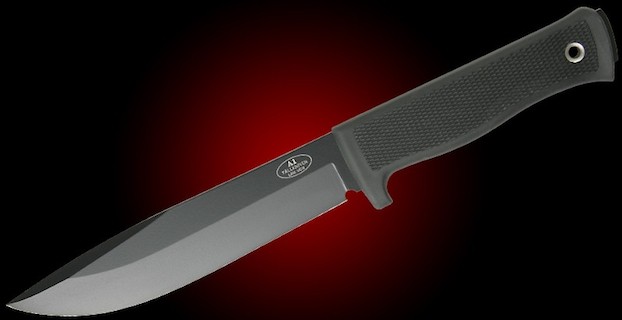 One of the lesser known of manufacturers in this group is Fallkniven, of Sweden, but they have a great survival knife option in their model A1. The A1 is a full tang knife, and the 6.3″ long blade is made from .24″ thick laminated VG10 steel (overall length is 11″). The handle is checkered Kraton, and features both a lanyard hole and finger guard.