Too Lazy To Run New York's Marathon? All You Need Is Google Street View
For most Americans, this Sunday marks the beginning of Daylight Savings Time (don't forget to set your clocks back an hour!), but in New York City, it is also somewhat of a local holiday: the day of the ING New York City Marathon, which invites over 50,000 runners to run 26.2 miles around the metropolis' [...]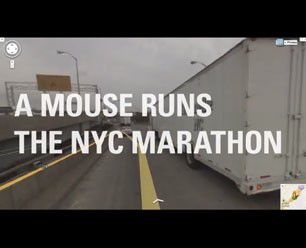 Photo via YouTube
For most Americans, this Sunday marks the beginning of Daylight Savings Time (don't forget to set your clocks back an hour!), but in New York City, it is also somewhat of a local holiday: the day of the ING New York City Marathon, which invites over 50,000 runners to run 26.2 miles around the metropolis' five boroughs. It is one of the largest marathons in the world, with participants descending upon the Big Apple for it from a multitude of countries.
Few run to win a piece of the $600,000 prize purse, while most merely want to finish it as a life accomplishment after months of training. And it is very much a spectator's event as well — it's somewhat unavoidable with all the street closures — with hundreds of thousands lining the route with cheers, signs of encouragement, and in certain neighborhoods, sidewalk bands, DJs, and bars open in the morning with beer and bagels.
Can't make it to New York City to join in on the festivities? Or just too lazy to run it? Well this video by cdzcam shows that you can "run" the entire route by way of Google Street View:
Of course, watching this is more like the spectator experience since you're not actually doing any running. To get the full effect, try watching it while cheering, drinking a beer, and eating a bagel.