Tiny Sponges Seal Gunshot Wounds In 15 Seconds
XStat is a lightweight, plastic syringe that injects sponges to treat battlefield wounds quicker and more efficiently than gauze. Continue reading →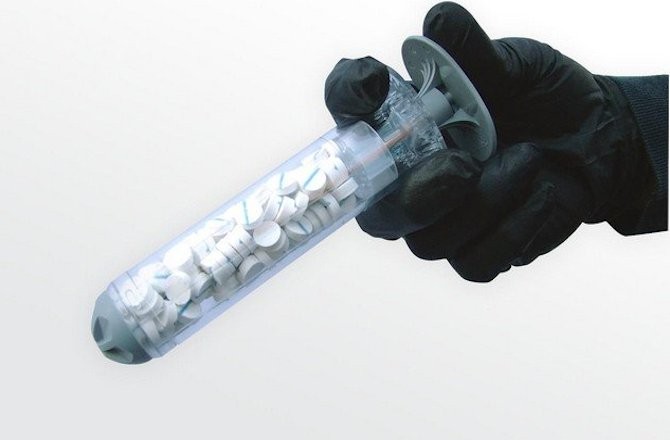 The difference between life and death often boils down to a matter of seconds, especially when it comes to those wounded on the battlefield. Stopping bleeding often involves the tedious, time-consuming task of packing and repacking wounds with gauze.
PHOTOS: Trash Talkers: Do They Psych-Out Opponents?
However, a small team of veteran medics, scientists and engineers at Oregon-based startup RevMedx have created a pocket-sized syringe capable of injecting small sponges into wounds. Dubbed XStat, the device's specially coated sponges are about one centimeter in diameter, and expand to fill a wound's cavity and stop bleeding in just 15 seconds — much quicker and more efficient than gauze.
The sterile, biocompatible sponges are made from wood pulp and coated with chitosan, an antimicrobial, blood-clotting substance obtained from the outer skeleton of shellfish like shrimp, crab and lobster. To prevent sponges from being accidentally left inside the body, developers put X-shaped markers on each sponge, which can be detected by an x-ray machine.
The lightweight, polycarbonate syringe comes in two diameter sizes: a 30 millimeter and a 12 millimeter version for narrower wounds. To use the XStat, medics pull out the handle, insert the cylinder in the wound and inject the sponges as close to the artery as possible.
BLOG: Foam Stops Internal Bleeding
Former U.S. Army Special Operations medic John Steinbaugh, also a partner in RevMedx, says the company and military are in final talks with the FDA for approval. The XStat would likely cost $100 and each applicator could replace five rolls of gauze in a medic's kit.
"I spent the whole war on terror in the Middle East, so I know what a medic needs when someone has been shot, " Steinbaugh said, according to Popular Science. "I've treated lots of guys who would have benefitted from this product. That's what drives me."