Tiny Organisms Thrive Well Below Earth's Surface
Despite making up an estimated 6 percent of all life on Earth, researchers know almost nothing about these deep-dwellers.
Duane P. Moser, Desert Research Institute
The dark shaft of the Mponeng mine in South Africa, where microbes were found miles below Earth's surface.
Photography by Luke Jerram
Rarely has anyone looked at a potentially fatal infectious disease and exclaimed, "Now, that is a thing of beauty." One sculptor, however, has taken bacteria and viruses from their invisible world and placed them in ours.
Artist Luke Jerram has created a collection of glass artwork in the shape microorganisms -- bacteria and viruses no less that have the potential to infect or even kill human beings. By bringing these microscopic marauders to the light, Jerram demystifies these otherwise unknowable microorganisms. And using glass as a medium reinforces not only the fragility of the work, but also our own in the face of these diseases.
In this slide show, take a closer look at some of the highlights from Jerram's glass microbiology collection.
Photography by Luke Jerram
Turning HIV into a work of art is a seemingly impossible task. The virus is responsible for the deaths of an estimated 34 million people worldwide since the epidemic was first reported in 1981, according to UNAIDS, the joint United Nations Programme on HIV/AIDS.
The HIV virus sculpture was the first Jerram built for his collection.
Photography by Luke Jerram
If there's one disease that has plagued humankind throughout its history, it's malaria. In 2010, the World Health Organization estimated that more than 200 million people were infected with the disease, mostly in poverty-stricken regions of sub-Saharan Africa, but also parts of South America and Southeast Asia.
Malaria is transmitted through mosquito bites. Mosquito nets, insect repellant and pesticides are all effective means of prevention, but only for those with the available resources and access to afford them.
Photography by Luke Jerram
Looking at this spindly sculpture might make you the slightest bit queasy, and for good reason. E. coli is represented by this glass artwork. Although most E. coli strains are in fact harmless to humans, the strains we're most acquainted with are the ones that cause food poisoning.
Photography by Luke Jerram
This alien-looking sculpture is actually T4 Bacteriophage, a virus that targets E. coli bacteria.
Bacteriophages are small viruses that attach to the cell membrane of bacteria. The virus injects its DNA into the bacteria, which then produces replicas of the virus, filling the bacterium until it bursts.
Photography by Luke Jerram
If this model is giving you that nostalgic feeling of plagues past, you might not be surprised to find out that this work represents Severe acute respiratory syndrome, or SARS.
SARS made global headlines in 2003 when people in 37 countries and nearly reached pandemic levels. Although coverage of the illness was widely criticized for overstating the threat, nearly 9,000 were infected with the disease, with had a nearly 10 percent fatality rate.
Photography by Luke Jerram
Swine flu, shown here, was another contagious disease that drew global attention that Jerram selected for his exhibition, but this time it was personal. According to his website, Jerram came down with swine flu and constructed the sculpture "with a fever whilst swallowing my Tamiflu tablets every few hours."
Swine flu, or H1N1 strain of the influenza virus, made global headlines in 2009 as the next potential major flu epidemic. Though common among pigs, swine flu is rarely transmitted among humans. When it does infect a human, however, the symptoms associated with the virus, typical of other flu strains, are particularly acute.
Photography by Luke Jerram
Given just how common the Human Papilloma Virus (HPV) is among humans, you'd think this virus, pictured here, wouldn't be so controversial. In fact, it isn't, but the use of a vaccine to prevent the infection, which can lead to certain kinds of cancers in women.
Because the virus can be transmitted sexually, however, the idea of vaccinations, particularly compulsory ones for children -- the vaccine is in fact intended only for people 25 and younger -- generated a considerable pushback, despite the obvious benefits of the treatment.
Photography by Luke Jerram
Hand, foot and mouth disease might not get a lot of press, but these disease outbreaks are in fact fairly common, particularly among infants and children. Occasionally, they can be fatal. Symptoms are similar to the flu, with the exception of sores that can appear all over the body, but particularly the hands, feet and mouth of the carrier.

Miles beneath the Earth's surface, where no light or air reaches, tiny organisms are eking out a meager existence.
Yet despite making up an estimated 6 percent of all life on Earth, researchers know almost nothing about these deep-dwellers. And scientists have failed to culture, or grow, the bacteria in the lab, making it difficult to understand how they survive the harsh, energy-starved environment below the planet's surface.
"We're asking really basic, fundamental, big-time questions: Who is there? What are they doing? How did they get there? How many of them are there?" said Jan Amend, an earth scientist at the University of Southern California's Center for Dark Energy Biosphere Investigations. "These are really, really simple questions but very fundamental ones we don't know the answers to."
To answer some of these questions, scientists have embarked on a census to catalog the life buried beneath the Earth's surface. What they find could help them understand the origins of life on Earth, or reveal the kinds of life that could survive on other planets. (7 Theories on the Origin of Life)
Over the last several decades, researchers have probed the microbial communities living on the seafloor, then gradually pushed beneath the surface. Deeper and deeper, scientists still found life. The deepest life yet found are bacteria living 2 miles (3.2 kilometers) below the surface in South African gold mines. (And in 2011, scientists even found worms that live underground and eat those bacteria.)
But bacteria and archaea have been found in sediments in hydrothermal vents, subglacial lakes, mud volcanoes, underwater mountains and many other environments, said Rick Colwell, a microbiologist at Oregon State University, who presented results from a new census of such organisms earlier this month at the American Geophysical Union meeting in San Francisco. Everywhere researchers look, the subsurface is teeming with life.
To begin to catalog these communities, Sharon Grim of the Marine Biological Laboratory in Woods Hole, Mass., and colleagues such as Colwell, with the Census of Deep Life, have begun analyzing genetic data from all the underground archaea and bacteria they can, including a key identifying set of genes.
"It's like an organism's dog tags, it indicates to a rough extent who they are," Colwell told LiveScience.
Though the results are still early, they are finding that the life at that depth is incredibly diverse, Colwell said.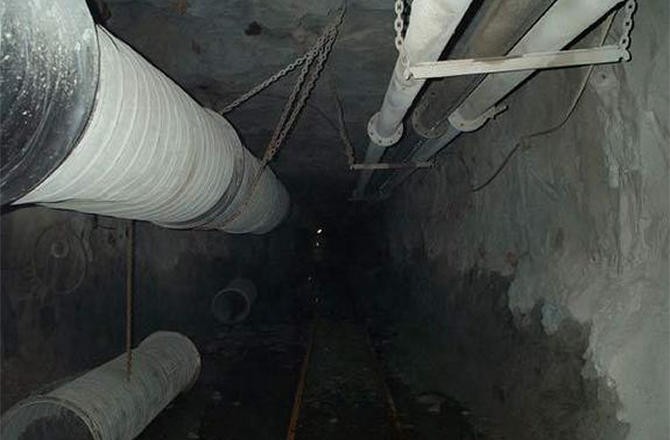 The dark shaft of the Mponeng mine in South Africa, where microbes were found miles below Earth's surface.Duane P. Moser, Desert Research Institute
They have also found one type of archaea in about a third of their samples from all over the world, and in all the archaeal communities sequenced. Like the krill that feed a plethora of other animals in the oceans, it may be a keystone species that needs to be present for such primitive organisms to thrive, Colwell said.
Very similar life forms have also been found in communities in wildly differing environments. So either evolution has forced them to evolve to the subsurface in similar ways, or these organisms share an ancient root close to the origin of life.
But interpreting the results takes caution, Colwell said.
Because there are so few of the deep-dwellers and they reproduce so slowly, any whiff of contamination from quickly-growing, plentiful surface microbes can drown out the faint genetic signal from these bacteria.
The dark-dwellers reproduce only every few months or years and have glacially slow metabolisms, with some organisms moving the equivalent of just a few electrons per second, said Jens Kallmeyer, a geochemist at the University of Potsdam in Germany.
"We cannot understand how an organism can possibly survive on that little energy," Kallmeyer told LiveScience.
The findings have broader implications for life on Earth. For one, deep bacteria, like their aboveground brethren, play a role in the breakdown and cycling of carbon in the environment. That, in turn, affects how much carbon dioxide reaches the atmosphere and alters the climate.
But perhaps the greatest insights these groundlings can tell us is about life on other planets.
These creatures are living at the very edges of hospitable environments — with strange and scarce energy sources, little to no water and scorching heat. Many spend their lives bound to minerals, and move only with the random motion of molecules in the sediments. As a result, they can tell us a lot about the limits of life in the harsh environments of other planets, Amend said. [5 Bold Claims of Alien Life]
Many scientists think life on Earth may have emerged from hydrothermal vents in the seafloor, so these primitive subsurface dwellers could reveal insights into the first primitive cells that started life on Earth, Amend said.
More from LiveScience:
Gallery: Unique Life at Antarctic Deep-Sea Vents

Earth's Final Frontier: Mysteries of the Deep Sea

Extreme Life on Earth: 8 Bizarre Creatures
Copyright 2013 LiveScience, a TechMediaNetwork company. All rights reserved. This material may not be published, broadcast, rewritten or redistributed.